There has been uproar in the media about mattresses containing fibreglass, which is why it is important to do your own research.
In fact, Zinus, which sells the popular "Green Tea Mattress" on Amazon, is sued by customers for using fiberglass inside their mattress. Customers claim, that it has left them suffering from lung scarring, skin rashes and other health issues.
In this guide, we'll discuss some reputable and major brands that don't have fibreglass in their mattresses in the UK. Such brands are concerned with the health and safety of their products and customers, which is why they are safe to use.
But first, we'll explain what fibreglass is and if mattresses in the UK contain this material. So here is what you need to know about it.
What Is Fibreglass?
Fibreglass is a composite material that contains two types of materials: glass and reinforced plastic. 
It is easy to mould in any shape and incredibly lightweight, which is why many businesses may use this material in their products. 
The material is also durable, so the products last a long time to come.
Why is Fibreglass Used in Mattresses?
Some of the top reasons that manufacturers might use fibreglass in their mattresses include the fact that it is affordable. 
It lowers the cost of the manufacturer, which means that they can create mattresses in bulk to meet the demands of customers.
On the other hand, fibreglass is also an excellent flame retardant. In the long run, it reduces the ability of any material to ignite and slow the growth of fires. 
So, it is a useful material, but it comes with its drawbacks.
Is Fibreglass Dangerous?
The answer to this is complicated because fibreglass can potentially harm you if you are exposed to it directly. However, the if this material stays inside your mattress it might not pose the same risks unless you remove the cover. 
Fibreglass inside the mattress is completely safe as long as it is inside, and it is not touched or inhaled.
However, if this material finds a way to get out, then it can cause harm to your health and safety. For example, if the fibreglass gets out, it can cause skin irritation, blisters, rashes, lung irritation, and cuts on your skin. 
In the lawsuit against Zinus' "Green Tea Mattress", customers claimed that since the mattress cover had a zipper on it, they felt nothing wrong with removing and washing it. However, this let them to being exposed to the fibreglass directly, and resulted in health problems. 
Keep in mind that if you have asthma and you inhale this material, then it can worsen it even further.
Because of this, it is important to weigh the pros and cons of a mattress you are purchasing. It is best to stray away from mattresses that contain this material altogether. It will lower these health risks and ensure you live in a healthy environment at home.
Which Brands are Safe to Buy in the UK?
If you are looking to buy a mattress in the UK without fibreglass, then you must conduct research. We have also done the research for you to save you time and effort. 
Here are some of the top brands in the UK that you can buy safe mattresses from:
We recommend that you stray away from any online stores that offer mass-produced mattresses. Such products don't take care of quality, and there is a high chance that they might be using unsafe materials inside. 
3 Ways to Tell if a Mattress Has Fibreglass Inside:
Finally, there are many ways you can tell if a mattress has fibreglass inside. Some of these include:
1. Cost
If a mattress is cheap, then there is a high chance that it contains fibreglass. That is because it's an affordable material, and it doesn't drive the prices of mattresses too high. Lower cost also means lower quality for many products.
That is why it is good to set a higher budget and invest in the right mattress once every 5-7 years. You will get a high return on your investment from these mattresses in the long run.
Shopping Tip: If you're looking for a new mattress but have a lower budget, check out the Fogarty mattress collection from Dunelm. 
Inside there is a layer of pocket springs and Eco-Flex Fillings (made from recycled textile). They are priced at around £280-350 for a double size.
2. Contact the Manufacturer
Many people look for mattresses online, but sometimes they don't state the materials used in such products. If that is the case, then be sure to contact the manufacturer and ask them about this. 
If the representative does not provide you with a clear answer, then we recommend that you stray away from the store.
You can keep shopping and look for other manufacturers that are transparent about the materials in their mattresses. It will help you find the right supplier in no time.
3. Check the Manufacturing Label
We also recommend that you check the manufacturing label on the mattress tag. If there is jargon or greenwashing terminology, then it is likely that the mattress might have fibreglass. Manufacturers do this to confuse the buyers and use misleading terms to increase their sales by appearing environmentally friendly.
On the other hand, if the mattress is manufactured in China, then there is a high probability it has fibreglass. Ideally, you should look at products made in the UK. 
This is why it is crucial to do your research and then make an informed decision about the mattress you will choose.
Buy Mattresses With Organic Materials: Wool, Cotton, etc.
Finally, we recommend that you narrow down the search and purchase mattresses with organic materials. These include materials such as cotton and wool. Such mattresses might cost more, but they will be worth it in the long run.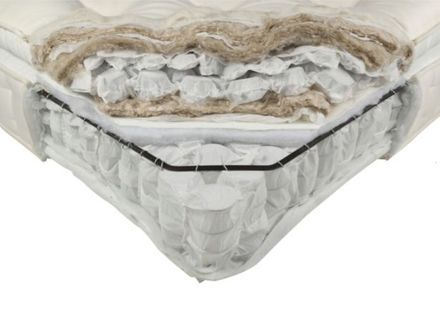 Shopping Tip: Check out Dream's Flaxby natural mattress collection, which contains only the finest materials. 
Inside you'll find: Egyptian cotton, wool and mohair locally sourced from Yorkshire, to luxurious cashmere. Plus a layer of pocket springs.
So, look for stores in the UK that use natural materials in mattresses. It will not be too difficult as you will be saving time and money in the long run.
Final Thoughts
That was your complete guide to understanding if UK mattresses contain fibreglass. Not all brands add this material to their mattresses, which is why it is vital to do research and then make an informed decision. You can follow our guidelines to make the right choices for your mattress.
Keep in mind that you should never compromise quality for the cost. You will have to pay more for a better quality mattress, but it will give you high returns in the form of health and safety.