When designing the mattress, Simba has worked closely with "The Sleep To Live Institute", involving more than 10 million people and measuring 180 million body profile data points, with the mission to create the world's best mattress.
The result is the Simba Hybrid mattress, which perfectly combines cutting edge design, foam and springs. In addition, all foams in the mattress have received the CertiPUR label, ensuring that there are no unwanted chemicals found inside. They recently introduced the Simba Hybrid Pro mattress which has up to 5,000 Aerocoil springs and a layer of wool.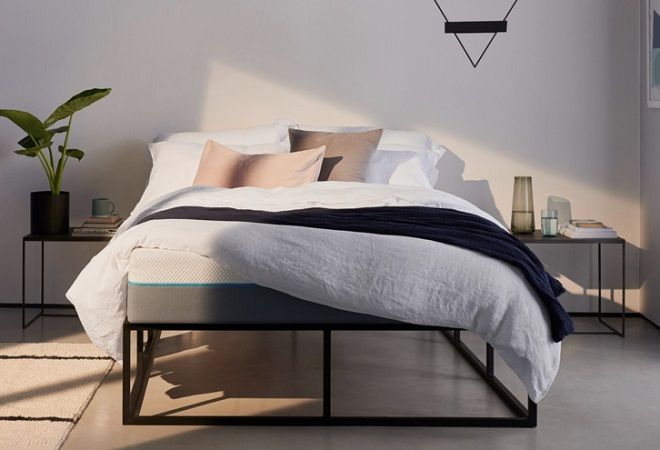 Disclosure – top10mattressinabox.co.uk independently reviews and ranks products, by thoroughly researching them. We may receive a commission when a purchase is made through our links, at no cost to our readers.

What's inside the Simba Hybrid mattress?
The Simba mattress is 25cm deep and is comprised of 5 layers.
Layer 1: Sleep Surface – breathable hypoallergenic sleep surface.
Layer 2: Simbatex – their own patented cooling layer, which is incredibly breathable and helps to promote airflow to cool the mattress naturally.
Layer 3: Springs – 2,500* conical pocket springs (for the King size mattress), which adjust to a person's shape and movements, minimizing motion transfer between sleeping partners.
Layer 4: Visco memory foam – moulds flawlessly to a person's body shape.
Layer 5: Support base – promotes durability, comfort and additional temperature control.
Here the mattress cover can't be removed or washed, that's why it's recommended to use the Simba Hybrid with a mattress protector.
What's inside the Simba Hybrid Pro mattress?
The Simba Hybrid Pro mattress is comprised of 7 layers of hybrid innovation. It is one of Simba's most advanced mattresses ever, since it has a dual spring layer with up to 5,000 titanium Aerocoil springs. This means that there is greater airflow and better weight distribution. There is also a natural wool layer and an open-cell foam layer which you won't find in Simba's original Hybrid mattress. Wool is known to naturally regulate temperature, so you won't feel hot or cold all year round. Finally, you'll notice that here you have an even thicker knitted cover, which provides a super soft sleep surface. 
All Simba mattresses are made in the UK and come with 10 year guarantee. Plus all foams used have received the CertiPur label, which means that there are no unwanted chemicals found inside. 
How firm is the mattress?
Both Simba mattresses have a medium to firm support feel.
In addition to the memory foam, there are 2,500 micro springs inside the King size Simba Hybrid mattress, with a height of 2cm. Inside the Simba Hybrid Pro you have two layers of springs which are up to 5,000. 
Best for which sleeping position?
The Simba mattresses can be used by people no matter their sleeping position (back, side, or stomach).
Back Pain Relief
The company has received overwhelming feedback from customers saying that the mattress has helped alleviate their back pain and various other aches and pains. Although Simba cannot guarantee that their mattress will relieve every person's back pain 100% of the time, they have designed and engineered their mattress to provide optimal body support and comfort.
Simba Hybrid & Simba Hybrid Pro Mattress 200 night trial
Simba has a 200 night trial period, which allows customers to try out the Simba Hybrid or Simba Hybrid Pro mattress at home and sleep on it up to 200 nights before they decide if they want to keep it or not. If for some reason a person wants to return it, they can do so easily by contacting their customer support to arrange a free pick-up, and then get the full refund. Simba usually has the returned mattresses donated to a local charity or recycled, whenever possible.
Delivery Information:
Simba offers free delivery, to UK mainland. It takes around 1-5 days for the mattress to arrive (for non-mainland UK regions it may take longer). With their Premium Delivery service, the delivery personnel will bring the mattress to your room of choice and will take your old mattress away and have it recycled. At one point in time Simba offered an old mattress collection service, please double check with their customer support if they still offer this service.
Additional Info:
Simba offers 0% Financing when purchasing the mattress online. They work with Divido, the trusted credit application service. The payment plans can be divided into: 6 months, 10months, or 12 months.

All mattresses are made in the UK and come with 10 year warranty. 
The foams in the Simba mattress have received the CertiPUR label, meeting the requirements of unwanted chemicals in foams. This means that there are no unsafe agents of ozone, heavy metals, flame retardants, mercury or lead used during the manufacturing the foam.
Simba NHS Discount
Simba does offer a discount for NHS (National Health Service) staff. Their discount is an impressive 40% off, which is exclusive to NHS staff and also Blue Light Card members. You'll need to register with the Health Service Discounts official website or the Blue Light Card official website, if you're not a member already. Once you're registered you can see the Simba Sleep offer details and how to get a discount code. Read full details here.
Other Products Offered by Simba:
Over the years, Simba has applied their knowledge and skills in making other high quality sleep products, they include:
Simba Mattress Topper has the cooling comfort of open cell foam and the support of 2,500 specially designed springs. 

Simba Bunk Bed Mattress

(90x160x16cm) is designed specifically for bunk beds as it measures 16cm high. 

Hybrid® Pillow with their OUTLAST® technology, temperature regulation and adjustable height.

Simba Hybrid Duvet with their OUTLAST® technology, which actively regulates your temperature.

Mattress Protector and Orbit™ Weighted Blanket.
Simba Mattress Reviews
The Simba mattress has 4.8 out of 5 star rating, from more than 54,000 real customers who bought the mattress.  The company is proud to have received more than 120,000 five star reviews from customers in 3 major countries (UK, France, and Canada). Many UK customers have complimented their new mattress stating that it's "Lovely, firm but very comfortable, has done wonders for our aches & pains". "The Mattress is the best one I have ever slept on, both myself and my partner are enjoying the best sleep we have ever had on it."
To see and read some of the Simba Hybrid and Simba Hybrid Pro reviews click here.
Price of Simba Hybrid: from £569 depending on size and if it's on sale.
Available in eight sizes.
Price of Simba Hybrid Pro: from £869 depending on size and if it's on sale.
Available in four sizes.