Simba Hybrid Kids Mattress Review
Simba is known for making high quality mattresses in the UK, that are carefully engineered to deliver a good night sleep. 
The company has recently launched the Simba Hybrid Kids mattress, which can be used on a bunk bed or a regular kids bed. It's 16cm thick and is designed to provide the right level support for kids as they grow.
What's more, the Simba Bunk Bed Mattress comes with 200 night trial, so you can decide if the mattress is right for you or not.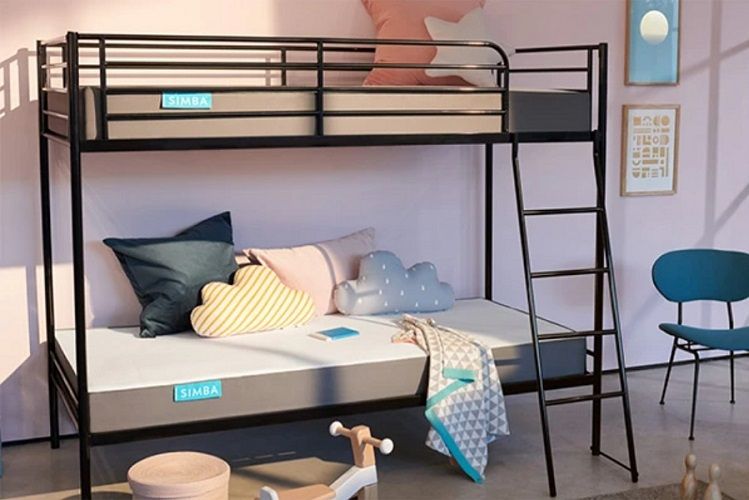 Every parent knows the advantages of having a bunk bed in their kid's room. The main advantage is that it saves floor space, while leaving more free room in the bedroom for play, or for another furniture piece, such as: a desk, wardrobe, chest of drawers and more. 
Just make sure that the child who will be sleeping on the top bunk is at least 6 years or older due to safety concerns. While the Simba Hybrid Bunk Bed Mattress was designed for bunk beds, it can also be used on mid-sleepers, high-sleeper beds or regular children's beds.
Simba Hybrid Kids Mattress Layers:
The Simba Hybrid Kids Mattress is made of several layers of high-quality materials, and measures a total of 16cm in height.
Hypoallergenic knitted cover, which is breathable and very soft.
Open cell CertiPUR® foam with graphite for cooling.
In the middle there are 970 Aerocoil pocket springs (made of Titanium alloy), which move side-to-side and back-to-front. They provide a cushioned support and absorb pressure, so your child can sleep comfortably every night. 
High definition foam with edge support.
CertiPUR® foam support base, which is very durable and provides a comfortable and supported feel for every sleeper.
Additional Info: 
The materials inside the mattress are designed to support the weight of a grown up person. This means that if you're used to reading a book to your child every night, you can sit or lay next to your child on the mattress, without sinking too much. 
Make sure you also buy a waterproof mattress protector, so that you can keep the mattress clean and in top condition for a very long time. Also, you don't have to turn the mattress, just make sure you regularly rotate it side to side, to ensure even wear.
The Simba Hybrid Kids Mattress is made in the UK and comes with 10 year guarantee. 
Size: UK single size (90cm wide, 190cm long, 16cm deep)
Price: £499
Shopping Tip: The Simba Hybrid Kids Bunk Bed Mattress is also sold on Amazon. However, keep in mind that if you buy it from Amazon, you'll be given only 100 night trial period, instead of 200 nights. Check it's price on Amazon here. 
Delivery Info:
Simba offers free delivery, which is done usually within 3 business days. The mattress comes vacuumed and rolled up in a box that measures 105 x 42 x 42 cm. Once it arrives, make sure you unpackage it and leave if for a few hours to expand to its full shape, before sleeping on it. 
Simba also offers 200 night trial on their bunk bed mattress, which means that once you buy it your child can sleep on it for up to 200 nights. During this time you can determine if this is the right mattress for your child and they're getting a truly comfortable sleep. 
If you feel that this is not the right mattress for your child, you can simply contact Simba's customer support and they'll arrange a free pick up and refund you the money. If you're looking for a premium quality mattress for your master bedroom, make sure you read about the Simba Hybrid mattress, which is available in double, king and super king size.
Simba Hybrid Kids Mattress Reviews:
The Simba Kids mattress has a near excellent rating of 4.9 from 5 stars from over 1,125 customer reviews. The majority of customers have said that their child finds their new mattress very comfortable and is sleeping much better. 
Pros: 
Some parents have pointed out that their children fall asleep much quicker now, while some have said that their child enjoys going to bed and staying there.
Other parents have said that their child sleeps through the night, and no longer wakes up and climbs into their bed.
Many are very happy with the quality of the materials, and feel that it's a good value for the price.
When it comes to the delivery and customer service, lots of customers have said that the delivery was very quick and the ordering process was very easy. With a near perfect rating, there are just a handful of negative reviews on the mattress. 
Cons:
One issue that was raised is that there was a smell coming out of the new mattress once it was unpackaged. However, only just a few customers experienced this problem, and some people said that the smell faded a few weeks after using it.
Make sure you read all customer reviews, so you can determine if this mattress is right for you. 
Disclosure – top10mattressinabox.co.uk independently reviews and ranks products, by thoroughly researching them. We may receive a commission when a purchase is made through our links, at no cost to our readers. Prices and ratings mentioned above are accurate as of June 7, 2023.