Best Mattresses to Buy Online 2023
Read Reviews. Compare. Choose The Best Mattress!
How to Choose the Best Mattress?
The average person sleeps around 8 hours a day, that means that 1/3 of our lives will be spent sleeping! This is a huge part of our lives, therefore it's important to sleep on a high quality mattress that will give you a restful and comfortable sleep every night. To help you with your choice, here are some things you should consider when choosing your mattress.
Which type is right for you:
The first thing you'll notice when you start shopping for a mattress, is that they are made of different materials. Here are the three main mattress types you should know:
Memory Foam Mattresses – are known for their comfort. They contour to a person's body shape, and provide good pressure relief by distributing body weight evenly.
Pocket Spring Mattresses – are made of hundreds of individual springs that are housed within their own fabric pockets. Each one moves independently, providing the right amount of support on your body. Pocket spring mattresses, isolate motion transfer between sleeping partners very well.
Hybrid Mattresses – contain one or more layers of memory foam and a layer of springs. This way you get the best of both worlds: good comfort and pressure relief from the memory foam, and good body support from the springs.

Mattress Firmness:
An important factor to consider when choosing a mattress is – how firm should it be? There are 3 firmness levels: soft, medium, and firm.
Each person has their own preference of the firmness level they think is the most comfortable, however a recent Medical Harvard study was conducted by Dr. Jeffrey N. Katz involving 313 patients who suffered from lower pack pain. The study showed that the best mattress to aid sleep is a medium-firm mattress.
The good news is that all of the mattresses, shown on the table above offer have medium-firm support level (on a scale from 1-10, around a 7). If you still want to choose your own firmness level, check out TEMPUR ONE Mattress which is available in soft, medium, and firm.
Get a Great Night Sleep With Our Helpful Guides:
Buying a mattress in a store vs. online:
The old way of buying a mattress, is by going to a retail store and laying down on a mattress for a few minutes to see if it's comfortable. However, a few minutes are simply not enough to determine if the mattress will be comfortable once you bring it home and sleep on it every night.
That's why many people are opting out and starting to shop online for a mattress with 200 or 365 night home trial. 
This way you can sleep on it at home and test important factors like: does it sleep hot at night, is it comfortable on your back and neck, and are you feeling rested in the morning. 
If for some reason you're not satisfied with the mattress, you can return it for free and get a full refund of your money.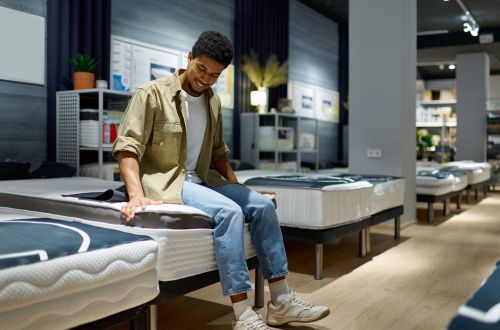 How the Mattress in a Box business model is changing the mattress industry:
The Mattress in Box concept has become very popular in the last few years. These mattresses are made with premium materials, have a universal comfort feel, and come at an affordable price. Once ordered it will be delivered straight to your home in a box. Since the mattresses are sold online and shipped in a box, there are no extra costs for big showrooms, commissioned salespeople, or expensive shipping costs. These savings mean that the mattresses can be sold for much less compared to traditional mattress brands.
Other advantages of buying a mattress in a box:
You have the option to finance your mattress with 0% interest. Simply apply for the 0% financing at the checkout page, to see if your application is approved.
All mattress companies shown on the table above, offer a variety of mattress sizes: single, double, king, super king, emperor mattresses. Some even offer small double, and EU sizes which are 10cm longer.
The mattresses come with 10 year warranty, providing a replacement or repair in the event of a defect covered by the warranty. The Nectar mattress even comes with Forever Warranty! 
The delivery and returns are free to Mainland UK.
Disclosure – top10mattressinabox.co.uk independently reviews and ranks products, by thoroughly researching them. We may receive a commission when a purchase is made through our links, at no cost to our readers.