Fogarty is a popular UK sleep brand, established in 1872. The company was bought by the UK retailer Dunelm, and has been exclusively manufacturing and selling the Fogarty mattress collection for several years now.
The company is known for making comfortable mattresses, that are also affordable (starting from just £149 for a double size). 
Are Fogarty mattresses any good?
There are around 15 Fogarty mattresses to choose from, some of their pros include:
There is a wide choice of pocket spring or open coil mattresses, from soft, medium to firm support feel.
Most of them are hypoallergenic and have gone through anti-allergy treatment.
The air vents and mattress fillings inside provide better air circulation and temperature regulation.
All Fogarty mattresses are handcrafted in the United Kingdom.  
Covered by 10 year guarantee. 
While there are around a dozen Fogarty Mattresses that you can choose from at Dunelm, we've listed the top 5 according to their customer rating. Make sure you check the list below and compare each mattress according to their rating, price and features. 
1. Fogarty Just Right Extra Comfort Orthopaedic Open Coil Mattress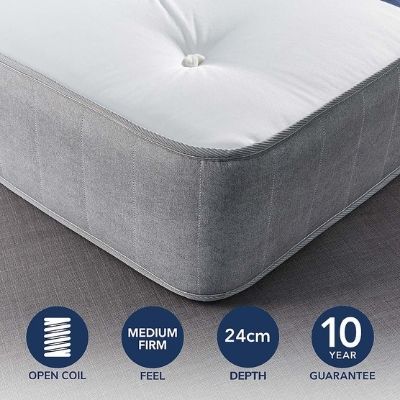 The Fogarty Just Right Extra Comfort Orthopaedic Open Coil Mattress is for those who like sleeping on a firmer surface, since it's rated at "medium/firm".
It is made using orthopaedic coil spring system, supporting the right alignment of your spine. There is also a layer of Eco-Flex Fillings (made from recycled textile). These fillings are comfortable and support the main pressure points in your body.

It's hand tufted for extra durability and has hypoallergenic cover. It's dual sided, and should be turned and flipped regularly.
Review: 4.8/5 from 34 customers
Price: from £179
2. Fogarty Dreamy Comfort 1000 Pocket Sprung Mattress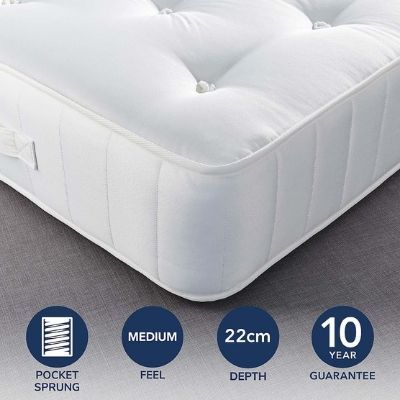 The Fogarty Dreamy Comfort 1000 Pocket Sprung Mattress is a popular choice for those looking for an affordable pocket spring mattress.
It includes 1000 pocket springs individually nested into fabric pockets. They offer enhanced support, distribute your weight evenly, and contour to your body shape very well. The Eco Flex layer provides an extra padding and comfort.

This mattress is hand tufted and has hypoallergenic sleep surface. There are four air vents (for better air circulation inside). Features a dual sided sleep surface.
Review: 4.5/5 from 121 customers
Price: from £219
3. Fogarty Dreamy Comfort Gel Top 1500 Pocket Sprung Mattress
The Fogarty Dreamy Comfort Gel Top 1500 Pocket Sprung Mattress is unique because it has a layer of gel inside to keep you cool, while you sleep.
Top layer is 1″ (2.5cm) Gel, which helps keep you cool at night. The gel also provides a "bounce back" feeling, moulding to your body just the right amount, without creating a sink-in feeling.
There is also a layer of 1500 individual pocket springs. They respond to a person's unique body shape and reduce motion disturbance between sleep partners.
The eco-polyester fillings are made from recycled polyester fibres and provide additional 

comfort when you lay down.
Review: 4.5/5 from 72 customers
Price: from £359 
4. Fogarty Just Right Gel Top Open Coil Mattress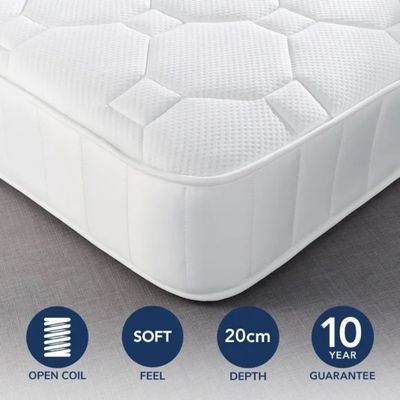 The Fogarty Just Right Gel Top Open Coil Mattress is a good option for those who like to sleep on a soft mattress.
On top there is a Gel layer, which provides a cooling "bounce back" feel. This is an open coil mattress, providing the right level of body support when you lay down.
There is an Eco-Flex layer, made from recycled clothing, which provides an additional layer of padding and makes the mattress more comfortable.

The mattress cover is hypoallergenic, making it suitable for people with allergies.
Review: 4.5/5 from 63 customers
Price: from £159 
5. Fogarty Just Right Memory Foam Top Open Coil Mattress
The Fogarty Just Right Memory Foam Top Open Coil Mattress strikes a good balance between affordability and quality and is one of the most popular models.
This is an open coil spring mattress, combined with memory foam and an Eco Flex Layer (made from recycled textile). The mattress adjusts to your body, relieving pressure and promoting correct spinal alignment.

It has a hypoallergenic cover and is hand tufted. This is a single sided mattress so you should turn it regularly (do not flip it over).
Review: 4.4/5 from 575 customers
Price: from £129
About the Fogarty Brand
Fogarty is known for making high quality bedding products, from mattresses, toppers, pillows, sheets, and other products. The company Fogarty was established in 1872 and in 2015 was bought by the home furnishings retailer Dunelm.
Since then Dunelm has added more sleep products and is expanding the brand so that it caters to the needs of customers who are looking for a comfortable night sleep. They also sell a Fogarty Mattress Topper, for those who aren't yet ready to replace their current mattress.
How to choose a Fogarty mattress?
Here are 5 tips on how to choose the right Fogarty mattress:
The first thing you'll notice is that Fogarty offers Pocket Sprung Mattresses and Open Coil Mattresses. With a pocket sprung mattress, the springs move independently from each other, and they offer more support. The spring count can range from 1,000 to 2,000, and generally the higher the spring count the better. 
On the other hand, an open coil mattress has an inter-connected spring system, and come at a lower price tag (around £149 for a double size). One disadvantage of an open coil mattress, is that it often creates a "roll-together" effect for couples, and you can feel the movement of your partner.
Other important factors to consider when choosing a Fogarty mattress is how deep the mattress is (from 20cm to 30cm). You'll notice that some have a pillow top, which is plush and provides added comfort. 
Also, some have different fillings inside, from memory foam, wool, gel, bamboo, eco-friendly materials, etc.
And lastly you'll be able to choose from a good range of orthopaedic and hypoallergenic mattresses as well.
Single Sided vs. Dual Sleep Surface
You'll notice that each Fogarty mattress either has single sided sleep surface or dual sided sleep surface. This is a small difference, however some people might have a clear preference to which one they like more. 
If you have a single sided mattress, it means that you can sleep only on one side of it, and you should rate it side to side. While, with a dual sleep surface you can sleep on both the top and bottom side so you can flip it upside down, and still get the same feel.
Generally if you have a dual sleep surface mattress and if you rotate it and turn it regularly, you'll be able to maintain an even wear and keep it's support lasting longer. 
However, keep in mind that most mattresses are heavy, and it's easier if there are two people turning and rotating the mattress. On a good note, almost all Fogarty mattress come with handles on the sides to make this easier.
Additional Info:
When shopping at Dunelm, you'll get free standard delivery on orders over £49, however furniture and large items have a delivery fee of £9.95. 
Depending on the mattress size and model you want to buy, the delivery period will vary. But generally it takes 4-7 days for it to be delivered. Some items are available for same day click and collect in store. 
When you compare the Fogarty Mattresses to other well known mattress brands such as Emma, Simba or Eve, you'll notice that Fogarty has a much lower price tag at around £300 for a double size (depending on the model). While Emma Hybrid is priced at £809 and Simba Hybrid is £999 when not on sale. This is a big difference in price!
Below you can see some customer photos by people who bought a Fogarty mattress. Also, make sure you read a summary of the reviews on the bottom of this page.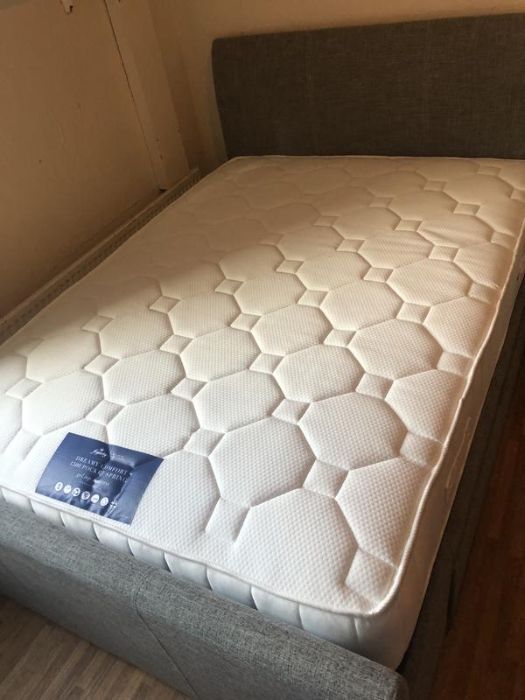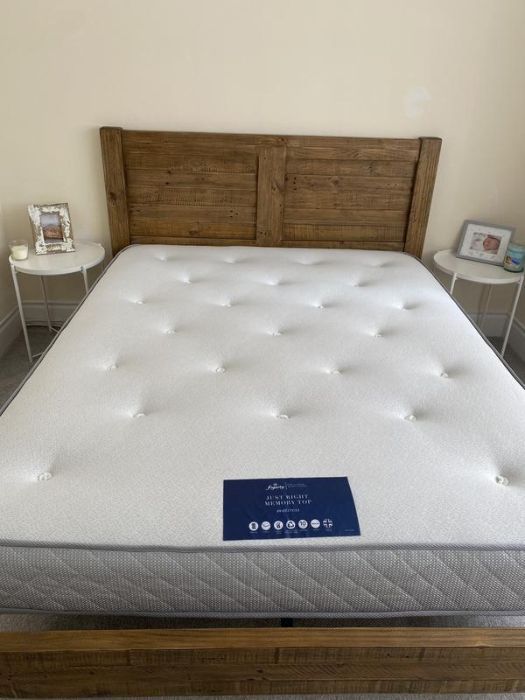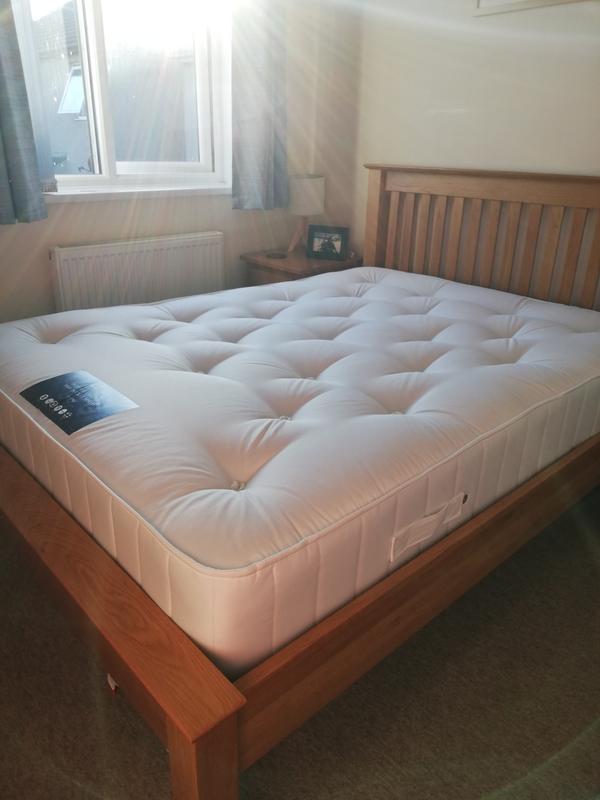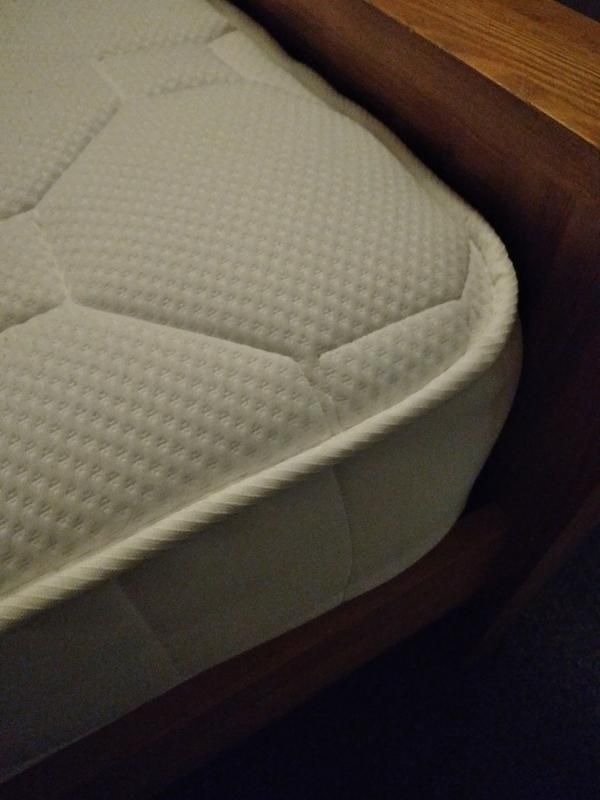 Fogarty Mattress Reviews
Looking at the Fogarty mattress customer reviews, overall customers were happy with the quality of their Fogarty mattress. They have said that it's comfortable, good value for the money, and that they have received excellent service from the delivery team. There have been some complaints regarding the firmness level and edge support from reviewers, so this is something to keep in mind.
The Fogarty Just Right Extra Comfort Orthopaedic Open Coil Mattress seems to be very popular with customers and has received a high 4.8/5 rating from 34 reviews. The lowest rated model is the Fogarty Just Right Pillow Top Orthopaedic Open Coil Mattress with 3.9/5 star rating from 54 reviews.
Pros:
Many are getting a great night sleep and are finding the mattress very comfortable. Those who bought a Fogarty mattress for their kid's room have said that their kids are sleeping well and are happy with the quality.
A lot of customers have said that it's great value for money. The price is much lower compared to other mattress companies, offering a similar product.
Several people have commented that they can't feel any movement from their partner during the night. This means that they're getting a more restful and undisturbed sleep.
Cons:
Several customers have said that their mattress feels harder than expected.
Some customers who bought an open coil mattress have said that there is little side/edge support. One person has gone off to say that whey they sit on the edge of the mattress, they feel like "they'll fall off".
Another complaint of open coil mattresses is that they feel "bouncy", since the coils are interconnected (verses individual pocket springs). Additionally, some have said that their mattress has started to sag (dip) in the middle after several months of use.
Make sure you read all customer reviews here.
Disclosure – top10mattressinabox.co.uk independently reviews and ranks products, by thoroughly researching them. We may receive a commission when a purchase is made through our links, at no cost to our readers. Prices and ratings mentioned above are accurate as of May 26, 2023.