Emma Hybrid Mattress Review & Buyers Guide
A welcome addition to the UK market, the much-anticipated Emma Hybrid Mattress is now available to UK customers. 
Emma's unique Hybrid Mattress measures 25cm deep and is made in Derby, UK. It is crafted using high-quality foams, steel micro-coil springs and delivers a comfortable night's sleep. 
Price: from £589 (plus Free, No Contact Delivery)
What is a Hybrid mattress?
Before we dive into the product, we must understand what we're looking at! Simply, a hybrid mattress is one that utilises both springs and foam. Hybrid mattresses tend to provide the best of both worlds, as you can experience the pressure relief of memory foam along with the sturdy feel of more traditional spring mattresses. The Emma Hybrid Mattress certainly falls into this category.  
Emma Hybrid Mattress Layers & Construction:
The Emma Hybrid Mattress combines the best foam and minuscule pocket springs, forming four layers in addition to the sleeping surface. 
On top there is a cooling mattress cover, which is designed to wick away moisture and keep you cool and dry throughout the night. It can be easily removed and machine washed so you can keep it clean.
Next there is the Airgocell foam layer. Perhaps the Emma Hybrid Mattress's standout feature, the top foam layer is open-pored and breathable and absorbs heat but also regulates temperature, keeping you cool throughout the night.
The middle section of the mattress comprises a layer of up to 2,000 steel mini pocket springs, depending on the size you opt for. 
The next layer comprises market-leading viscoelastic memory foam, the critical component to adapt to your body's shape and provide an excellent night's sleep.
The base is composed of a HRX Supreme foam, which is the firm foundation from which the rest of the mattress is constructed. 
A critical element of Emma's Hybrid Mattress is its combination of premium-quality foam and mini springs, offering pressure relief and comfort while also delivering a sturdy and supportive base that is crucial to the perfect night's sleep.
Emma Hybrid Mattress Cover 
Encased in a machine-washable, removable cover, the Emma Hybrid Mattress cover is equipped with temperature-regulating fibres and a 3D mesh, which aids the mattress's breathability as a whole.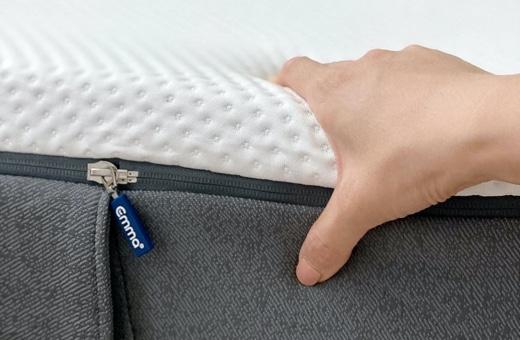 The cover is made of 98% polyester and 2% elastane and is even fixed with anti-slip elements that help the mattress stay in place on your bed frame. The cover is dark grey, a neutral colour that is complementary to most bedspreads and throws. Overall, the mattress cover aids the product's aesthetics while providing a hygienic, protective layer that can be removed and washed with ease.
What can I expect from the Emma Hybrid Mattress? 
Most importantly, you can expect a great night's sleep. As with all new mattresses, it takes a couple of days to settle into and for the lingering 'new mattress smell' to fade. The Emma Hybrid Mattress is reasonably firm without being uncomfortable, as the Airgocell memory foam compliments this with its soft, supportive feel. It would be fair to describe the Emma Hybrid Mattress as medium-firm.
The memory foam layers are adaptable and relieve pressure on your back and sides, providing comfort regardless of the position in which you sleep. Additionally, the Emma Hybrid delivers a cool sleeping climate, thanks to the breathability of the patented Airgocell technology. The combination of the foam and mini springs prevents heat from being trapped and removes moisture particles. You don't need to worry about over-heating in the middle of the night, as the mattress helps regulate your bed's temperature.
Emma Hybrid vs. Simba Hybrid Mattress Comparison: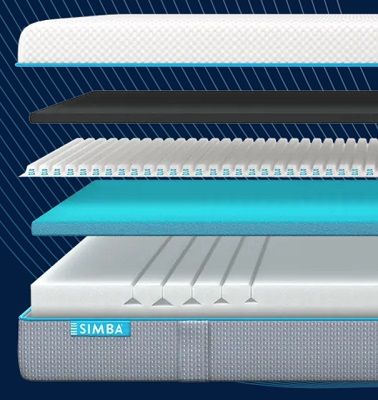 Doing some research before buying your mattress is always helpful. This includes looking at similar products and comparing them against each other. One alternative is the Simba Hybrid mattress which is also 25cm deep and is made in the UK.
It has a hypoallergenic and breathable knitted cover, however it can't be removed or washed.

Below that there is open-cell foam layer, and then a layer of up to 2,500 mini conical pocket springs. They are 2.5cm high and are made with titanium alloy.

There is also a high definition foam and zoned support base.
The Simba Hybrid also comes with 200 night trial and free delivery, however its price is slightly higher at £879 for a double size mattress.
Do I need to buy a specific type of bed frame for the Emma Hybrid Mattress?
No. Given the high spec and versatility of this mattress, you could place it on almost any surface, as long as it's flat and sturdy. You could even put it straight onto the floor, but as with all mattresses, bed frames offer that extra layer of protection from dust and damage.
You can order many different sizes from Emma, so you don't need to worry about searching the market for a particular frame that will fit, as the dimensions are relatively standard and span from a small single all the way through to super king size. It's fair to say that you are likely to find a mattress to fit your current bed frame.
Delivery Information:
If you decide that the Emma Hybrid Mattress is for you, then you can order directly from Emma's online store. They deliver your mattress within 1-3 business days, and it's delivered in an ergonomically designed compact box, measuring 45 x 45 x 110 cm.
The box has been designed specifically to help deliver the mattress up narrow stairwells and the like and is another unique feature of the Emma brand. Impressively, Emma are currently offering free delivery on all mattresses ordered.
200 Night Trial:
Emma also offer other perks, including a 200-day trial period and a ten-year guarantee if you complete your purchase. Their customer service team is friendly and can arrange everything for you, including returning if you're not satisfied during your trial period. This way you don't have to worry if you've made the right decision. You have nearly 6 months to sleep and try out the mattress at the comfort of your own home. You can see a full list of mattress companies that also offer free trials here. 
Another huge plus point about buying a mattress from Emma is that they remove your old mattress for you at the cost of £35. They arrange a date with you once your new mattress has been delivered, meaning you don't have the hassle of finding what to do with your old mattress.
Emma Hybrid Price:
The Emma Hybrid is available in five sizes and the price will depend on the size and if the mattress is currently on sale or not. These are the regular prices, however make sure you visit Emma's website to see if there is a sale right now.
£589 – UK Single Size (90x190cm)
£789 – UK Small Double (120x19cm)
£809 – UK Double (135x190cm)
£919 – UK King Size (150x200cm)
£1,029 – UK Super King Size (180x200cm)
Conclusion: Is the Emma Hybrid Mattress for me? 
Emma's exceptional mattress range continues with the new Hybrid Mattress. Beautifully designed and incredibly comfortable, the premium quality materials used in constructing this mattress make it a standout product. Being a hybrid, it achieves the perfect balance between the traditional sturdiness of springs and the comfort and support offered by the memory foam.
If you're looking for a mattress that helps deliver the perfect night's sleep, then the Emma Hybrid Mattress may well be for you. And with a risk-free trial period and a ten-year guarantee, now is a great time to order your Emma Hybrid Mattress.
Disclosure – top10mattressinabox.co.uk independently reviews and ranks products, by thoroughly researching them. We may receive a commission when a purchase is made through our links, at no cost to our readers. Prices and ratings mentioned above are accurate as of October 12, 2021.