Emma Mattress Topper Reviews
If you want to improve your sleep, but don't want to splash out on a new mattress, then a mattress topper is a good solution. 
Emma is a well known UK mattress brand and they recently introduced two mattress toppers: 
Emma Flip Topper – 6cm deep (from £179 reg. price)

Emma Premium Topper – 9cm deep (from £330 reg. price)
Both come with free delivery and 100-night trial period and money-back guarantee.
The Emma Mattress Toppers provide you with additional support during the night. They also prolong the life of your old mattress, so you don't have to buy a new one just yet.
Emma Premium Topper vs. Flip Topper
In this guide you can read more information on whether an Emma Mattress Topper is right for you, and give you some alternatives. 
1. Emma Flip Mattress Topper
The Emma Flip Topper is 5cm deep and has soft and firm side. This means that you can adjust the firmness that best suits you, by simply flipping the topper. It comes with 100 night trial and 10 year warranty.
The Emma Flip Topper is made of the following layers:
The topper has an UltryDry Cover, which absorbs excess heat and wisks away moisture. It helps create an "ideal sleeping climate" for an undisturbed sleep. The cover can be removed and washed, so you can keep it clean regularly.
On the top side, there is a layer of Airgocell® Foam, which is ultra breathable and regulates temperature very well. The Airgocell® Foam is soft to sleep on, and has a near "cloud-like" experience.
On the bottom side, there is a layer of HRX ZeroGravity Foam, which has very good pressure-relieving properties. It supports your back and other key areas of your body. It has a firmer feel, and is preferred by those who like sleeping on a firm mattress.
The Emma Flip Topper is OEKOTEX®-100 Standard Certified, for using certified safe fabrics and textiles.
Sizes: single, small double, double, king, super king
Price: from £125.30 (reg. £179)
The Emma Diamond Degree Topper is 9cm deep and has unique temperature regulation technology, because it has a layer of graphite coating. This product comes with 10 year warranty and 100-night trial.
It's make of the following layers:
Breathable and elastic cover – this is a highly breathable cover, which ensures that the temperature-regulating effect of the topper is maintained.
Diamond Degree® Technology – provides advanced temperature regulation. It helps you reach the optimal body temperature for a deep and restful sleep.
Adaptable HRX comfort foam – provides pressure relief, no matter what is your sleeping position.
The Emma Diamond Degree Topper comply with the OEKO-TEX® Standard 100. You can remove the cover and wash it at maximum of 40° C.
Sizes: single, small double, double, king, super king
Price: from £330
Additional Information:
Emma offers free delivery for all of their products, which is done usually between 1-3 business days. They work with DPD, UPS and Rhenus to deliver their products throughout the country. 
The Emma toppers weight between 11-15kg (double size is: 11kg, king size is 12kg and super king size is 15 kg). They will arrive in a box with the following dimensions: 38cm x 38cm x 55cm.
Emma is UK sleep brand known for manufacturing UK's most awarded mattress: the Emma Original. The mattress is made using high quality memory foam and innovative Airgocell® which regulates body temperature and adapts to a person's body shape. It also has a breathable mattress cover, which you can easily remove and wash.
Emma has been selling sleep products in the UK since 2019. Their products include: Emma Original Mattress, Emma Hybrid Mattress, Emma pillow, duvet and mattress protector.
Alternative Product:
But how does the Emma Topper compare to other popular toppers from competing brands? Let's look at the Simba Mattress Topper, and compare them by materials used, price, trial period and more.
The Simba Mattress Topper is 6.5cm deep and is made using Simbatex synthetic latex and provides a high resilience density foam that significantly enhances your bed's comfort. 
The Simba topper combines 2,500 supportive pocket springs with a breathable sleep surface and cooling comfort layer to produce a high quality, durable topper that provides added support throughout the night. 
The Simba Mattress Topper has a reg. price of £349 for a double size, but it can go down to £226.85 when on sale. Unfortunately it doesn't come with a trial period. 
Emma Mattress Topper Reviews:
Emma Sleep has a 4.0/5 star rating, based on over 34,320 reviews in Trustpilot. The Emma Mattress Toppers are a relative new product, but there are already dozens of reviews left by customers who have bought and tried the product, with a wide majority of them happy with their purchase.
Pros:
Many like the topper because it has helped them soften a mattress that was originally too firm for them. 
Others like the topper because it's comfortable, provides better support and overall has improved their sleep.
Good solution to make an old uncomfortable mattress feel better, without spending too much. 
Option to sleep on a soft or firm topper is very handy, customers can easily flip to topper to the preferred firmness level.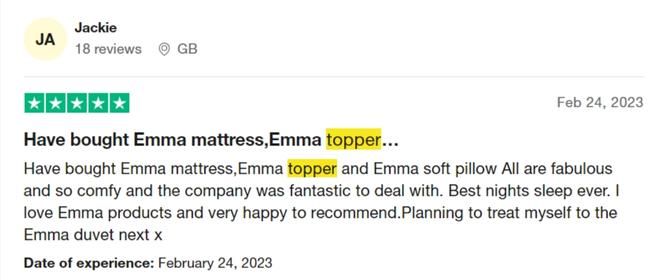 Cons:
Some have pointed out that there are no straps on the Emma mattress topper, so it moves and they had to adjust it back to its place. 
Several customers had problems with the delivery, saying that it was delayed and they didn't received proper communication from Emma's customer support. However, Emma's customer support is quick to reply on TrustPilot and have any issues resolved.
Disclosure – top10mattressinabox.co.uk independently reviews and ranks products, by thoroughly researching them. We may receive a commission when a purchase is made through our links, at no cost to our readers. Prices and ratings mentioned above are accurate as of May 5, 2023.