Sealy PostureLux Mattress Review
The Sealy PostureLux Mattress collection is available exclusively from Dreams. Each mattress has a latex comfort layer that provides instant pressure relief to the areas of your body that need it most.
Additionally, there is a layer of trademarked PostureTech Core Support Plus springs. The springs are engineered for minimal motion transfer and responsive support throughout the night.
Another unique feature of the PostureLux mattress range is the inclusion of SilverFresh technology, which effectively prevents the build-up of bacteria to preserve the integrity and freshness of the mattress. 
Sealy's ProShield technology is also hypoallergenic and keeps most allergens at bay, which is something else that helps to keep the mattress fresh. 
The Sealy PostureLux Mattresses are available in "medium" and "firm" comfort grade. If you prefer an "extra firm" sleep surface, check out the Silentnight Heaton mattress. 
Overall, the Sealy PostureLux Mattresses have a number of impressive features – but what do customers think about the sleep surface and the value it provides? Read this detailed review to find out. 
1. Sealy PostureLux Wilton Mattress
The Sealy Posturelux Wilton Mattress is the most popular in the collection, as it strikes a good balance between comfort and price. It is 29cm (12 inches) deep and offers a premium sleep experience with a "firm" comfort grade.
Boasting Sealy's unique PostureTech Core Support Plus™ spring technology, featuring six-turn springs, it provides exceptional support and longevity. This spring system, exclusive to Sealy, ensures a deeper level of support.
To enhance comfort, the mattress features a latex comfort layer that adapts to your body for instant pressure relief.
Additionally, Sealy includes a double layer of their firm premium foam, offering a complete comfort stack with a firmer feel.
The Wilton mattress incorporates SilverFresh™ technology in its quilted fabric, promoting a healthy sleeping environment by preventing bacterial growth. Allergy UK has certified Sealy's ProShield® technology for its allergen-fighting properties.
Rating: 4.8/5 from 195 customer reviews
Price: from £899
2. Sealy PostureLux Kindra Mattress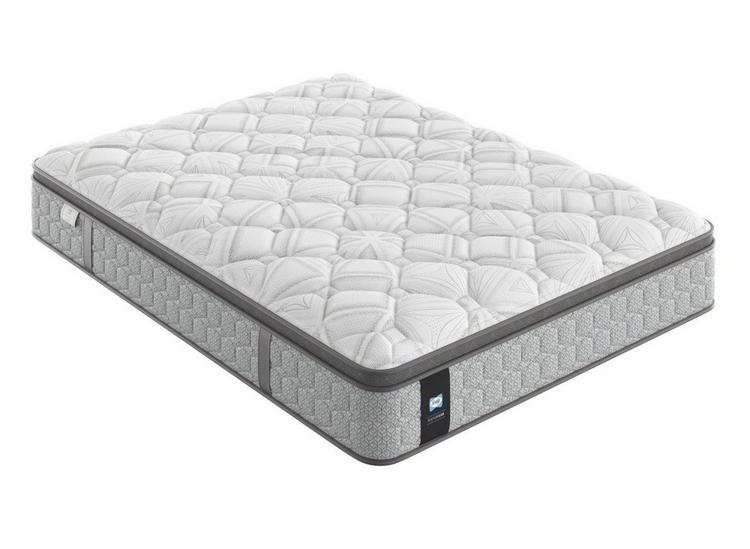 The Sealy PostureLux Kindra Mattress is 30cm (12 inches) deep.  This premium Sealy PostureLux mattress boasts a "medium" comfort grade, offering the right combination of support and comfort.
At its core, the exclusive PostureTech Core Support Plus™ springs provide exceptional support with a high profile, featuring six turns for added resiliency and durability. These springs conform to your unique body shape, ensuring a deep level of support.
A latex comfort layer adapts to your movements for soothing pressure relief and maintains a fresh, anti-bacterial environment. Complemented by a combination of Sealy's premium foam in firm and medium layers, it creates a popular medium feel.

UniKey® technology encases the entire mattress edge, providing a larger sleep surface and stable seating.
The mattress fabric incorporates SilverFresh™ technology to guard against bacteria, fostering a healthier sleeping space. Furthermore, ProShield® technology, endorsed by Allergy UK, keeps allergens at bay, ensuring your mattress remains clean and fresh. 
Rating: 4.8/5 from 111 customer reviews
Price: from £999
3. Sealy PostureLux Forbes Mattress
The Sealy PostureLux Forbes Mattress is 32cm (13 inches) deep and is rated as "medium". It is deeper than the other models by 2-3cm and offers a more sumptuous support.
At the core of this mattress is Sealy's unique PostureTech Core Support Plus™ spring technology, featuring six-turn springs for exceptional support and longevity. This exclusive spring system is twice tempered for added resilience and durability, providing a deeper level of individualized support. It's a feature found only in Sealy mattresses.
For ultimate pressure relief, a sumptuous latex comfort layer is combined with a double layer of Sealy's medium premium foam, creating a complete comfort stack.

The mattress is expertly crafted with UniKey®, ensuring a larger usable sleep surface and a sturdy seating edge for added convenience.
The mattress fabric incorporates SilverFresh™ technology, preventing bacterial growth and fostering a healthier sleep environment. Certified by Allergy UK, Sealy's ProShield® technology effectively wards off allergens, keeping your mattress fresh and clean.
Rating: 4.8/5 from 82 customer reviews
Price: from £1,199
Additional Information:
The Sealy PostureLux Mattress Collection is handmade in the UK and comes with a 5-year manufacturer's guarantee.
When you order a mattress or bed from Dreams, you qualify for free UK delivery on any day between Monday and Saturday.
Additionally, Dreams has a 100-night comfort guarantee on all mattresses. This means that if you find that your original mattress isn't the ideal comfort level for you, you have the option to exchange it for a more suitable alternative. Mattress settling is a natural process, ensuring tailored support. Should you remain unsatisfied between 30 and 100 nights of use, Dreams will facilitate an exchange, ensuring you have the perfect mattress. 
Shopping tip: If you prefer sleeping on a memory foam mattress, check out the Dream Team Kirkham mattress, which has a layer of memory foam and up to 930 pocket springs. 
Sealy PostureLux Mattress Reviews by Real Customers
The Sealy PostureLux Mattress range has been selling for over a year by Dreams. All of the 3 mattresses in the range have a 4.8 out of 5 star rating.
However, the most popular one is the Sealy PostureLux Wilton with over 195 customers giving an average rating of 4.8/5 stars. Many are satisfied with the comfort and support they feel, allowing for a good night's sleep whether on their side or back.
Pros 
Many reviewers agree that the Sealy Wilton is a firm mattress that provides exceptional support, which has even helped some customers with back and neck troubles. 
It's clear that the PostureLux Mattress combines comfort with support, as many customers agree that they have seen their sleep improve as a result. Despite initial firmness, they're advised that the mattress will become softer over time.
They appreciate the added durability of the steel band on the edge, preventing sagging on the sides. 
Most customers also agree that their new Sealy PostureLux mattress is made to high standards and retains its impressive properties into the future. 
Cons 
In terms of the negative reviews, the majority relate to the experience of ordering from Dreams, with several customers disappointed that the mattress was not as expected (or damaged) when it arrived.
As for the product itself, one or two reviewers do mention that it feels a bit "springy" when compared to other products. As a result, they feel that it is uncomfortable to sleep on.
Disclosure – top10mattressinabox.co.uk independently reviews and ranks products, by thoroughly researching them. We may receive a commission when a purchase is made through our links, at no cost to our readers. Prices and ratings mentioned above are accurate as of November 6, 2023.