If you're looking to buy a new mattress, then you've probably come across Emma as a popular brand. 
However, many people are wondering if this is a quality mattress and if there are any Emma mattress problems they should know about?
Below you'll read about the most common problems people are having. 
Emma Mattress Problems and Complaints: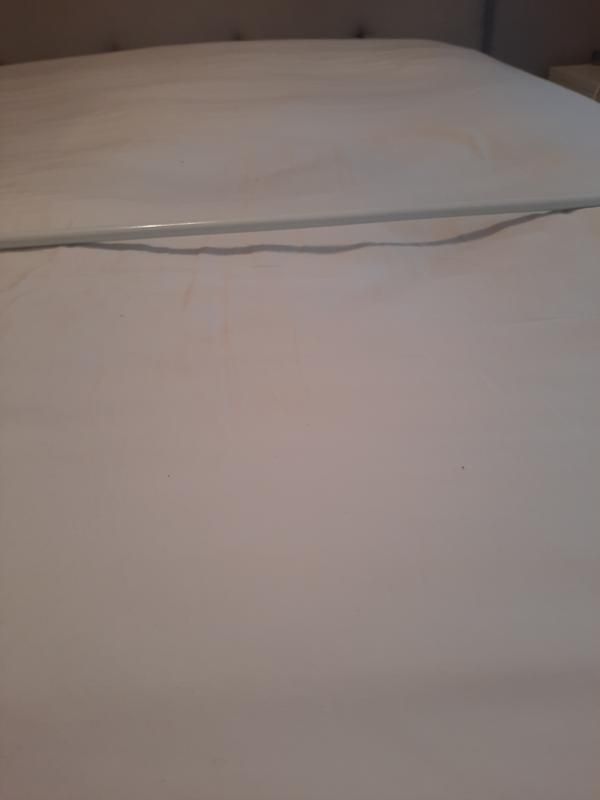 The most common problems and complains include: a sag or dip on the sleep surface, the mattress being too firm or too soft, and being too hot during the summer months. 
A sag is the most serious problem, since it can lead to uncomfortable and poor sleep experience, and in some instances back pain.
Let's start off with the top question that everyone is asking:
Do Emma Mattresses Sag?
Emma mattresses will begin to sag slightly over time, however this is normal for all mattresses that contain memory foam inside. 
Most importantly, if your Emma mattress has a sag or dip that is greater than 2.5cm, it should be eligible for a refund or exchange under Emma's 10 year guarantee.
Now let's go over each problem in more detail:
1. Emma Mattress is Sagging (Dipping)
If your Emma mattress is sagging, it's generally a sign of wear and tear, often caused when the mattress has been housed on an unsuitable or uneven surface. For example, if you have a bed with solid or sprung slats, make sure that the gap between each slat is not greater than 7.5cm (3 inches) and that they are evenly spaced. 
Sagging can be prevented by investing in a higher quality bed frame or divan base and by regularly rotating your mattress. If you don't seek to correct dips in your mattress, it can lead to back and joint pain, as well as general discomfort as you can't seem to get comfortable throughout the night.
Here is what two customers have said about the Emma mattress, according to their experience:
Emma's 10 Year Guarantee: What does it cover?
If your Emma mattress has started sagging, you don't need to worry! Thanks to their ten-year guarantee on the 'dimensional stability and durability of the core materials,' the warranty will cover your mattress should you encounter any issues.
In particular, mattress sagging is covered in point 19.2.b. of Emma's terms and conditions. If there is a sag or dip greater than 2.5cm, then it should be eligible for a refund or exchange. 

Make sure you read Emma's full terms and conditions here. 
As a reference, Simba mattress covers dips and sags that are over 4cm (during the first 24-36 months of usage), which is worse off than Emma's 10 year warranty terms.
2. My Emma Mattress is Too Hot.
People who are new to sleeping on memory foam mattresses often complain that they're much too hot to get comfortable. This is because the foam forms the contours of your body, and it creates that sinking feeling of weightlessness, which is such a draw for so many sleepers.
To combat this issue, Emma's mattresses comprise a top layer of highly breathable material that shouldn't make you sweat throughout the night. It consists of a climate fibre structure that regulates humidity by releasing moisture, which is one of the most impressive features of the Emma range.
This being said, if you find your Emma mattress too hot, you could always opt to add a further breathable mattress cover to your memory foam mattress. This helps to increase the airflow throughout your mattress and will reduce the effects of overheating.
3. My Emma Mattress Smells Funny.
The funny, somewhat unpleasant smell that you may notice when you receive your Emma mattress results from a process called off-gassing. This is perfectly normal and occurs when the volatile organic compounds within the mattress break down.
The off-gassing process doesn't usually last for more than a week, and you can always leave your mattress to air in a spare, well-ventilated room while the remainder of the gases dissipates.
This smell is nothing to worry about and is common with almost all new mattresses.
4. My Emma Mattress is Too Firm / Too Soft.
One of the most challenging aspects of choosing a new mattress is deciding on an appropriate firmness rating. After all, everyone is used to something different, and some brands sell sleep surfaces that are slightly firmer or softer than others.
Emma sells three mattresses, and each one has a different firmness level. On a scale of 1 to 10 (1 being the softest and 10 being the firmest), here is a breakdown:
Emma Original is a 5 (medium) mattress.
Emma Hybrid is a 3 (medium soft) mattress.
Emma Original Hybrid is a 6.5 (medium firm) mattress.
The Emma Original mattress is positioned at around 5 out of 10 on a firmness scale, meaning it has a medium comfort level. The patented and highly complex layers of foam have been comprised to ensure the perfect sleep surface, and Emma tries to cater for sleepers of all shapes and sizes.
If you're are on the heavier side, you might want to go for a more firmer mattress, ideally the Emma Original Hybrid or the Emma Original. 
If you prefer a soft or medium sleep surface, check out our comparison between Emma Original vs. Emma Hybrid, to find out which mattress is more suitable. 
Do I need to rotate my Emma Mattress?
Yes, you need to rotate your Emma mattress in order to help expand its lifespan and prevent any uneven wear. Make sure you rotate it once a month for the first six months after you've bought it. After that, once every three months should be sufficient.
There are two handles on each side, which makes rotating clockwise or counterclockwise easier. Don't flip the mattress over, since it's one sided.
This means that you can only sleep on one side of it: on the white cover, while the grey cover should go on the bottom.
How long does Emma Mattress last?
Emma mattresses are designed to last up to 10 years and come with a 10 year guarantee policy. They are covered against common manufacturing defects and faults, such as: spring malfunction, permanent dips or sags, cracks in the foam, cover damage and others.
If you experience any of the issues described in the warranty, then you're eligible for a refund or replacement. However, your mattress should have been used with proper care, and should not have been damaged by improper use.
In addition, there are some important factors that will affect how long the mattress last. For example, your body weight, how often you use it, how often you rotate it, your bed foundation, and others.
What do I do if I'm Unhappy with my Emma Mattress?
When you buy a mattress directly from Emma, you will be protected by their ten-year guarantee as standard, so if anything goes wrong with your mattress after proper use and handling, the company will strive to put things right and offer you a solution. 
However, if you just don't like your Emma mattress after ordering it, you have 200 nights after you have ordered it to return it with no questions asked. You can return it free of charge for a full refund within those first 200 days.
The company gives you two options to return your mattress:
Shopping Tip: You may also want to see our list of best mattresses with free trials. They come with 100, 200 or even 365 night trial!
While some people have undoubtedly had negative experiences with their Emma mattress, the company scores 4.1 out of 5.0 stars from more than 34,400 reviews on Trustpilot, indicating that you're in safe hands when it comes to ordering an award-winning Emma mattress.
In particular, the Emma sleep products have received 1-star reviews from 11% of customers who reviewed them on Trustpilot. 
Make sure you read all Emma customer reviews here.
Disclosure – top10mattressinabox.co.uk independently reviews and ranks products, by thoroughly researching them. We may receive a commission when a purchase is made through our links, at no cost to our readers.
Prices and/or ratings mentioned in this article are accurate as of March 28, 2023, please click on link of each product for up to date prices.