If you're in the market for a new bed, you've almost certainly come across both sprung and solid slat options. Slats are the surface that your mattress lies upon, so it's important that you choose a surface that is appropriate so you can enjoy a perfect night's sleep.
To help you decide which is best for you, we're going to introduce you to the differences between sprung and solid slats, as well as some tips to consider for certain mattresses.
In this guide you can see the Woodstock Wooden Bed Frame sold by Dreams, with sprung slats and with solid slats. Generally, sprung slats are slightly more expensive.
The Woodstock bed frame with sprung slats is £419 for a double size.
The Woodstock bed frame with solid slats is £349 for a double size.
What are sprung slats?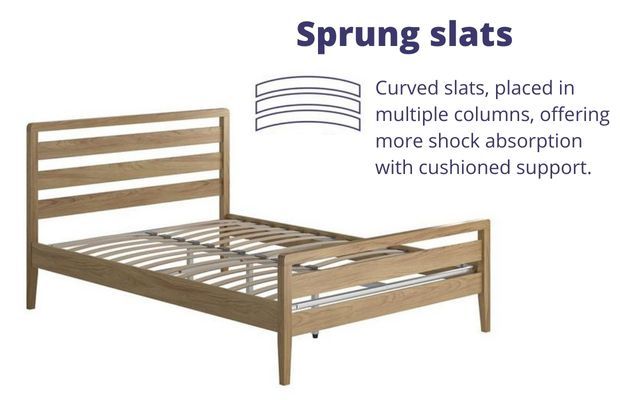 Sprung slats have been gently raised or curved. They're most commonly made from a strong wood like beech, and they sit atop your bed in two rows that are positioned halfway across your bed. Sprung slats tend to be flexible and accommodating to movement, making them a desirable choice for heavier sleepers.
Benefits of sprung slats:
They aid the durability of your mattress and ensure you don't sink into one position on your mattress.
Sprung slats also offer pressure point relief, as there's no stress or pressure placed on any of your joints due to their design.
You will also find that sprung slats have shock absorbing qualities, and they reduce the overall wear and tear of your mattress.
Overall, beds with sprung slats afford greater flexibility and movement, and can prolong the durability of your mattress. Below are a few common Q&As about sprung slats that many people might be wondering about.
Are sprung slats noisy?
Sprung slats are usually attached and held by a metal frame, and many people might get worried that they will begin to squeak over time. However, the squeaking is not a common problem, and if does occur over time it will be much less than that of a metal bed.
If you hear some squeaking from your sprung slat base, then remove your mattress and inspect the slats. The noise might be coming from the centre bar rubbing. In this case you will want to add some padding, which will soften and generally stop the squeaking.
You'll also be able to find sprung slats that are attached and held by a wooden frame and wooden centre rail (not a metal one), and in this case there won't be any squeaking heard at all. 
What are solid slats?
Solid slats tend to run the entire width of your bed, without stopping in the centre. Although they're commonly made from wood, it's also possible to find solid slats made from metal, the latter adding even more support to your sleep surface. Whereas sprung slats provide greater flexibility, solid slats add greater firmness to your mattress, which is attractive to anyone looking for additional support throughout the night.
Benefits of solid slats:
They're very easy to fix or replace if they become damaged or broken. This can save you from having to purchase a new bed if your slats become damaged.
Placing a firm mattress on top of solid slats will increase your bed's firmness. This is hugely beneficial if you suffer from back pains and aches.
Solid slats are a great option if you prefer a sturdy and firm sleep surface, as they don't tolerate a great deal of flexibility or movement at night.
Tip: Keep in mind that the recommended distance or gap between sprung or solid slats should be at least 7.5cm (3 inches) or less. If the gap is larger or if there is a broken slat, this will cause an improper wear and tear of your mattress and may cause it to sag in certain areas.
Which are better – sprung or solid slats?
In all honesty, it's not easy to say whether sprung or solid slats are better, as it really depends on what you're looking for. It will also depend on the type of mattress that you have, as well as your desired firmness.
Ultimately, either type of slats are more than capable of providing a perfectly supportive sleep surface to a variety of mattresses, whether you have a memory foam, pocket sprung, or hybrid.
As a takeaway, if you're looking for a little flexibility, opt for a sprung slat, whereas if you like the idea of adding additional support to your mattress, you will be more suited to a frame with solid slats.
What is the sprung slats weight limit?
Beds with sprung slats have a centre support rail with two or three centre legs for additional strength (single size beds, won't have a centre support rail). If you are wondering what is the weight limit, this will depend on the manufacturer, and you should check with them before making a purchase.
The highest quality material that sprung slats can be made from is Beech Timber, cheaper alternatives would be Birch and Poplar Timber.
Tip: Check out our guide on the best heavy duty bed frames, some of which have a strong welded mesh base.
Alternatives to bed frame slats
If you're still not sure if you should go for a bed that has a slat system included, another popular alternative is to get a divan bed. If you get a divan bed it usually comes with a matching mattress included. The frame is usually made of wood and is covered in fabric all around. The interior of the divan base is usually hollow, or in some cases it can have storage drawers.
Here you can see Therapur Divan Base, which is available without any drawers, with 2, 4, or hide away storage compartments. It's priced at £460 for a double size with two drawers. You can buy it in a wide range of fabric colours and you have the option to add legs or glides.
If you have a higher budget, then you can also consider getting an adjustable bed. 
It allows you to adjust the back and feet, and in some more advanced beds you can also adjust the lumbar and head areas.
One of the most popular and competitively priced adjustable beds are the Sleepmotion beds by Dreams (shown in the picture above), which start from £649 for a single size.