When shopping for a new mattress, the thought of bringing it home and maneuvering it through narrow doorways or up flights of stairs can be daunting.
Luckily, many retailers sell Rolled mattresses, which are much more manageable to transport and move around.
In this guide, we'll look at the pros and cons of Rolled (or Roll-up) mattresses so you can decide if they are worth buying or not.
What is a Rolled Mattress?
A Rolled mattress is a type of mattress that has been compressed and packaged in a roll or cylinder shape, instead of being sold flat.
These mattresses are designed to make transportation and storage easier, as they take up less space than a traditional mattress.
There are a wide variety of rolled mattresses available in the market, from traditional memory foam, to pocket spring, hybrid or gel infused ones.
Shopping Tip: See our list of top 10 mattress in a box brands, that all come rolled and delivered in a box. These are UK's top brands, which all come with a trial period, free delivery and returns.
What Types of Mattresses Come Rolled Up?
Memory foam mattresses: These are made of dense, viscoelastic foam that conforms to the shape of your body for added comfort and support. (The Nectar Mattress is a very popular option, and comes with 365 night trial.)
Latex mattresses: These are made from natural latex, which is derived from the sap of rubber trees. They are known for their durability and eco-friendly nature.
Pocket sprung mattresses: These are made of individual coils encased in fabric pockets. They provide excellent support and comfort by allowing for independent movement of each spring.
Hybrid mattresses: These combine the support of innerspring coils with the comfort of memory foam or latex. (The Simba Hybrid mattress is one of UK's most popular choices.)
Are Rolled Mattresses Good Quality?
When it comes to the quality of a Rolled mattress, it is important to note that it is not inherently inferior. However, the quality of the mattress will depend on the materials used and the manufacturing process.
Memory foam and other foams can lose shape if compressed for long periods, so it's important to read the warranty and return policy of the mattress before purchasing. 
Also, once the Rolled-up mattress is delivered to your home, you need to unpackage it within a few weeks otherwise the warranty may become void.
For example, under Emma mattress 10-year warranty, the mattress should be unboxed up to 6 weeks after delivery. Keeping the mattress rolled up for longer than that, can cause faults or damages. 
Keep in mind, that more expensive mattress brands like TEMPUR sell their mattresses flat packed, not rolled. Below you can see a picture of Tempur CoolTouch Original Elite, priced at £2,099 for double size.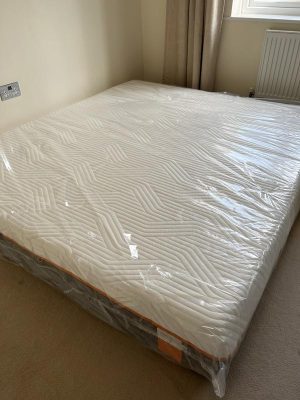 Can You Sleep on a Rolled Mattress Right Away?
Once the rolled mattress is delivered to your home and the plastic wrap has been removed, it will need between 4-24 hours until it has fully expanded.
Make sure you check with the manufacturer what is the recommended wait period, before you start sleeping on your mattress. 
For example, Nectar recommends that you wait 24-74 hours, while the Emma mattress needs a few hours, etc. Each mattress is different, so it's best to check with the manufacturer. 
Below you can see how to set up a Silentnight rolled-up mattress at home once it has been delivered to you.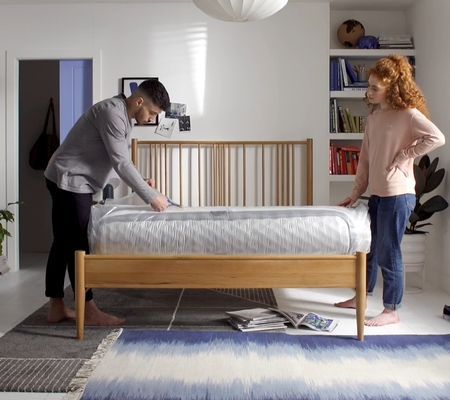 Step One: Place the rolled-up mattress on your bed frame.
2. Step Two: Unroll the mattress so it stays flat on your bed frame. 
3. Step Three: Remove all packaging and wait for the mattress to expand to its full size before sleeping on it. 
Advantages of Buying a Rolled Mattress
There are five main advantages, read them below so you can decide if it's worth buying or not.
1. Convenience
As mentioned earlier, the compact size of rolled mattresses makes them much easier to transport and maneuver through tight spaces, such as narrow doorways and staircases.
This means that even a king-size mattress can be delivered to your door in a box that can be carried by one or two people, making it much easier to move into your home than a traditional mattress.
Additionally, most IKEA mattresses are sold rolled up, which makes them easy to fit in your car and bring home yourself.
2. Quick delivery
Due to their compact size, retailers often have rolled mattresses in stock and ready for immediate delivery. This means that you won't have to wait for weeks for your mattress to be delivered, you can often have it delivered within a couple of days.
4. Space-saving
Rolled mattresses take up less space in your home, making them a great option for small apartments and homes. This is because they can be vacuumed and compressed into a much smaller package, meaning they can be stored in tight spaces or closets without taking up valuable floor space.
5. Lower cost and shipping
Rolled mattresses often have lower prices than traditional mattresses and the cost of shipping is also often less due to the smaller size of the package.
Disadvantages of Buying a Rolled Mattress
There are four main disadvantaged discussed below, make sure you consider them before you make up your mind. 
1. Expanding time
Rolled mattresses can take up to a day to expand to their original shape. It's important to give it time to fully expand to have the full support of the mattress. This can be inconvenient if you need the mattress immediately, and it might not be comfortable to sleep on for the first night.
2. Quality control
The quality of a rolled mattress may depend on the materials used and the quality control of the manufacturer, so it's important to research and read reviews before purchasing. It's important to check for certifications and standards of the mattress, as well as warranty for any possible issues.
Additionally, in some cases, foam can lose its shape if compressed for long periods, so it is important to ensure that the mattress retains its shape after unpacking.
3. "New mattress smell"
Due to the compression process and the use of materials, some rolled mattresses may have a "new mattress smell" that can be strong and bothersome for some people. It's important to consider this before purchasing and to give the mattress time to air out before use.
4. Fewer choices
There may be fewer options to choose from compared to traditional mattresses. Rolled mattresses are often limited to certain types of materials and styles, such as foam and memory foam, which may not suit all buyers' preferences and needs.
Additionally, it might be difficult for consumers to test and compare different options before purchasing as with the traditional mattresses, since the unrolled mattresses are often not on display in the showrooms.
Therefore, it's important to research and read reviews carefully before making a decision, and to consider all the options available to find the best rolled mattress that meets your needs and preferences.
Final Thoughts
In conclusion, Roll-up mattresses, also known as "beds in a box," are a game-changer for anyone who's ever struggled to lug a bulky mattress up a flight of stairs or through a narrow doorway. These compressed and rolled-up mattresses offer a convenient and practical option for small spaces or frequent movers.