3 Great Alternatives to a Tempur Mattress
When it comes to mattresses, few brands are better than TEMPUR. Their mattresses can't usually be beaten on quality, and NASA has even used their award-winning technology. However, one common criticism of Tempur® is the price, as they are often 2-3 more expensive than other mattresses on the market. Some of the reasons for this high price are the high quality materials and meticulous manufacturing process.
Did you know? It takes 60 hours to manufacture a single Tempur® mattress and during the manufacturing process each mattress goes through 67 different quality checks.
Shopping Tip: If you're looking for a more affordable Tempur mattress, check out the Tempur ONE. It's available in soft, medium, or firm comfort grade and is made of luxury memory foam. It's priced at around £1,200 for a double size.
Tempur® Mattress Information:
This post will look at the best mattress alternatives to Tempur® to give you an idea about what is available. But before looking at the alternatives, let's first mention Tempur®. They are pioneers of the memory foam mattress and provide exceptional quality, luxurious mattresses to their customers.
Their range encompasses memory foam and hybrid mattresses, and their designs consistently score highly in reviews as customers are delighted with their products. It would be fair to say that Tempur® is the brand that many competitors aspire to, and products across the industry are often compared to Tempur®'s award-winning range, including the popular Cloud and CoolTouch products.
Yet one thing impeding Tempur® right now is its price point, as there are many other mattresses available at present on the UK market, offering exceptional quality for a fraction of the cost. Let's look at three of them now.
1. Ergoflex Mattress - Top Tempur Alternative!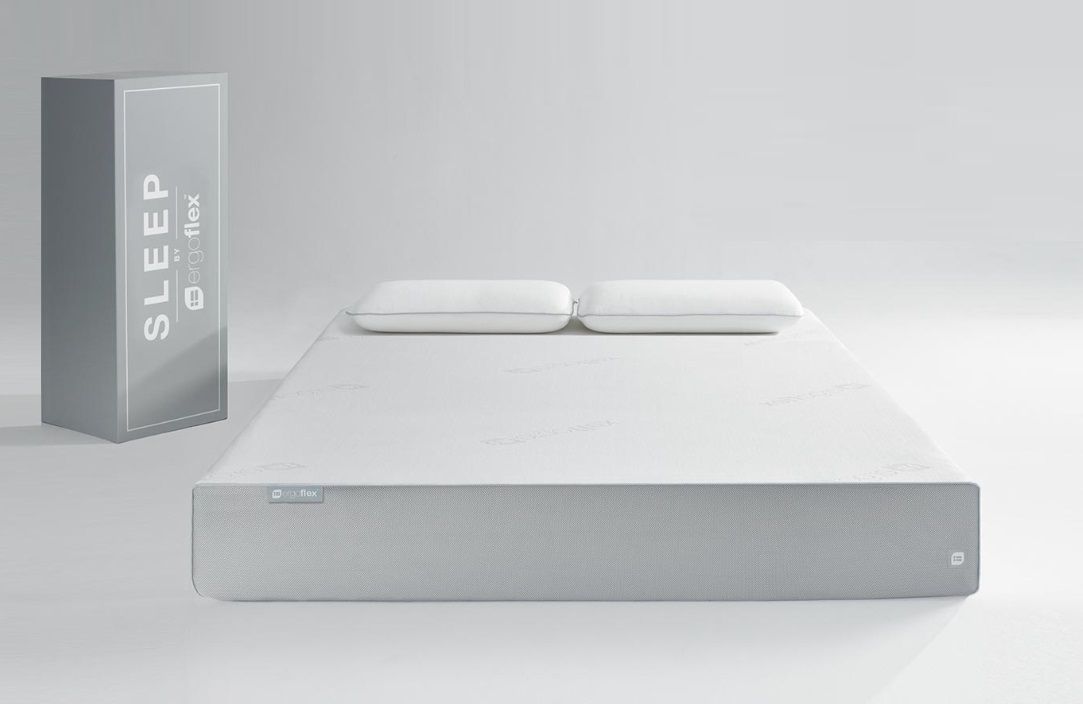 When Ergoflex was first established in 2006, their mission was create a true alternative to Tempur's® premium mattresses at a much more affordable price.
The Ergoflex 5G is a supportive, pressure-relieving mattress that utilise high-density visco-elastic memory foam and an internal cool-sleep air-flow system, providing a fantastic night's sleep that is both comfortable and temperature controlled.
A standout feature of the Ergoflex mattress is the deep layer of high density memory foam. There is 9cm of 5G High-Density 85/kg/m3 visco-elastic memory foam, while the Tempur® Original 21cm mattresses have 11cm of high resilience PU foam. Generally mattresses who have a deep layer of high density memory foam perform and last longer. You can read more at our full Ergoflex vs. Tempur comparison.
Just like Tempur®, Ergoflex also offers 10 year guarantee. It comes with 30 night trial and free UK delivery.
Ergoflex Mattress Reviews: 
The Ergoflex has a high 4.8/5 star rating from over 2,000 reviews on Review Centre. 98% of users say they recommend the mattress. Many customers found the mattress very comfortable, and some mentioned that it has helped alleviate their back pain. Below you can find two useful reviews from customers, or you can check out all reviews here. 
"Pleased with our new mattress. Reluctantly got rid off our Tempur mattress( it was 10+ years old) but this is giving us more support for our hips."

"I'm delighted with this mattress. Very very comfortable. My partner and I both love it. I've just got nothing bad to say about it. Had it about 3 months now and I sleep so well."
Sizes: single, double, king, super king
Price: £483 (reg. £966) for double size
Another potential alternative to Tempur® is the Simba Hybrid mattress. Simba has created one of the very best hybrid mattresses on the market, having received more than 200,000 five star reviews from customers. 
The Simba Hybrid is 25cm deep and is multi-layered to provide an optimum combination of comfort and support. The zoned support base is topped by high definition foam with edge support, providing a sturdy foundation to the mattress. 
Simba has engineered unique patented titanium Aerocoil springs (up to 2,500), adding a layer of support one might associate with traditional spring mattresses. Above the springs sits an open-cell foam layer and is topped by a breathable sleeping surface. Overall, the Simba hybrid is a perfect candidate as an alternative to the Tempur® hybrid range. It comes with 10 year warranty and 1 year (365 day) trial.
Sizes: single, small double, double, king, super king
Price: £653.40 (reg. £1,089) for double size
3. Nectar Memory Foam Mattress
The Nectar mattress is 25cm deep and is made of premium memory foam. It packs in many qualities similar to the more expensive Tempur® range.
The Nectar memory foam matterss has a quilted cool cover and is made up of three layers of foam. The Dynamic Support Layer, just underneath the cool cover, is super breathable, reducing the risk of overheating at night. The Pressure Relieving Memory Foam offers exceptional support and comfort and helps to keep the spine aligned. The Zone Supportive Base is durable and provides tailored support to different areas of your body.
Overall, the Nectar mattress is an excellent alternative to the Tempur® CoolTouch mattress and is significantly cheaper. It comes with forever warranty and 1 year (365 day) trial.
Sizes: single, small double, double, king, super king
Price: £629 (reg. £1,199) for double size
Final Words:
Choosing a new mattress shouldn't be so hard, that's why all of the three Tempur® alternatives on this list come with a trial period. Ergoflex has 30 night trial, while Simba and Nectar have 1 year trial. This means that once you order the mattress you have time to sleep and test the mattress at home. 
This way you can truly and determine if it's giving you the proper support or not. You can check if the mattress sleeps hot, or it regulates your body temperature well. Also, you can determine if the firmness level is right for you, maybe it's too soft or too firm. Being able to test a mattress for 30 or even 365 days is a great way to see if it's right for you. 
Another important point you should keep in mind is that Ergoflex and Simba mattresses come with 10 year warranty, just like Tempur®. While Nectar even has a forever warranty, which lasts for as long as you own it. This means that they've been built to last for at least 10 years.
Disclosure – top10mattressinabox.co.uk independently reviews and ranks products, by thoroughly researching them. We may receive a commission when a purchase is made through our links, at no cost to our readers. Prices and ratings mentioned above are accurate as of October 2, 2023.