Ergoflex vs Tempur Mattress: Which Is Better?
Tempur® is a market leader and a luxury mattress brand that is recognised all around the world. If anyone had a choice they would choose to sleep on a Tempur® mattress every night.
However, they also have a high price tag, around £1,700-2,100 for a double size. This is one of the reasons why many people look for alternative mattress brands.
Ergoflex on the other hand is relatively new mattress company which was built around the philosophy of creating a mattress that is comparable to Tempur®, but is more affordable. Ergoflex is priced at £966 for a double size mattress, and if it's on sale its price can be as low as £485.
In this review we'll compare both mattresses so you can make a decision which is better for you?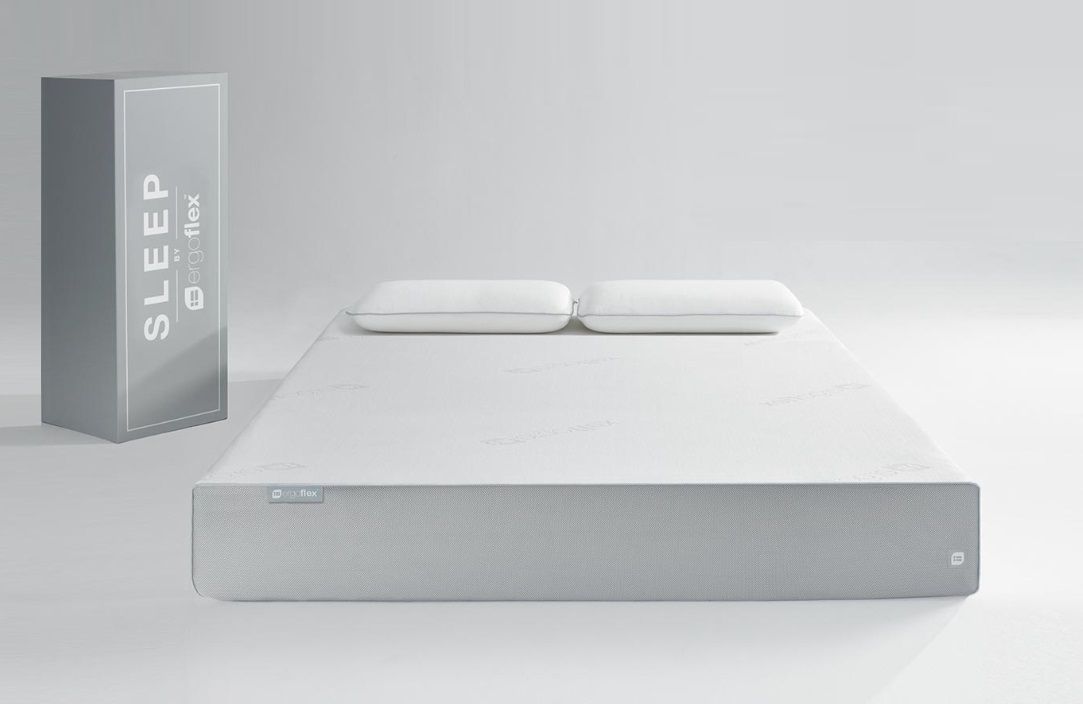 Ergoflex was founded in 2006 and since then has been selling their mattress in the UK, Europe and Australia. The company's philosophy was to create a mattress that was comparable to the market leader Tempur®, but is also affordably-priced. 
They manufacture only one mattress "Ergoflex 5G", which is made for everyone and performs well for the vast majority of people. Their mattress is rated to have a "medium to firm" comfort level. 
They manufacture their mattress in-house so they have control over the production and technical specification of the foams that are used.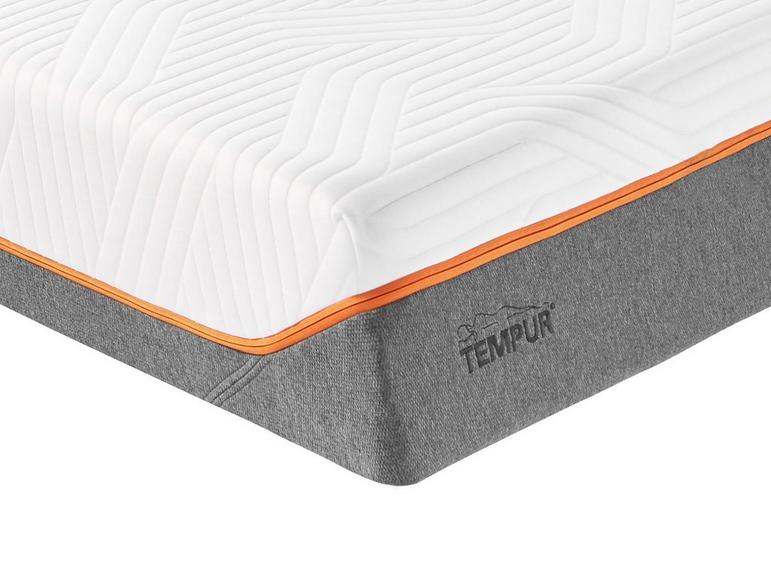 For nearly 30 years Tempur® has been dedicated to making high quality mattresses. It takes them 60 hours to create a single Tempur® mattress, and during the manufacturing process they perform 67 different quality checks. 
The company manufactures their mattresses in Denmark and the United States. The Tempur® material was initially developed by NASA to aid astronauts during liftoff. 
Every Tempur® mattress comes with a 10 year guarantee. If there is a problem with your mattress during this time, the company will replace it. 
While Ergoflex makes only one mattress, Tempur® has a four mattress collections you can choose from. They include: Cloud, Original, Hybrid, and Sensation. In this review we'll look closely at the Tempur® Original Elite mattress which is 25cm deep and has a "medium" comfort level.
Ergoflex Mattress Layers
Ergoflex is 23cm deep and is made of the following layers:
Tencel® Cover which is naturally breathable and can be washed at 30 degrees.
Protective Inner Cover keeps all layers intact and in place. 
Visco Elastic Memory Foam 9cm supports your unique body shape and provides zero partner disturbance or motion transfer.
Ergoflex Cool-Sleep™ 5cm airflow system allows for air-flow and temperature regulation.
High Resilience Foam base 9cm is an impact resistant foundation, which makes the mattress durable and last for many years of use.
TEMPUR® Original Elite is 25cm deep and is made up of following layers:
QuickRefresh™ TEMPUR® mattress cover, which keeps you cool and can be mashine washed at 60 degrees.

Tempur® Comfort material 3cm

Tempur® Support material 9cm

Durabase™ Technology 6.5cm

Durabase™ Tehcnology 6.5cm
Visco-elastic cells adapt and mould to the exact shape of your body. The special TEMPUR® material respond to your body's temperature, your individual shape and weight, so you are supported no matter your sleeping position. This eliminates any pressure points, so you won't toss and turn at night. 
Materials Used:
Every Ergoflex mattress includes 9cms of 5G High-Density 85/kg/m3 visco-elastic memory foam. This is a high resilient impact resistant foundation layer. It's been clinically researched that the higher the density level, the better the support, durability and longevity of the mattress. 
The TEMPUR® Original Elite has 13cm of high resilience PU foam, which is 4cm more than Ergoflex. Both mattresses come with 10 year guarantee, which means that they should last and perform very well for at least 10 years.
All materials used in an Ergoflex mattress are certified to Certi-Pur® & OKEO-TEX® 100 International standards, and are fully compliant with UK safety standards. 
Ergoflex vs Tempur Trial Period:
Each company is so confident you'll love their mattress, that they are giving a trial period to sleep and try their mattress at the comfort of your own home. Here Tempur® is the winner since their trial period is 100 nights, while Ergoflex offers 30 nights. However, keep in mind that the 100 night trial is valid if you buy the mattress from Tempur's UK official website. If you buy it from Dreams for example, they company has their own 40 Night Comfort Guarantee.
Ergoflex comes with 30 night trial period. You have one month to sleep on the mattress at home. The company asks that you sleep on the mattress for at least 21 nights, so your body can fully adapt and you can truly see how it feels. If you're not satisfied the company will pick it up for free and refund you the money. 
Tempur® offers 100 nights trial for you to try their mattress at home. This way you can see how comfortable it is and the support it offers. However, you need to keep the Tempur® mattress for a minimum of 60 nights, so you can fully adapt to it. If by that time you're not happy, you can contact their customer service and arrange a return. Make sure your read their

full terms

and conditions so you know how the trial period works.
Did you know that there are other mattresses that come with 365 day or 200 day trials? That's true! The Nectar mattress, Simba and Emma are another great alternatives that you can try out at home for a much longer period.
Here is additional information you should consider regarding the delivery, warranty, customer support and more. Both Ergoflex 5G and Tempur mattresses come with free delivery, 10 year guarantee, and 0% financing option. 
Ergoflex vs. Tempur Price:
The price difference between the two mattress brands is considerable, especially if Ergoflex 5G is on sale, which means the price is reduced by 20-30%. You should also keep in mind that Tempur® mattresses are also sold by Dreams, UK's leading bed and mattress retailer. The price at Dreams is usually lower than Tempur's UK official website.
Shopping tip: The lowest priced Tempur mattress model is the TEMPUR ONE. It's priced at £1,299 for a double size. It's 20cm deep and is available in soft, medium, and firm. 
Ergoflex Mattress Price:
£347 (reg. £770) single size
£485 (reg. £966) double size
£620 (reg. £1,055) king size
Tempur® Original Elite Mattress Price:
£1,699 single size
£2,099 double size
£2,399 king size
Which Is Better?
The Ergoflex and Tempur® mattresses each feature a base layer made of high-density impact-resistant PU foam. They are both designed to offer maximum comfort and support, and they both offer a high-performance luxury experience. 
While the materials and price may differ between the mattresses, those who claim the Tempur is the better choice have also stated that the Ergoflex is not too far behind. At the end of the day, the better mattress is up to personal preference as well as price. 
Disclosure – top10mattressinabox.co.uk independently reviews and ranks products, by thoroughly researching them. We may receive a commission when a purchase is made through our links, at no cost to our readers. Prices and ratings mentioned above are accurate as of November 22, 2023.