Tempur is one of the leading mattress brands in the UK, with an impressive selection of mattresses with high-quality materials and various comfort levels. 
But in spite of Tempur's reputation, some customers experience issues with their new mattresses, which is important to recognise and discuss. 
Many of these issues are related to the "breaking in" period, which is the time that it takes (often several months) to adjust to a new mattress. 
In this guide, we'll take a look at some of the most common issues that Tempur customers experience with their new mattresses and explain how you can resolve your problem thanks to the 100-night trial policy offered on all Tempur products.
Helpful Tip: Make sure to read our review of Tempur One mattress, priced at £1,200 for a double size. It's 20cm deep, with TEMPUR® material inside which actively adapts and contours to your body. It's available in soft, medium, or firm.
Now let's go over the top three Tempur mattress problems:
1. Tempur mattress sagging 
One of the top complaints that we have seen from some Tempur customers is that their mattress appears to be sagging in the middle. This is essentially when the middle section droops down and creates a dip that you naturally roll into during the night, which is far from comfortable. 
Sagging may occur because the mattress is not well supported. This can happen when you place a brand-new Tempur mattress on an old bed with damaged slats, for instance. 
Tempur also recommends utilising a Tempur-pedic foundation to support your new mattress, as this will prevent it from sagging when you add it to your bed.
Tempur's 10 Year Warranty: What does it cover?
Tempur mattresses are covered by 10 year warranty. This means that if a visible indentation (sag/dip) forms, and it is greater than 2cm, the defect will be covered by the warranty. Tempur should repair the defective product or provide a replacement.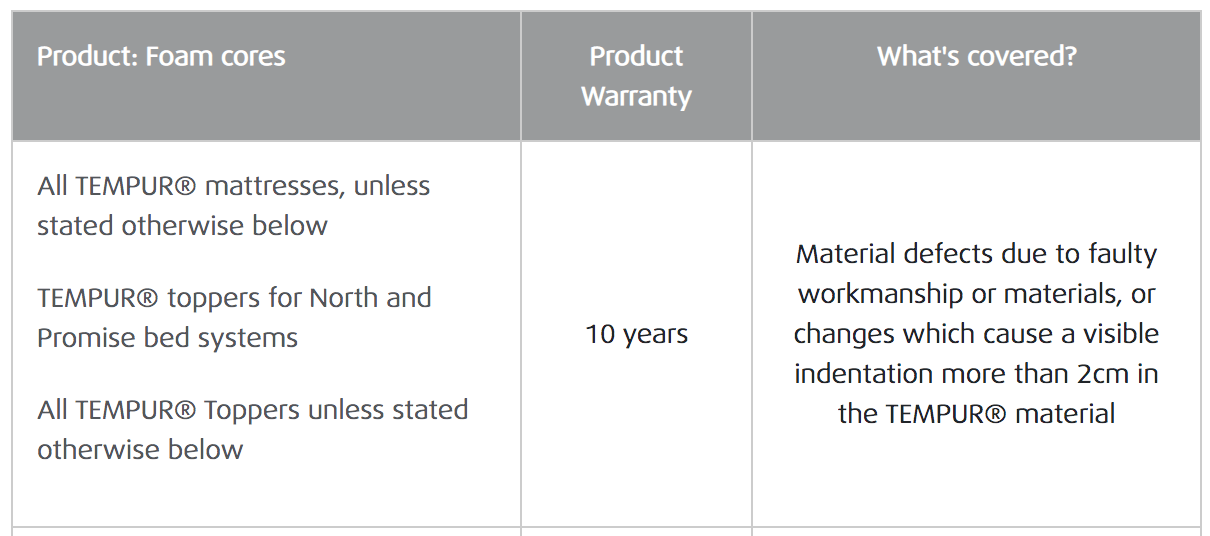 Read Tempur's ten year guarantee here. 
Tempur mattresses are "No Turn"
Another reason why sagging may occur is because all Tempur mattress are no turn. This means that you can sleep only on the top side, and there is no need to turn (flip) it over.
According to their care instructions, you can rotate it clock or counter-clockwise occasionally. This will help the materials inside settle in evenly, and will "help to maintain even comfort and support". This is especially true if there are two people sleeping on the mattress.
Keep in mind, that Tempur mattresses don't have handles on the side, which makes rotating it more difficult. 
Also, depending on the model and size, their mattresses can weight 25-45kg. 
This means that you should have someone helping you, should you decide to rotate it.
2. Tempur not comfortable/causing back pain
Some customers believe that their new Tempur mattress is uncomfortable. In fact, some people go as far to say that the Tempur mattress that they purchased to alleviate back pain is actually making their pain and discomfort worse. 
However, it's important to recognise that it takes a while to adjust to a new sleep surface, and a "breaking in" period is required (usually 60 nights). 
This is particularly true with Tempur mattresses, specifically those with a firm rating. It takes time for you to adjust to the new mattress that you're sleeping on and your body needs to adjust to the memory foam. 
This is why some customers report discomfort in the first few weeks or even months of sleeping on Tempur mattresses. 
3. Tempur mattress overheating
Overheating is a fairly common complaint of new memory foam mattress owners, and Tempur is no exception.
Some Tempur mattresses are known to retain heat, particularly those with high-density memory foam within as it's not the most breathable of materials. 
However, Tempur has worked hard to address the overheating issue and the top layer of their mattresses contain TEMPUR® material which responds to a person's body temperature, shape, and weight. It actively regulates your body temperature, so you don't overheat during the summer months.
As such, if you're sensitive to overheating at night, it might be worth looking at Tempur mattresses that have a CoolTouch™ cover. The cover is knitted by special yarn that doesn't retain heat and creates a "cool-to-the-touch" sensation. For more details, check out the Tempur CoolTouch™ Original Elite Mattress.
Additionally, if you're sleeping on a divan bed, keep in mind that divan bases don't allow for air to pass through, when compared to beds with slats. Beds that have slats provide better airflow and allow your mattress to "breathe". 
Shopping Tip: If you are still not sure that Tempur is the right mattress brand for you, check out our guide on the Top 3 Tempur Alternatives. They have similar features, also come with a long trial period, however they are two or three times less expensive.
Tempur 100-night trial policy
Though Tempur has an impressive industry reputation, their mattresses won't necessarily be a perfect fit for everyone. If you experience issues with your new Tempur mattress and you don't think it's because of the breaking in period, you can take advantage of the 100-night trial policy.
Every Tempur mattress, purchased through their official website, comes with a 100-night trial guarantee. This means that you can sleep on the mattress at home for 100 nights and if you're not happy, Tempur will reimburse the cost of the mattress and allow you to return it.
Keep in mind that some retailers who sell Tempur mattresses may have different trial policy. For example, if you decide to buy a Tempur mattress from Bensons for Beds they have a 40 Night Guarantee period. While, Dreams has a 100 Night Guarantee, which let's you exchange the mattress for a different one. There is no option to return it.
Also, be mindful that you need to sleep on it for at least 60 nights before you can return it and other terms and conditions apply. For example, you need to purchase and use a mattress protector.
Still, the 100-night guarantee provides peace of mind and allows you to request a refund if the Tempur mattress doesn't meet your expectations.
Disclosure – top10mattressinabox.co.uk independently reviews and ranks products, by thoroughly researching them. We may receive a commission when a purchase is made through our links, at no cost to our readers. Prices mentioned in this article are accurate as of October 2, 2023.