TEMPUR CoolTouch Hybrid Mattress Reviews & Buyers Guide
As you would expect from a TEMPUR product, the hybrid mattress range delivers an exceptional night's sleep on a range of high-quality, luxurious mattresses. TEMPUR's most recent innovation in bedding, the hybrid mattresses provide layers of advanced TEMPUR material, supported by Precision™ Micro Coils pocketed springs, a defining feature of the hybrid range. Utilising memory foam technology and springs, the TEMPUR hybrid mattresses can deliver the best comfort and support possible while holding a medium firmness. Now let's take a look at the hybrid Supreme, Elite, and Luxe mattresses in greater detail. 
What's Inside the TEMPUR® Hybrid Mattress Collection?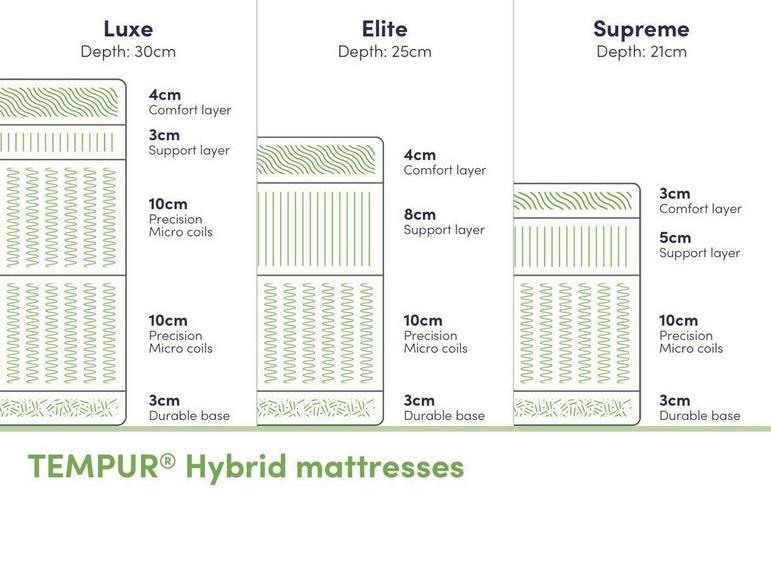 The first thing you'll notice is that the mattress depth of each of these three models is different: 21cm, 25cm, or 30cm.
All of them have a layer of 10cm Precision Micro coil springs and 3cm of Durable base. However, the Tempur Hybrid Luxe actually has two layers of 10cm Precision Micro Coils.
Tempur® has created state of the art Precision™ Micro Coils, which are made from cold drawn steel. Each micro coil is individually pocketed in their own fabric pocket to provide exceptional support.
Another difference between each of the three models is the number of springs inside. The Supreme and Elite have 1,184 micro coil springs while the Luxe has 2,146 (when looking at the king size mattress). The number of micro coils will differ depending on the size of the mattress, but generally the Supreme and Elite have the same number of micro coils, while the Luxe has almost double the number. 
Below you can look and compare the three Tempur® hybrid mattresses in more details, so you can see which is right for you.
Top 3 TEMPUR CoolTouch Hybrid mattresses (sorted by rating)
1. TEMPUR CoolTouch Hybrid Supreme Mattress 
Review: 4.9/5 from 22 customers

The TEMPUR Supreme hybrid is the least expensive mattress available in the TEMPUR hybrid range, but it certainly doesn't scrimp on quality. It has a mattress depth of 21cm, the Supreme is held together by a DuraBase technology core, topped by 10cm of precision micro coils. These bottom two layers lay the foundation for the mattress and are topped by a layer of dynamic support technology (5cm) and a surface layer of advanced TEMPUR comfort material (3cm). The Supreme hybrid mattress combines all of the comfort associated with a memory foam mattress with the extra support and movement facilitated by the micro coils. An excellent choice for an uninterrupted night's sleep. 
Price: from £1,099 (depending on size)
2. TEMPUR CoolTouch Hybrid Elite Mattress
Review: 4.8/5 from 141 customers
The Elite mattress combines all of the same award-winning materials as the Supreme but is 4cm deeper (total mattress depth 25cm), providing that extra layer of support for those who need it. The additional support is shared across the top two layers, meaning the memory foam has more space to mould around the shape of your body, and also the extra depth of the surface works to provide additional immediate support to your body throughout the night. As with all of TEMPUR's hybrid mattresses, you can order the size to fit your requirements, whether it's a single or super king size.
Price: from £1,249 (depending on size)
3. TEMPUR CoolTouch Hybrid Luxe Mattress
Review: 4.5/5 from 35 customers

The top of the range mattress in the hybrid selection is the TEMPUR Luxe, which encompasses 30cm of memory foam and micro coils to deliver a great night's sleep. Here you have two layers of the Precision™ Micro Coils (2 x 10cm). The Luxe hybrid mattress is a market-leading mattress that strikes the perfect balance between the comfort afforded by visco-elastic memory cells within the memory foam and the support and bounce offered by micro-springs that are more common on traditional mattresses. Keep in mind, that although it's the most expensive one from the whole range, the Elite has received a higher rating.
Price: from £1,499 (depending on size)
Additional Information:
You'll be able to find a Tempur® mattress at the company's official website or at Dreams, who are UK's leading mattress retailer. One thing you'll notice when comparing the prices between both websites, is that at Dreams the prices are generally lower. Plus you can see and read much more customer reviews at Dreams, which will help you decide if this is the right mattress for you or not. 
Keep in mind that if you buy your Tempur® mattress at Dreams it comes with 40 Night Comfort Guarantee. This means that if you don't find your new mattress comfortable, you can exchange it for another one that better suits your needs.
All Tempur® mattresses come with 10 year guarantee and free UK Mainland delivery.

Price of Tempur® Hybrid starts from £1,099, but it will depend on the size you're planning to buy and whether or not it's on sale. If you're looking for a mattress with a lower price tag, you can check out this Emma Hybrid mattress review. 
Tempur® CoolTouch Cover:
All of the Tempur® Hybrid mattresses come with a CoolTouch cover (also referred to as QuickRefresh™ cover), which can be easily unzipped and washed at 60 degrees. This means that you can keep your sleep surface clean and fresh every time. The CoolTouch cover is designed to keep you cool throughout the night, so you won't overheat or sleep hot again. It's still recommended to use a mattress protector, so you can protect your mattress and keep in top condition for years of use.
Tempur® Hybrid Mattress Reviews:
As with any mattress, it's crucial to take a look at what customers say about the TEMPUR hybrid range before making a purchase. At the time of writing this review the Tempur® Hybrid Supreme has the highest rating of 4.9/5 stars from 22 customers, however the Elite is not too far behind with 4.8/5 stars from 141 customers. Although the Luxe model is the most expensive one and has a dual layer of micro springs, it's rated last at 4.5/5 stars from 35 customers. 
Pros:
When scanning the reviews, what is clear is that couples, in particular, write favourably about the TEMPUR hybrid range. They comment that while firm to the feel, the mattresses don't compromise comfort to offer support. Many reviewers have commented that the springs' extra support has helped some of their ailments, such as back pain, which is a common issue for people who are not accustomed to sleeping on hybrid mattresses. Here are two positive reviews you'll most likely find helpful:
"Super comfortable, it's like sleeping on a cloud, no back aches no more, well recommended." (by Martin W. October 2020)

"It's comfy and it really does reduce the amount of tossing and turning. It's changed our life!!" (by Sazza, October 2020)
Cons:
The Tempur® Hybrid does have a few negative reviews left by customers, although they are only a handful, it's still important to take them into consideration. Some people have mentioned that the mattress feels very hard and solid, and that it hasn't softened up over time. Which has caused them to feel uncomfortable when sleeping. One customer also mentioned that he felt a strong smell from his new Tempur® Hybrid Supreme mattress, however after a while it has aired out. Plus, this is the only customer who mentioned an unpleasant smell as being an issue.
Overall, the Tempur® Hybrid mattress collection has been given a high rating from hundreds of customers who have bought and slept on the mattress at home. You can read more customer reviews here. 
Disclosure – top10mattressinabox.co.uk independently reviews and ranks products, by thoroughly researching them. We may receive a commission when a purchase is made through our links, at no cost to our readers. Prices and ratings mentioned above are accurate as of January 5, 2020.