Sealy Sanctuary Mattress Reviews & Buyers Guide
Sealy is an international bed brand operating in more than 50 countries across the world. Recently they introduced the Sealy Sanctuary Collection, which is offered exclusively by Bensons for Beds. 
The Sealy Sanctuary mattresses and divan beds are made in Cumbria, UK and come with 10-year guarantee.  They are made using high quality materials and state-of-the-art technology, and are very popular with customers who are looking to improve the quality of their night's sleep. 
Are Sealy Sanctuary mattresses any good?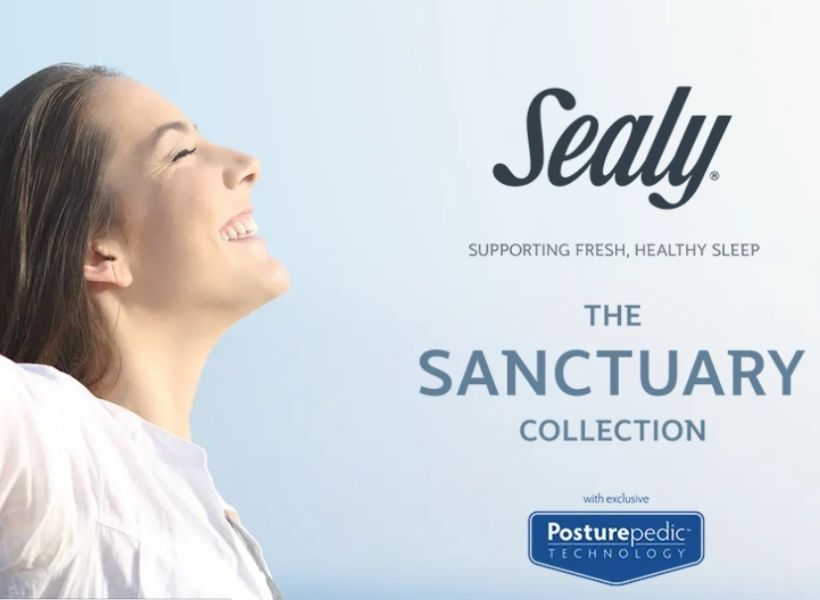 The Sealy Sanctuary collection is made using their exclusive Posturepedic Technology. This Posturepedic technology was developed with the help of orthopedic specialists, in order to promote a better spinal alignment, relieve pain and create a more restful sleep. 
All of the mattresses from the Sanctuary collection are endorsed by "Allergy UK" for the use of Purotex® fibres, which reduce house dust mites. Purotex is a natural solution, which fights allergens, offering relief to allergy and asthma sufferers. It also extends the lifespan of your mattress.
In addition to this, all Sealy Sanctuary mattresses have Quantum Edge® pocket springs, which conform to your individual body contours and offer zoned support. Overall, they reduce partner disturbance, eliminate roll-off feeling, and have stronger edge support. The Innergetic Latex® layer inside each mattress, provides exceptional pressure relief.
How to choose a Sealy Sanctuary mattress?
There are a total of four mattresses that are part of the Sealy Sanctuary collection (Haven, Senses, Oasis, and Spa). Their price ranges from £799 – £1,199 (for a single size). The first thing you'll notice is that their comfort level varies from medium, firm to extra firm. Also, the mattress depth ranges from 30cm to 39cm. 
Lastly, another factor you should consider is how many pocket springs you want the mattress to have. The Sanctuary Haven and Senses have 1,500, while the Oasis has 2,300 and the Spa has 2,900. Generally the more pocket springs, the better body support they offer. 
Now let's talk about the similarities between the four Sealy Sanctuary mattresses. All of them use Sealy's exclusive Posturepedic Technology, a layer of Innergetic Latex® (for pressure relief), a layer of Quantum Edge® pocket springs (with edge support) and are treated with Purotex®, to fight off dust mites and other allergens. All of them come with a 10 year guarantee.
Top 4 Sealy Sanctuary Mattresses (sorted by price)
1. Sealy Sanctuary Haven Mattress
The Sealy Sanctuary Haven Mattress is 30cm deep and is the only mattress that offers an extra firm support. It's also the least expensive mattress in the collection, but still offers much of the same extras. Inside there are 1,500 pocket springs, that respond to your unique body shape and provide targeted support. The Innergetic® Latex contours to your body, and provides even pressure distribution and a regenerating comfort while you sleep. This is a hand tufted mattress, which offers cool, clean and fresh sleeping environment. It's been treated with Purotex®, which naturally fights off dust mites and is hypoallergenic.
Sizes: single, double, king, super king
Rating: 4.5/5 from 27 customer reviews
Price: from £799
2. Sealy Sanctuary Senses Mattress
The Sealy Sanctuary Senses mattress is 30cm deep and offers firm support. It's comprised of 1,500 individually responsive pocket springs, which respond to your unique body shape and offer support where needed. In addition to this, there is a layer of Innergetic Latex®, providing excellent pressure relief. On top there is a micro quilted pillow top, which provides sumptuous comfort, so you can enjoy a deeper and restful night sleep. The mattress uses Tencel®, which is an eco-friendly fibre that is softer than silk, ensuring they don't compromise comfort for firmness. It's been treated with Purotex®, to prevent the build of dust mites and other allergens.
Sizes: single, double, king, super king
Rating: 4.6/5 from 34 customer reviews
Price: from £899
3. Sealy Sanctuary Oasis Mattress
The Oasis mattress from Sealy is a firm sleep surface (36cm deep) that is packed full of high-end features that justify its price. It is sought after for its pressure relieving qualities, which is possible thanks to the Innergetic Latex® that comprises the main section of the mattress. This is complemented by up to 2300 individually responsive pocket springs (800 of which are mini pocket springs), each of which is designed to provide support right across the surface of the mattress. It also comprises Purotex® technology, which is an anti-bacterial component that ensures a hygienic sleep environment. Overall, the Oasis is feature-rich and appealing to anyone looking for a pressure-relieving mattress that is firm yet extremely comfortable.
Sizes: single, double, king, super king
Rating: 4.8/5 from 36 customer reviews
Price: from £999
4. Sealy Sanctuary Spa Mattress
The premium Sanctuary Spa mattress from Sealy is different from those we've introduced, as it comes with a medium firmness rating (39cm deep) and offers unrivalled comfort combined with suitable support. It benefits from 2,900 individually responsive pocket springs (1400 of which are mini pockets), and the Quantum Edge technology ensures that you can maximise the entire sleep surface without worrying about dips or sags where you usually lay at night. The Innergetic Latex® relieves pressure and offers tailored support to your unique body shape. With a full 39cm of depth, the Spa mattress is truly top of the range and packs an extraordinary number of high-tech features that are guaranteed to improve your night's sleep.
Sizes: single, double, king, super king
Rating: 4.9/5 from 40 customer reviews
Price: from £1,199
Sealy Sanctuary Divan Bed Set
Many customers decide to purchase a Sealy Sanctuary bed alongside one of their top-of-the-range mattresses.
Their beds include stylish divan bases and beautifully designed headboards in 4 neutral colours, manufactured in the finest upholstery fabric to ensure they beautify your master or guest bedroom. 
You can choose between different base and storage configurations: no drawer, 2 drawer, 2 + 2 mini drawer, 4 drawer, front opening ottoman. 
There are 4 style headboards to choose from, which will arrive in a matching fabric. There are 2 studded and 2 full height headboards, which will suit any style or budget.
Sizes: single, double, king, super king
Rating: 4.8/5 from 13 customer reviews
Price: from £899 (Sealy Sanctuary Haven Divan Bed Set single size, headboard not included)
Additional Info:
When you order your new mattress or bed from Bensons for Beds you will get free delivery, and it will be delivered in approximately 4 weeks. The exact delivery period will depend on your postcode Also, you'll have the option to pay with 0% interest free credit or pay in full at the checkout page.
All Sealy Sanctuary mattresses and beds come with a 10 year guarantee. This means that you'll be investing in a high quality mattress for many years to come.
The company Sealy is committed to social responsibility and boasts a 'Zero to Landfill' policy.
Sealy Sanctuary vs. Tempur
Mattress
Before you decide if the Sealy Sanctuary mattress is right for you, it's good to compare it to other competing brands. For example, the TEMPUR CoolTouch Sensation Mattress also has a firm feel. It's an all memory foam mattress (without any springs inside), but has a special Dynamic Support Technology layer, which creates a feeling of bounce. The TEMPUR CoolTouch Sensation Elite Mattress is 25cm deep and is priced at £1,299 for a single size, making it the more expensive option.
There is also the Tempur One mattress, which comes in soft, medium or firm. It distributes body weight evenly and creates a sense of weightlessness when you lay down on the mattress. It's 20cm deep and is priced at £999 for a single size, which is more expensive than the Sealy Sanctuary Heaven and Senses mattress.
Sealy Sanctuary Mattress Reviews
When opting to buy a top-of-the-range product that comes with a high price tag, it's important you first do your homework and find out what people who have already purchased it think of the mattress. The great news about the Sealy Sanctuary collection is that the mattresses boast a range of extremely positive reviews from customers on Trust Pilot. The highest rated mattress is the Sealy Sanctuary Spa with 4.9/5 stars from 40 reviews, but is also the most expensive.
Pros:
Although several reviewers mention the fact that they considered their mattress to be expensive, they all agree that it was worth the money they paid. This is sufficient proof that the mattresses justify their tag and are worthy of your consideration.
Universally, the vast majority of reviewers have commented that their Sealy mattress is extremely comfortable and has greatly enhanced their sleeping experience. Given the high-tech features described above, this is hardly a great surprise.
Cons:
There aren't many negative reviews of the Sealy Sanctuary collection to choose from, but a couple of customers have mentioned that both the Oasis and Senses mattresses were firmer than they expected when delivered. Even after lying on them in-store, they were surprised that they felt too firm after sleeping on the mattress at home for a while. Also, keep in mind that the Sealy Sanctuary Spa mattress is 39cm high, which is a bit higher than some customers expected and needed time to get used to it.
Overall, if the Sealy Sanctuary range is within your budget, they should be well worth your consideration. Being handmade in the UK and comprising high quality, patented materials, each of the four mattresses we've introduced in this guide will significantly improve your night's sleep. Make sure you read all customer reviews here.
Disclosure – top10mattressinabox.co.uk independently reviews and ranks products, by thoroughly researching them. We may receive a commission when a purchase is made through our links, at no cost to our readers. Prices and ratings mentioned above are accurate as of January 20, 2022.