TEMPUR CoolTouch Sensation Mattress Reviews
The TEMPUR Sensation Mattress collection offers a firm feel with a "bounce", and is an exceptional product for those who like sleeping on a firmer mattress. The award-winning TEMPUR material is combined with Dynamic Support Technology to create comfort, flexibility, and durability. Their Sensation range is perhaps their most comfortable and pressure-relieving mattresses available on the market. TEMPUR has a knack for creating a natural bounce on their mattresses without the help of springs, something that their customers are consistently impressed with. 
These easy to maintain mattresses come with a removable, washable cover, another benefit of the Sensation range. In this review, we'll compare the Supreme, Elite, and Luxe mattresses offered by TEMPUR.
What's Inside the TEMPUR® Sensation Mattress Collection?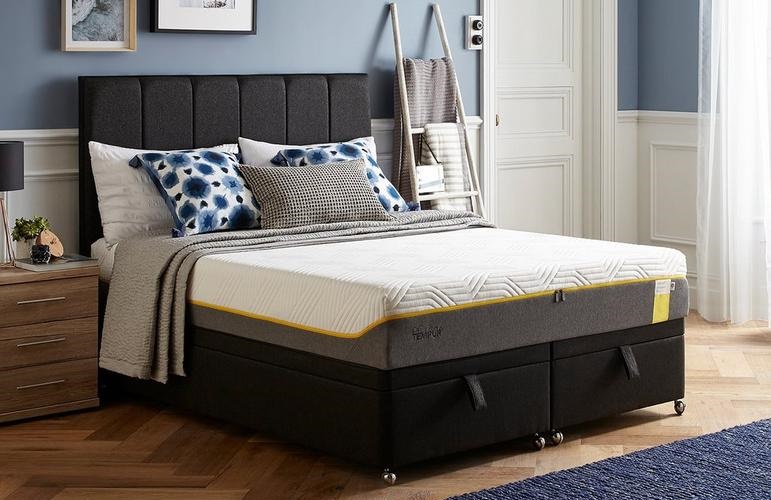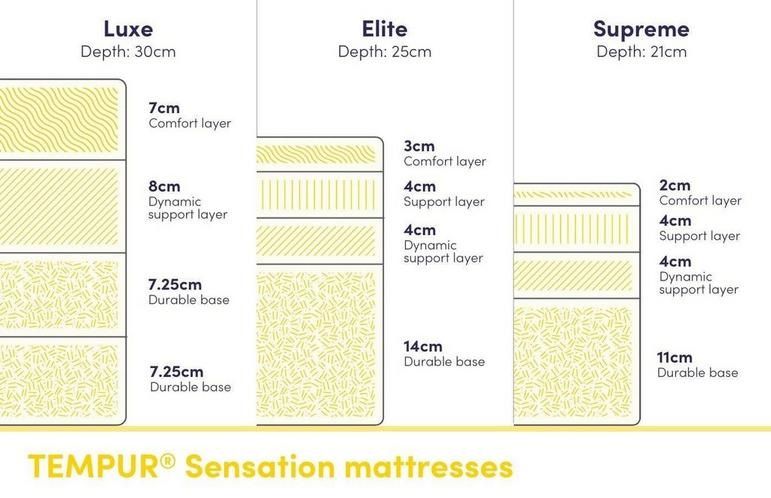 The first thing you'll notice is that the layers and mattress depth is different for each of the three models. The Supreme is 21cm deep, the Elite is 25cm deep, and the Luxe is 30cm deep. Inside there is a layer of TEMPUR® Material which was first developed by NASA to support astronauts during lift-off. It's designed to relieve pressure points within your body. In the middle there is a special Dynamic Support Technology layer, which creates the sensation of "bounce", which you would normally feel in a spring mattress. It offers supreme comfort and very good pressure relief. Lastly there is a layer of Durable Base on the bottom, which is high density memory foam and keeps the mattress strong and durable throughout the years. 
Top 3 TEMPUR CoolTouch Sensation Mattresses
1. TEMPUR CoolTouch Sensation Supreme Mattress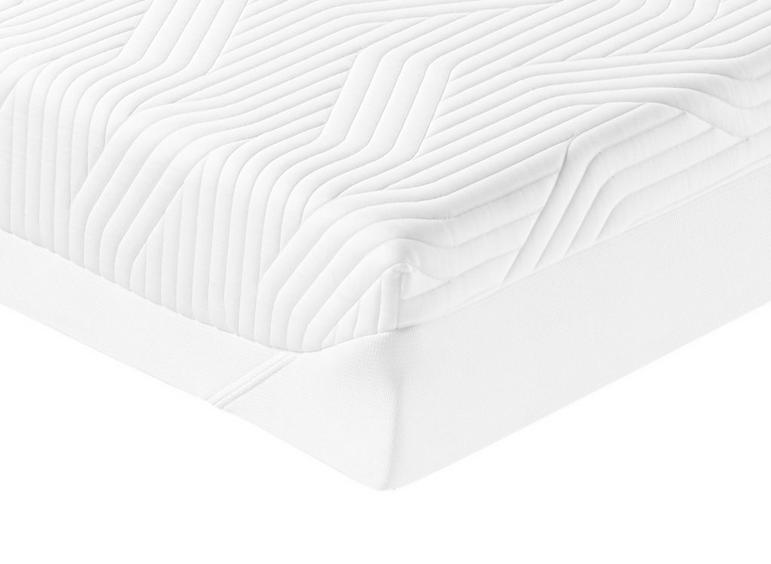 Review: 4.8/5 from 16 customers

The TEMPUR Supreme mattress is the first product in the sensation range, and it doesn't disappoint. The Supreme mattress utilises materials of exceptional quality that conform to the outline of your body and relieves pressure across the surface of the entire mattress. TEMPUR's dynamic support technology allows for ease of movement across the bed. The Supreme mattress comes at a depth of 21cm and has almost the same layers as the Elite, except for the Durable Base which is 11cm and not 14cm. 
Price: from £1,099 (depending on size)
2. TEMPUR CoolTouch Sensation Elite Mattress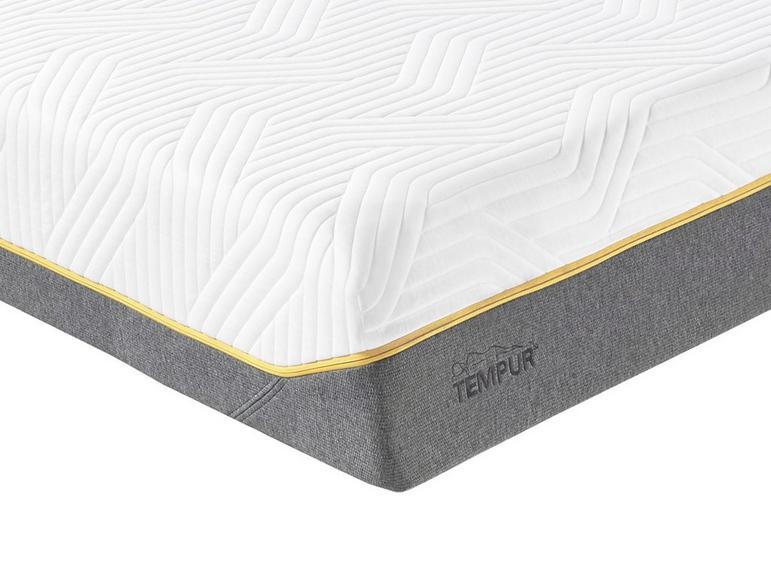 Review: 4.7/5 from 479 customers
Manufactured from the same materials as the Supreme, the TEMPUR Elite offers extra support layers and a deeper base, at 25cm. The TEMPUR mattress benefits from visco-elastic cells that effectively mould and adapt to the shape of your body and provide unrivalled comfort throughout the night. The Elite is an excellent choice for those looking for a comfortable night's sleep aided by decent bounce and an extra layer of support. Another great thing about the Elite, and other TEMPUR mattresses, for that matter, is that they are considered zero motion, meaning you can enjoy a comfortable night's sleep even if your partner is prone to moving throughout the night.
Price: from £1,249 (depending on size)
3. TEMPUR CoolTouch Sensation Luxe Mattress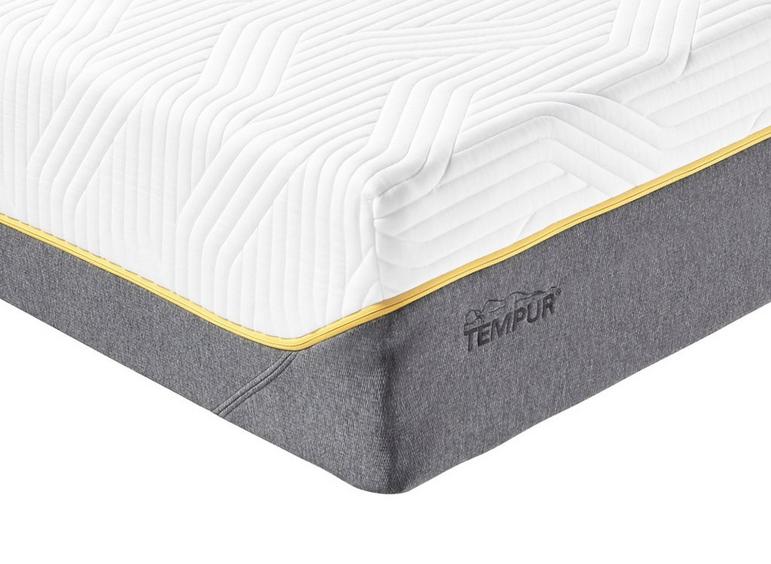 Review: 4.8/5 from 49 customers

The top of the sensation range offered by TEMPUR, the Luxe is the mattress for you if you're looking for an undisturbed, exceptional night's sleep on a luxurious mattress. At 30cm, the Luxe is the deepest mattress offered by TEMPUR and combines four individual layers to provide outstanding comfort throughout the night. Perhaps the TEMPUR Luxe mattress's standout feature is the 7cm of comfort material on the surface of the mattress, combined with a second layer of dynamic support technology. These top two layers of the Elite mattress combine to provide a spongy yet supportive feel to the mattress, allowing you to have the perfect night's sleep.
Price: from £1,499 (depending on size)
Additional Information:
Buying a TEMPUR® mattress from Dreams is a simple and straight forward process. You'll get free delivery on all orders within Mainland UK. You can also order the mattresses in single, small double, double, king and super king size. The TEMPUR® Supreme mattresses are covered by a 10 year guarantee.
It's very easy to maintain and take care of your new TEMPUR Sensation mattress. You won't need to turn or flip your mattress over. That's one of the reasons why there are no handles on the sides. However, it's still recommended to rotate it head to toe from time to time in order to maintain even wear. You can unzip the removable covers and wash them at 60 degrees or below (make sure you don't bleach, tumble dry or iron the covers).
Tip: If you're looking for another high quality firm mattress by Tempur that has a lower price tag, check out the Tempur One mattress. Alternatively, you can also check out our article on the top 3 Tempur alternative mattresses.
Tempur® Sensation Mattress Reviews:
The TEMPUR Sensation Mattress range is undoubtedly a very good choice for you if you're looking to sleep on a firmer and at the same time luxurious mattress. When carefully looking at the reviews, the Supreme and Luxe have 4.8 out of 5 stars, while the Elite has 4.7 out of 5 stars from over 480 customers. But what do customers who have purchased the mattresses say about TEMPUR's products?
Pros:
One thing that's mentioned consistently in the reviews is that the mattress manages to strike a perfect balance between bounce and support, seeming to offer an ideal mix of both. Moreover, customers have commented widely on how happy they are with the delivery process of the mattress and the machine washable, removable cover, which makes maintaining all of the mattresses in the TEMPUR sensation range straightforward.
Cons:
While there are only a handful of negative reviews, it's still important to take them into consideration. One complaint was that the mattress sleeps hot, even though there is a CoolTouch cover. On the other hand, a lot of customers have complimented the mattress that it does actually keep them cool even on hot nights. Another critical comment on the mattress is that it does feel a little firm in the beginning, and you'll need a few weeks for it to soften up. However, this is also a subjective opinion that might not apply to everyone.
Make sure you carefully read the reviews left by customers, so you can determine if this is the right mattress for you or not.
Disclosure – top10mattressinabox.co.uk independently reviews and ranks products, by thoroughly researching them. We may receive a commission when a purchase is made through our links, at no cost to our readers. Prices and ratings mentioned above are accurate as of January 20, 2020.