Are you looking to increase the floorspace in your home by purchasing a sofa bed? If so, the Logan Sofa Bed from M&S could be precisely what you're looking for.
Instead of restricting the use of your floor space in the guest bedroom by purchasing a permanent bed, a sofa bed can be folded away when it's not in use.
Logan Sofa Bed Overview: 
4 colours to choose from: grey, pink, navy or teal in velvet fabric. 
Available in 3 sizes: single, small double sofa bed or double sofa bed.
It is easy to use and has a simple fold-out mechanism.
Made in Britain. 
When you buy from M&S, you can always be sure of high quality and great customer service. As such, the Logan Sofa Bed, which is a fold-away sofa bed, is worthy of your consideration if you're looking for an affordable, stylish sofa bed to add to your home. 
The Logan Single Sofa Bed is 77cm wide.
It can be used as a chair to sit on or a guest bed for sleeping. 
It comes with one matching pillow and wooden feet. 
Dimensions as chair/sofa: 78cm height, 77cm width, 86cm depth.
Dimensions as bed: 184cm long x 77cm wide.
It has a simple 'clic-clac' folding mechanism, so it can be folded out into a bed in seconds. The bed measures 77cm wide x 184cm long, which is close to a single mattress size. It can seat and sleep one person. 
Price: £319
Logan Small Double Sofa Bed
The Logan Small Double Sofa Bed is 120cm wide and is a great option if you need a smaller sofa bed. It comes with two matching pillows, wooden feet, and is available in 5 colours. 
Dimensions as sofa: 78cm height, 120cm width, 89cm depth.
Dimensions as bed: 186cm long x 120cm wide.
When you fold it out into a bed, it becomes 120cm wide x 186cm long, which is close to the size of a small double size bed (120cm x 190cm). It can sleep two people, but if you prefer your guests to have a roomier sleeping space, you might want to opt for the double size option. 
Price: £399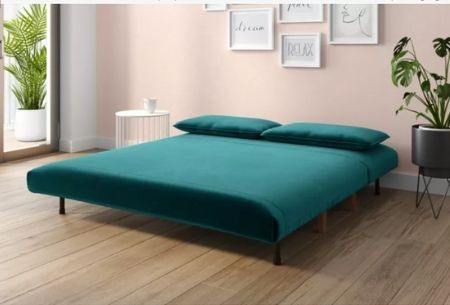 If you need a larger sofa bed that can seat three people and sleep two comfortably, then the Logan Double Sofa Bed (135cm wide) is more suitable. It has the same design, with wooden feet, 5 stylish colour options and two matching pillows. 
Dimensions as sofa: 78cm height, 135cm width, 89cm depth.
Dimensions as bed: 186cm long x 135cm wide.
When you fold out the sofa into a bed, it becomes 135cm wide x 186cm long, which is the same as a double size bed (135cm x 190cm). It is spacious enough for two people to sleep there comfortably and to seat three people, giving you more room to accommodate and host guests and visitors. 
Price: £449
Different colours to choose from: 
The Logan Sofa Bed by Marks and Spencer is available in 8 colours: grey, teal, navy, moss green, fern green, honey, mink, and pink, all of them are upholstered in velvet fabric.

The velvet sofa bed and simple wooden feet are designed in such a way that it will look simple yet elegant in your home.
What's more, the velvet is easy to maintain and can be vacuumed with a soft brush attachment, should any little accidents happen. The cushions that come with the sofa bed come in matching colour and fabric.
M&S has recently started selling the Dylan Sofa bed which has a very similar design to the Logan. It's upholstered in polyester (not velvet) and is available in 3 colours: charcoal, light grey, ochre. 
If you're not sure which colour will fit well with your room interior, you can order up to 6 free fabric samples from M&S. This way you can see live how the colour and fabric looks and feels when you receive it at home. 
Shopping Tip: If you're looking for a wider sofa bed, then check out the Jasper Sofa Bed also offered by M&S. It is 181cm wide and has a clic clac folding mechanism, so you can easily convert it into a bed.
Delivery Information: 
Although you might not have purchased furniture from M&S before, the process is very simple, as you've probably come to expect from one of the UK's most trusted brands. They have a UK home delivery fee of £15, which applies to all furniture orders.
If you order more than one piece of furniture at once, they will aim to deliver them together, to save you having to remember multiple delivery dates. 
M&S offers customers the chance to stagger payments on their furniture, which saves you from having to fork out on the entire cost at once. This is in the form of 0% APR interest-free credit, that can be paid over 12 or 24 months.
Logan Sofa Bed Review:
The Logan Sofa Bed has only one review posted by a customer in TrustPilot. The customer has been dissatisfied with the delivery time of their Logan Sofa Bed and has said that the information on M&S website about the estimated delivery time is misleading and not accurate.
The person has purchased the Logan Small Double Sofa Bed in Ochre colour, and on their website the "Delivered In" was displayed as 1 week, however, they were later informed that it will take 10 weeks for it to be delivered. So this is something to take into consideration when shopping from M&S. 
Alternatively, you can check out the Alexa Sofa Bed by Bensons for Beds, which is also available in three sizes. It has a very similar design, price tag and many positive reviews. Depending on the colour selected, it is usually available for quick delivery within 1 week. 
Disclosure – top10mattressinabox.co.uk independently reviews and ranks products, by thoroughly researching them. We may receive a commission when a purchase is made through our links, at no cost to our readers. Prices and ratings mentioned above are accurate as of September 27, 2023.