When it comes to finding the best seating options for your home, it's crucial that you consider different options.
The Bluebell Sofa Bed is versatile and may be a great match for different rooms within your home. 
But it is comfortable and is it worth buying? Here is what one customer who owns a Bluebell sofa for 5 years has to say about it:
In this guide, we'll consider all the features of the Bluebell sofa bed and see what customers have said about it.
Overview: 
Available in four sizes: loveseat, two seat, two and a half seat, and three seat sofa bed.
The mattress is 10cm deep and can be unfolded using a hidden mechanism.
The legs are 12cm high, they are made from oak or mahogany.
The frame comes with a lifetime guarantee.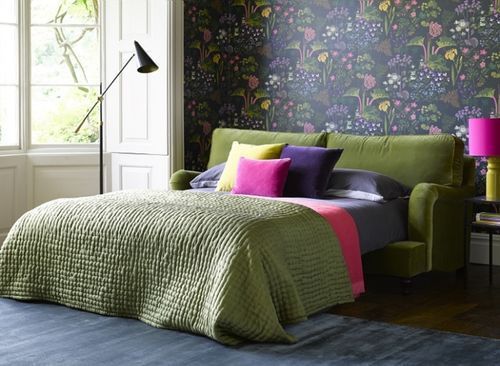 The Bluebell Sofa Bed has a timeless appeal that will fit well with wide range of interiors. You can choose from over 30 colours and fabrics, including cotton, linen, velvet, soft leather and more.
Hidden inside is a comfortable mattress (10cm deep), which unfolds using the pull out mechanism. Keep in mind that the cushions on the Bluebell sofa might be a little firmer than most normal sofas, because of the folding mechanism. Nevertheless, the cushions are still designed to offer good comfort for the user.
The back cushions are made from feather and quallofil fibres; meanwhile, the seat and mattress cushions are made from feather-wrapped foam. 
When you unfold the mattress of the Bluebell Two Seat Sofa Bed the mattress will measure 113cm wide and 183 long. If you need a sofa bed with larger sleeping area, then consider getting the two and a half seat or three seat sofa bed.
Price: from £1,880 (depending on fabric)
Bluebell Sofa Bed Dimensions:
The Bluebell Sofa Bed is available in four sizes. For all four sizes the sofa seat depth is 65cm deep and seat height is 50cm. 
The total depth of the sofa bed when extended is 233cm, so make sure you have enough room in front of the sofa to unfold the mattress.
1. Bluebell Loveseat is the smallest size and is suitable for sleeping one person.
Dimensions as a loveseat: 132cm wide, 110cm deep, 95cm high.

Dimensions as a bed: 73cm wide, 183cm long, mattress depth is 10cm.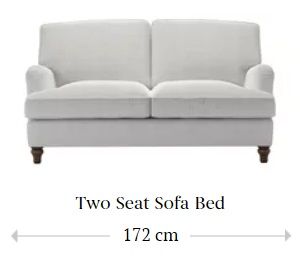 2. Bluebell Two Seat Sofa Bed can seat two and sleep two (however it might be a bit tight for two people). 
Dimensions as a sofa: 172cm wide, 110cm deep, 95cm high.

Dimensions as a bed: 113cm wide, 183cm long, mattress depth is 10cm.
3. Bluebell Two and a Half Seat Sofa Bed can seat two or three people and sleep two comfortably.
Dimensions as a sofa: 192cm wide, 110cm deep, 95cm high.

Dimensions as a bed: 133cm wide, 183cm long, mattress depth is 10cm.
4. Bluebell Three Seat Sofa Bed is the largest size, and can seat three and sleep two quite comfortably.
Dimensions as a sofa: 202cm wide, 110cm deep, 95cm high.

Dimensions as a bed: 143cm wide, 183cm long, mattress depth is 10cm.
Shopping tip: If you have a small living space, but still need a guest bed, check out guide on the best footstool beds. 
Alternative Sofa Beds: 
It's always good to shop around and look at what other alternatives are available online. One sofa bed that has a very similar look is the Isabella Sofa Bed by Bensons for Beds. It's available in four colours in soft velvet fabric. There is also a mattress that folds out from inside and can be used as guest bed.
The Isabella Sofa Bed is available as a 2 seater or 3 seater sofa bed. It's made in Britain and comes with 5 year guarantee. You get free assembly for this item and it will be delivered to your room of choice for a small fee of £30.
Price: £1,399 (reg. £1,699)
Another good alternative is the Copenhagen 2 Seater Sofa Bed by M&S. It's available in over 114 different colours and fabrics.
This is a two seater sofa, which measures 175cm wide x 95cm deep x 53cm seat height. The mattress is 183cm long x 133cm wide x 6cm deep. It's made of memory foam and has soft quilted cover. There is an option to buy it as a three seater sofa or a corner chaise sofa bed.
Price: £1,599
Delivery Information:
Since all furniture items are handmade to order, it will take about 4-6 weeks for the Bluebell sofa to be handmade and delivered to your door.
There is a delivery fee of £120 for larger furniture items (such as sofas, armchairs, beds, etc.) to the United Kingdom and Republic of Ireland.
The company also has a collection and recycling service for old sofas. You can add this service at the checkout page for £99 fee. Their delivery team will take away your old sofa and recycle it.
Bluebell Sofa Bed Reviews
On the whole, Sofa .com is a highly reputed company. Over 4,145 customers have left feedback on TrustPilot, and 83% of past customers give the company 5 star reviews.
Typically, past customers who bought a sofa bed praise the company for several key factors, including their friendly and professional customer service and high end furniture items.
Pros:
Reviews for the Bluebell sofa bed include numerous past customers praising the sofa for its quality fabric and stylish design. 
Furthermore, many customers enjoy the experience of visiting showrooms that sell the sofa and find the staff there very helpful and knowledgable.
What's more, though the Bluebell sofa bed has firmer cushions than generic sofas, owing to the inbuilt mechanisms, past customers are often praising of the sofa's overall level of comfort, making it a great option both as a sofa and a sofa bed.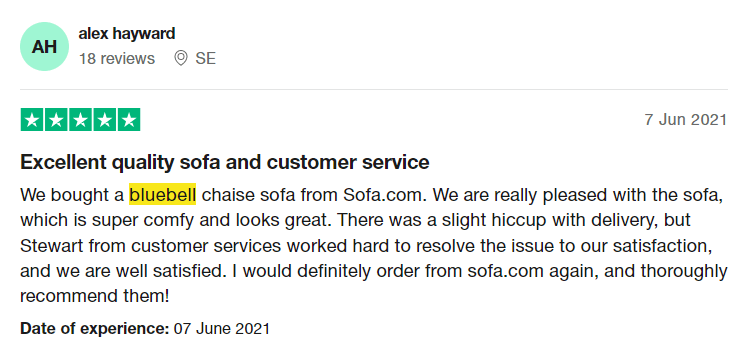 Cons:
The main drawbacks of the Bluebell sofa bed highlighted by a small number of past customers are that, in a handful of models, the cushions begin to sag relatively quickly.
Nevertheless, the Sofa .com customer support team has been highly responsive with poor reviews, offering to support customers with finding a suitable solution.
In short: if it's a premium-quality sofa bed model you're looking for, the general consensus from past customers is highly praising of the model. You can read all customer reviews here.
Disclosure – top10mattressinabox.co.uk independently reviews and ranks products, by thoroughly researching them. We may receive a commission when a purchase is made through our links, at no cost to our readers. Prices and ratings mentioned above are accurate as of March 28, 2023.