If you're looking for a sofa bed with compact design, upholstered in stylish neutral colour, then the Dylan Sofa Bed by M&S might be a good option.
You can use it as a sofa during the day to sit and relax, and when you have guests you fold it into a bed that can sleep one or two people comfortably.
Dylan Sofa Bed Overview:
Available in 3 sizes: single, small double, and double.
Simple "click clack" fold out mechanism, allows you to turn it into a bed easily.
Comes with one or two comfy cushions.
Minimal assembly required (simply attach the legs).
Covered by M&S 10 year guarantee.
M&S sells a small selection of sofa beds that are practical, elegant and affordable. They carry different sizes, to complement any room, big or small. In this review, we'll take a look at the Dylan Sofa Bed in more detail to see if it's worth buying or not.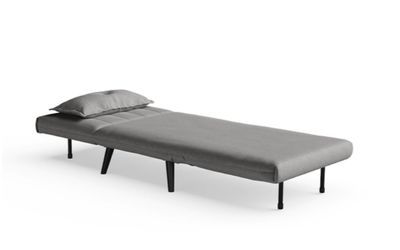 The Dylan Single Sofa Bed is 77cm wide and has the smallest size in the collection. It can sit and sleep one person. It's designed to be a comfortable chair, that can easily fold-out into a single bed. It comes with one matching cushion.
Dimensions as sofa: 43.5cm seat height, 77cm wide, 86cm deep.
Dimensions as bed: 184cm long x 77cm wide
Price: £319
Dylan Small Double Sofa Bed
The Dylan Small Double Sofa Bed is 120cm wide and has a compact design. It can sit and sleep two people, without taking too much space in your home. Its folds out into a small double bed, and comes with two matching pillows.
Dimensions as sofa: 43.5cm seat height, 120cm wide, 86cm deep.
Dimensions as bed: 184cm long x 120cm wide
Price: £399
The Dylan Double Sofa Bed is 135cm wide and is the largest one in the collection. It's a good option if you want a bigger sofa that can accommodate more people. It can comfortably sit three and sleep two people.
It has approximately the same size as a double size bed, which makes it more spacious for a couple to sleep there. Two matching pillows are included.
Dimensions as sofa: 43.5cm seat height, 135cm wide, 86cm deep.
Dimensions as bed: 184cm long x 135cm wide
Price: £449
Three colours to choose from: 
Currently the Dylan Sofa Bed by Marks and Spencer is sold in 3 colours: charcoal, ochre, and pearl grey. 
If you're not sure which colour option will match well with your room décor, you can order up to 6 free fabric samples from M&S. You'll have them delivered to your home by mail, so you can 'see' and 'feel' the fabric, and determine if it's the right colour for you.
The Dylan Sofa Bed is not available in velvet. However, if you're keen on buying a velvet sofa bed, check out the Logan Sofa Bed which is available in ash grey, dark teal, navy or pink velvet.
Delivery Information:
M&S chargers a delivery fee of £12.50 for furniture items. Their delivery team will bring the item to your room of choice and will follow social distancing safety guidelines.
Before you buy the item, you'll see how long it will take for it to be delivered to your home. Generally, the delivery takes between 1 to 8 weeks, depending on the availability of the item.
M&S has a Furniture 10-Year Guarantee policy. It covers any manufacturing failure on all furniture they sell (excluding outdoor furniture). The guarantee does not cover any damages resulting from normal wear and tear, accidental damage, or improper care.
Dylan Sofa Bed Review:
The Dylan Sofa Bed doesn't have any reviews posted on the M&S website. However, when you check their reviews on TrustPilot, you'll see some feedback left by customers who bought a sofa bed from the retailer in the past. 
The main problem some customers faced is the long delivery period. Some had to wait 8 weeks for it to be delivered, stating that the estimated delivery time shown on the  M&S website is sometimes inaccurate.
A few other people said that their sofa bed had missing parts when it was delivered (for example the legs), and they had to wait for the missing parts to arrive until they can use the sofa bed. They weren't able to get satisfactory support from customer service on their issue.
The review shown above is from a customer who bought a sofa bed from M&S (but didn't specify which one exactly). They said that on the M&S website it showed delivery within a week, however, after purchasing it they saw an updated delivery date which was over two weeks later. Since the customer needed their item much quicker, they had to cancel the order in the end and had their money refunded. 
Alternatively, you can check out the Cork A Frame Sofa Bed by Dreams, which has a very similar design and is available in 3 sizes. It's usually available for delivery in as little as 1-4 weeks.
Overall, the Dylan Sofa Bed is a compact and practical sofa bed with an affordable price tag. Except for the occasional delivery delays, it makes a good choice for many households.
Disclosure – top10mattressinabox.co.uk independently reviews and ranks products, by thoroughly researching them. We may receive a commission when a purchase is made through our links, at no cost to our readers. Prices and ratings mentioned above are accurate as of April 3, 2023.