The Otty Hybrid mattress combines 14cm-long encapsulated pocket springs, luxury reflex foam, and Cool Blue Gel infused memory foam, creating great support for a person's body contours and joints, while regulating body temperature throughout the night. Otty has received many awards from "Real Homes", "Good Housekeeping Institute", and is the only boxed mattress company to win a prestigious award by the "National Bed Federation".
The company recently launched the Otty Bamboo Mattress with Charcoal and Aura Hybrid, which still offers a high level of support and comfort, but at an even more affordable price.
What's inside the OTTY Hybrid?
The Otty Hybrid mattress is 25cm deep and is comprised of 5 layers.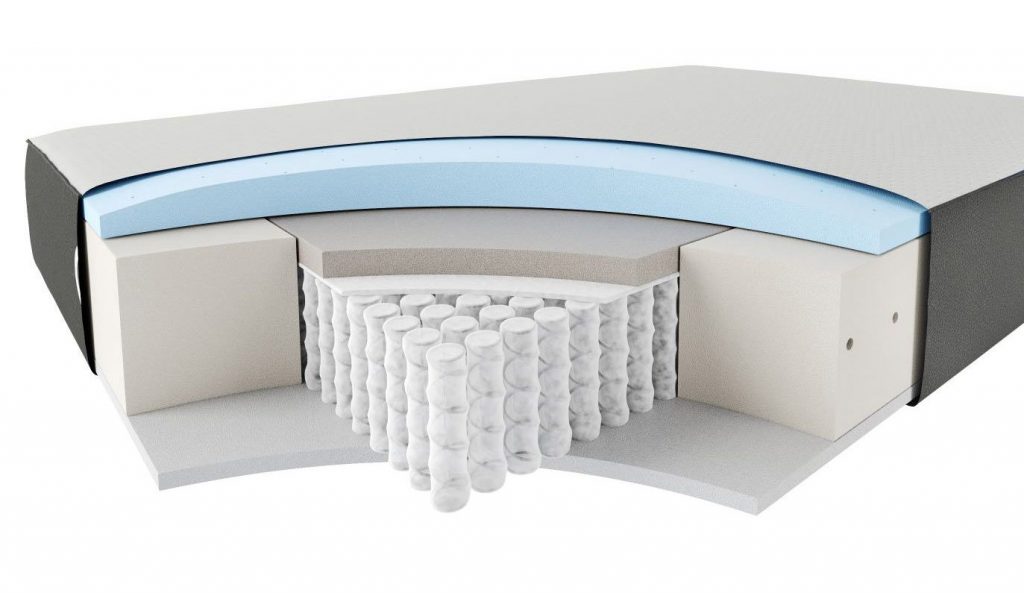 Layer 1: Cool Blue Gel Memory Foam – helps regulate body temperature, for a better night's sleep.
Layer 2: Luxurious Reflex Foam – relieves pressure and adjusts to a person's ideal sleeping posture.
Layer 3: 2000 Pocket Springs – there are 2000 individually encapsulated pocket springs inside the king size mattress. The springs are 14cm long, offering optimal support for a person's joints and back and eliminating motion transfer.
Layer 4: High-Density Base – creates a sturdy base for the mattress, preventing dips and sagging.
Layer 5: Airflow/Side Support – high-strength foam offers edge-to-edge support and lets air circulate throughout all areas of the mattress, removing excess heat.
The mattress cover is hypo-allergenic, and can be removed and washed at 40 C degrees.
What's inside Otty Pure Hybrid Bamboo & Charcoal Mattress?
This is UK's first bamboo memory foam mattress which has antibacterial charcoal inside. It's the most expensive of all the three Otty mattresses, with several layers inside measuring 25cm high. Bamboo is known to regulate temperature very well. The charcoal and bamboo are naturally hypoallergenic and sustainable materials. This mattress has the tallest springs at 16cm, when compared to the other Otty models. They provide full support for your joints and back.
OTTY Aura Hybrid Mattress
This is a very affordable hybrid mattress, priced at £249 for single size (if it's on sale, with reg. price £499). There are 5 layers inside and it measures 23cm. It has a removable and washable cover, so you can keep a clean sleeping surface. Below that there is a temperature regulating memory foam and Reflex foam which provide comfort and additional support. There is also a layer of 1,000 pocket springs which are 16cm high. There is a total of 7cm memory and high density foam which makes the mattress durable, so it can provide the same level of support for many years. 
How firm is the mattress?
All mattresses have a firmness of "Medium-to-firm", and has been designed to suit the majority of body types.
On a scale from 1 to 10 the Otty Hybrid has a rating of 7/10, while the Otty Aura has a rating of 6/10.
The Otty Hybrid and Otty Bamboo mattress have 2,000 springs inside counted in the King size mattress. The Aura Hybrid has up to 1,000 pocket springs. 
The springs are 14cm or 16cm long, while other hybrid mattresses in the industry, have much shorter 2cm long springs.
Best for which sleeping position?
All Otty mattresses are suitable for any sleeping position (back, stomach, or side). The combination of springs and memory foam provide perfect body support and comfort, no matter the person's sleeping position.
Overheating and temperature control:
The Otty mattresses have a Cool Blue Gel infused memory foam, which helps regulate body temperature making you feel cooler throughout the night. They also have an Air Flow system allowing fresh air to circulate throughout the whole mattress at night, removing any excess heat.
Does Otty offer 100 Night Trial and Free Returns?
The Otty mattresses comes with a 100 night trial period, which means that once you buy the mattress you can sleep on it up to 100 nights before you decide if it's right for you. If you are not satisfied with the mattress, you'll need to contact Otty's customer support and they'll arrange a free pick up and will refund your money once they've received the mattress back. You can see full list of mattresses that come with free trial here. 
Deliveries to Mainland UK are free and are usually done within 3 days after the order has been placed and processed. However during peak times, delivery can make take between 1-2 weeks. The mattress is delivered to your room of choice.
Is 0% Financing Available?
Customers have the option to buy the Otty mattresses with 0% financing, and divide their payments into periods of 3 months, 6 months, 9 months or 12 months. To apply for the 0% financing, select this option at the checkout page and fill out an application which will be processed by DivideBuy an Interest Free Credit Provider.
Safety of materials:
The foam used in the Otty mattresses are CertiPUR and EuroPUR certified and approved for safety and chemical testing. This is the highest European standard for mattress safety. It is also latex free and hypo-allergenic, with no harmful or toxic materials used. The Otty mattresses have been tested and awarded a FIRA safety certificate, meaning the mattress is fully fire retardant and safe to use.
What surface should be used with the Otty mattress?
The Otty mattresses work with all surfaces, such as: slated, divan, adjustable, box spring, platform or floor.
Other products sold by Otty:
Otty Deluxe Pillow – best for side and back sleepers, with the same cooling blue gel that the mattress has to keep you cool.
Otty Adjustable Pillow – is filled with OTTYCell memory foam elements, which can be inserted or removed from the pillow, so you can adjust your plumpness level. 
Bed Frame – comes with a headboard and is finished in a luxurious dark grey wool blend. You can also buy the Otty ottoman bed frame.
Bundle – buy Otty's best selling products: Otty Mattress, Bed Frame, and Deluxe Pillows in a bundle and save up to £200. 
Otty has an Excellent rating on Trustpilot, and is rated 4.5 stars out of 5 based on over 6,000 real client reviews. Many customers found their new Otty mattress to be very comfortable and reasonably priced.
OTTY Hybrid Mattress from £349.99
OTTY PURE Hybrid Bamboo & Charcoal from £374.99
OTTY Aura Hybrid Mattress from £249.99
Disclosure – top10mattressinabox.co.uk independently reviews and ranks products, by thoroughly researching them. We may receive a commission when a purchase is made through our links, at no additional cost to our readers. All prices are accurate as of July 19, 2022.