Best 5 Emperor Mattresses UK (Updated 2023)
Are you looking to buy an Emperor mattress, but are not sure which one is the best for you? Then you've come to the right place. We've put together a list of the 5 best emperor mattresses that you can find online.
All of the mattresses shown below are either Emperor size: 200cm x 200cm or Large Emperor size: 215cm (long) x 215cm (wide). They are made of premium materials and offer very good level of comfort and support. 
No matter what your budget is, you're sure to find the perfect one on the list below!
1. Otty Hybrid Emperor Mattress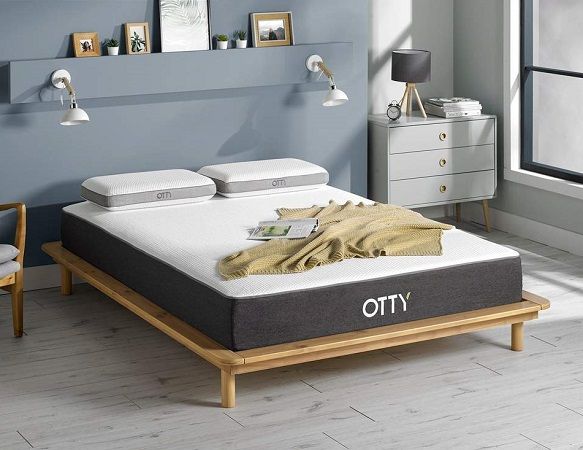 What's inside the mattress?
On top there is a moisture-wicking cover, which can be unzipped and washed at 40 degrees.
Temperature regulating memory foam, which will keep you at the perfect temperature while you sleep.
High density Reflex memory foam which provides comfort and additional support to your body.
A layer of 2,000 pocket springs, which are 16cm high. They provide body support and minimise motion transfer between sleeping partners. 
There is additional foam on all sides, providing edge to edge support. And l

astly, there is HD Base Foam, which provides a solid foundation, ensuring the mattress stands the test of time.
All the foams inside the Otty mattress are CertiPUR and Europur approved, which means that they have been tested and pass the highest standards for quality and the foams are free of any harmful chemicals. The Otty emperor mattress comes with 10 year guarantee. 
Otty offers 100 night trial, which means that if for some reason you're not satisfied with your mattress, you can simply contact the company and they'll arrange a return for free and refund you the money. 
The company also offers free standard delivery. For an extra fee you can also order Saturday delivery, delivery to your room of choice, or an old mattress removal service. 
Emperor Size: 200cm x 200cm x 25cm
Price: £714.99 (reg. £1,299.99)
2. British Bed Company Hotel Rest Deluxe Mattress (Small Emperor or Large Emperor)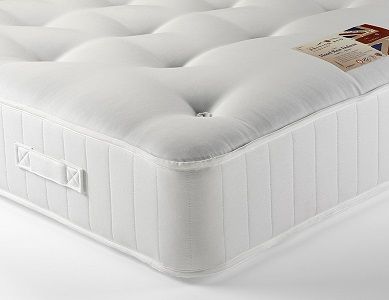 What's inside the mattress?
On top there is a natural Egyptian cotton cover.
Cotton Layer offers superb comfort, and is a natural insulator keeping you cool in the summer and warm in the winter.
1000 Pocket Springs provide individual support to the person sleeping on the mattress. They contour and absorb a person's body weight evenly.
This emperor mattress is 26cm deep and has a firmer support feel. 
This Hotel Rest Deluxe Pocket Sprung mattress is anti-allergy and has a 5 Source Fire Rating. It's hand tufted and has vents located on the border which allow for the mattress to breathe and for air to circulate. 
It's made in Yorkshire, UK by the British Bed Company, and comes with 5 years guarantee and free delivery.
Emperor Size: has wide range of custom sizes: 6'6″x6'6″, 6'9″x6'9″, 7'x7′ and more
Price: from £635 depending on size
3. Wool 2000 Pocket Spring Emperor Mattress - Firm
What's inside the mattress?
The 2,000 pocket springs support your entire body. Each individual spring is encased in a fabric envelope. This allows each spring to respond to your body independently, creating a very supportive feel.
A thick layer of British wool helps regulate temperature while adding comfort. Wool is naturally hypoallergenic and is a very good choice for allergy sufferers.
There are 16 air vents on the sides which help air circulate throughout the mattress. It has been tufted and has side stitched border, which gives good edge support.
The Wool 2000 Pocket Sprung Emperor Mattress is sold by the Soak and Sleep company, which offers 100 night home trial, so that you can sleep and test their mattress at home for up to 100 nights. 
If by that time you're not satisfied, simply contact the company and they'll arrange a pickup and refund you the money (please note there is a £45 return fee). The returned mattresses are donated to the British Heart Foundation charity. 
The mattress is made in the UK and has a firm support feel. It comes with 5 year guarantee.
Emperor Size: 200cm x 200cm x 28cm
Price: £875 
4. British Bed Company Anniversary Pocket Ortho Pocket Sprung Mattress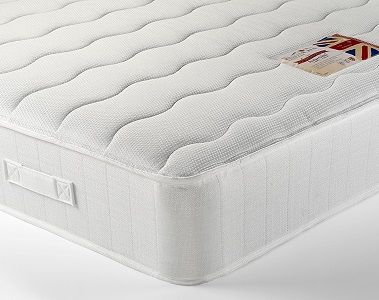 What's inside the mattress?
Inside there is polyester and a triple layered mattress top. This adds extra comfort and softness.
There is also a Maximasoft cover and six-gauge rod edge, which makes the mattress strong on the sides and prevents any sagging.
There are 1000 individual pocket springs, which move independently of each other and contour to a person's unique body shape. The springs also support major joints and help your spine align to its natural position.
The Anniversary Pocket Ortho Pocket Sprung Mattress has a medium-firm support rating, which is suitable for people who have average to heavy weight. The British Bed Company sources their raw materials from UK suppliers and manufactures all their mattresses in the UK.
This mattress comes at excellent price, it's made in the UK and has 5 year warranty.
Emperor Size: has wide range of custom sizes: 6'6″x6'6″, 6'9″x6'9″, 7'x7′ and more
Price: from £525 depending on size
5. Thornton British Wool Mattress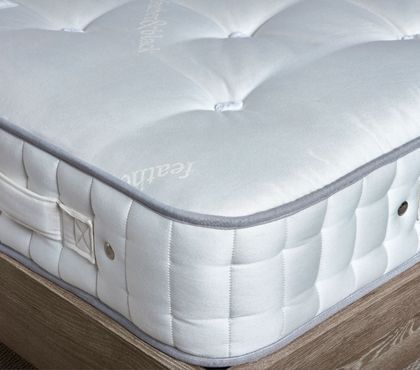 What's inside the mattress?
A layer of cotton, hemp and 100% British wool, which is soft and supportive and can regulate body temperature naturally.
Layer of 5,000 high density pocket springs, which adapt to your unique body shape as you sleep and relieve pressure from key areas.
750 Cortec™ springs which offer greater contour accuracy and match the unique contours of your body. This helps alleviate any pressure points, for a comfortable night sleep.
This mattress has two rows of side stitching, sewn by hand, providing better edge-to-edge support.
The Thornton British Wool Mattress is handcrafted by Harrison Sprinks and sold exclusively by Feather & Black. It is 28cm deep and you can buy it as a "medium" or "firm" tension feel.
Feather & Black offer free delivery and have a 100 night trial (terms and conditions apply). This mattress is covered by a 7 year guarantee.
Emperor Size: 200cm x 200cm
Price: from £2,099
What is an Emperor Size Bed & Mattress?
An Emperor size bed and mattress measures 200cm long x 200cm wide (6ft 6 inches x 6ft 6 inches). You can also find a Large Emperor size bed and mattress which measure: 215cm long x 215cm wide (7ft x 7ft).
On the other hand a Super King mattress measures: 180 cm (width) x 200 cm (length). This means that they are 20cm narrower, so they don't provide as much sleeping area compared to an Emperor bed and mattress. If you have a large bedroom, that is able to accommodate a very large bed, then this is a great option to consider.
Need more info? Read our full guide on "What is the largest UK bed and mattress size" so you decide which option is best for you.
Why buy an Emperor Mattress?
Some people might prefer to get an Emperor mattress if they have a very large bedroom, or they might be sharing their bed with their kids or pets, who love to crawl in at night.
Emperor mattresses are difficult to find, since not many companies manufacture them, but we've found 5 great options you can buy that are made of premium materials. These companies also sell other sizes: such as: Single, Double, Kind, Super King, etc.
Mattress Sales: It's good to know most of these mattress companies, regularly offer sales and promotions. For example, they might offer 10%-20% off the mattress, or give away free pillows. Click on the buttons above, to see if any of the mattresses are on sale right now.

Eve Emperor Mattress
Eve does not sell any Emperor size mattresses. They did manufacture the Eve Original in Emperor size, however they discontinued this size several months ago. The largest you can buy is the Super King size, which is priced at £849, or at £509 when it's on sale. 
If you decide to buy an Eve mattress in Super King size, you can take advantage of their 100 night sleep trial, 10 year warranty and free delivery and returns. 
Tempur Emperor Mattress
Tempur is a luxury mattress brand, however they do not sell any Emperor size mattresses. They sell: single, double, king and super king size mattresses. The largest is the Super King size, measuring 180cm wide x 200cm long.
One of the best selling products is the Tempur One Mattress, which can be bought in "soft", "medium" or "firm" support feel and provides a cool night sleep thanks to the QuickRefresh™ detachable cover. The Super King size goes for £1,949, when it's not on sale, and comes with 10 year guarantee. 
Delivery Fees and Shipping Info:
Each company has their own delivery terms and fees. For example, Otty and MattressMan offer free standard delivery to most area codes. Make sure you check with the mattress company, if there are any delivery fees for your postal code. 
Also, check what's the estimated delivery time. In some cases, the emperor size mattress might be a custom made product. Because of this the delivery could take longer. While other companies might have this product in stock and will need only a few business days to have it delivered.

Disclosure – top10mattressinabox.co.uk independently reviews and ranks products, by thoroughly researching them. We may receive a commission when a purchase is made through our links, at no cost to our readers. 
Please note: prices are accurate as of April 30, 2023.