Sleepmotion Adjustable Bed Reviews & Buyer's Guide
Sleepmotion adjustable bed frames by Dreams have been designed so that people can enjoy the perfect night's sleep. The Sleepmotion bed frames provide people with a range of ergonomic positions in which to sleep, watch TV, or relax in whatever position you find most comfortable.
In this detailed review, we'll take a look at the specifications of the Sleepmotion 200i, 400i and 800i models, so you can decide if this is the right adjustable bed for your needs.
What is Sleepmotion?
The Sleepmotion beds have sturdy metal legs and reinforced base (their weight limit is 355kg/55 stone). Depending on the model you buy, you can adjust the head, feet, back and lumber areas of your body.
Elevating your legs is known to help improve blood circulation. One of the most popular features of the Sleepmotion beds is the "Zero Gravity" technology. 
It minimises pressure, alleviates aches and pains, and creates a feeling of weightlessness. 
The Sleepmotion beds also help minimise snoring, so your partner can sleep soundly without being disturbed. Another feature that many will enjoy is the integrated massage, which massages your back and feet, so you can relax after a long and busy day out. 
Top 4 Sleepmotion Adjustable Bed Frames by Dreams
Below you can read about the four Sleepmotion models. All of them have "Zero Gravity" weightless feel, wireless remote and adjustable back and foot end. However, some models also have adjustable head and/or lumbar support for spine alignment. Also, the 400i and 800i have integrated massage feature, for a luxurious and relaxing night sleep. 
1. Sleepmotion 200i Adjustable Bed Frame
The Sleepmotion 200i is the most basic model, but it has all the essential features at a good price point. You can adjust 2 areas of the bed: back and feet. There is also a handy underbed light, which you can turn on with the remote control.
The 200i incorporates "Zero Gravity" technology, which provides a sensation of weightlessness and relieves pressure points throughout the night. 
Because the 200i enables you to keep your head slightly elevated during the night, it limits snoring and helps you and your partner enjoy a relaxing, undisturbed night's sleep.
Number of adjustable areas: 2 (back and feet)
Rating: 4.8/5 from 303 customers
Price: from £749 
2. Sleepmotion 200u&i Adjustable Bed Frame
The Sleepmotion 200 u&i is the only model that comes in split king or super king. This means that you can move the left and right-hand side of the bed independently.
You can adjust the back and feet areas on each side. This way you won't disturb your partner, and each person can find the perfect position according to their needs.
The Zero Gravity technology helps ease pressure points off your body, and creates a feeling of weightlessness. By adjusting the back the 200u&i could help reduce or stop snoring, for a peaceful night sleep.
Number of adjustable areas: 2 (back and feet)
Rating: 5.0/5 from 1 customer
Price: from £1,199 
3. Sleepmotion 400i Adjustable Bed Frame
Packing all of the features of the 200i, the 400i benefits from adjustable functions in the head, feet, and lumbar regions. Lumber support helps with correct spine alignement.
What's more, the Sleepmotion 400i incorporates two massage units, one for the feet and one for the back, making it an excellent option if you want to enjoy a massage to help you drift off to sleep at night.
There is also a "Zero Gravity" technology, which helps ease pressure points off your body. Plus, adjusting the back can help with reducing snoring during the night. 
Number of adjustable areas: 3 (back, feet and lumbar)
Rating: 4.8/5 from 128 customers
Price: from £1,049 
4. Sleepmotion 800i Adjustable Bed Frame
The Sleepmotion 800i is the most advanced model. It incorporates four adjustable areas: head, back, lumbar, and feet. Lumbar support is important for correct spine alignment. 
The 800i is the only model that has 2 x USB charging ports so you can charge your devices easily. There is also a handy underbed LED light, which you can turn on with the remote. 
Here you also have a massage function (for the back and feet) and "Zero Gravity" technology. Just like the other beds, the 800i can help with eliminating snoring, by adjusting the head end.
Number of adjustable areas: 4 (head, back, lumbar and feet)
Rating: 4.7/5 from 215 customers
Price: from £1,999 
Dreams vs. Bensons for Beds Adjustable Beds
Shopping for an adjustable bed is an important decision and it's best to do some research beforehand. Bensons for Beds is Dream's biggest competitor and they also sell four motion beds.
The Pocket Memory Motion Divan Bed is Bensons for Beds' most popular model and it's priced at £2,549.99 for a double size. It's more expensive, but it already includes a comfortable mattress and a divan base. 
You have an option to include one or two storage drawers, brining up the price by £200. However, a headboard is not included here. It comes with a wired remote, and the ability to adjust the back and feet areas.
The Sleepmotion 200i Adjustable Bed goes for £799 in double size. This is much cheaper than Bensons for Beds, however you'll need to purchase a mattress separately. Dream's Sleepmotion compatible mattresses start from £799 for a double size. This brings the total to £1,598, which is a very reasonable price.
Keep in mind that Bensons motion bed don't have a Zero Gravity technology, there is no massage option, and you can adjust only the back and feet areas. Overall, Dream's Sleepmotion beds have a wide range of advanced features so you can find the perfect bed for a good night sleep.
Sleepmotion Compatible Headboards and Bed Frames
All Sleepmotion beds come without a headboard, but you can buy a matching one from just £199 for a double size. They are upholstered in woven fabric in matching grey colour. It has a contemporary design, which will look great in any bedroom. 
Some customers choose to use the Sleepmotion frame as a standalone bed. However, you can also buy a bed frame that's compatible with Sleepmotion, and have a stylish and beautiful bed in your bedroom. For example, the Lucia upholstered bed frame and Deacon upholstered bed frame are two beautiful and popular options.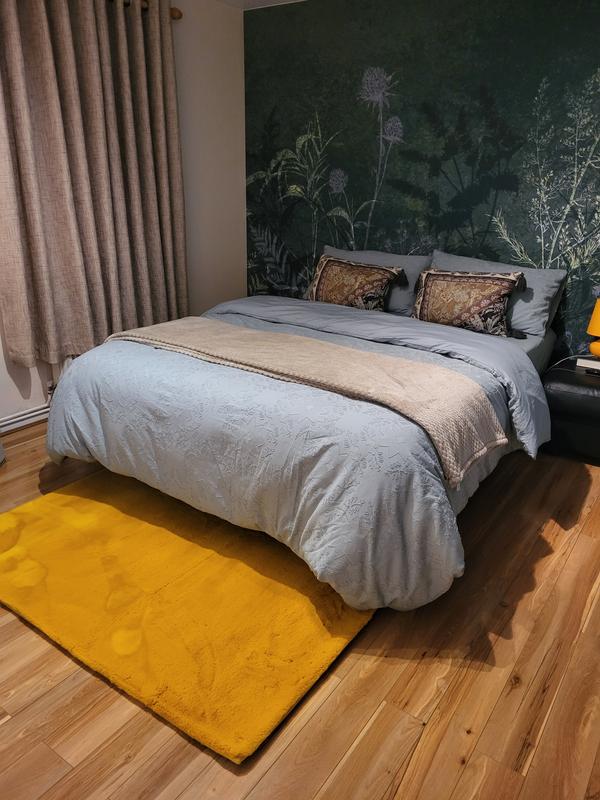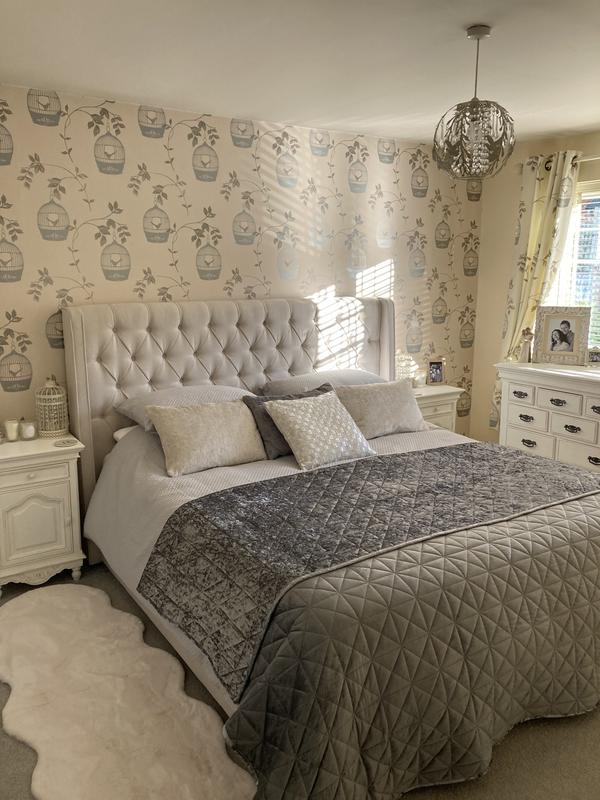 Additional Information:
It's important to note that all Sleepmotion beds come with free delivery as standard. There is an option to purchase bed frame assembly for around £65, or have the bed assembled yourself. 
The beds come with 1 year guarantee, but you can extend it to 8 years, by purchasing an additional Bedcover Service Plan from Dreams. This will insure your bed from any mechanical failures within 8 years.
Keep in mind that a mattress is not included in the frames' price, meaning you will have to purchase one separately. Check out the Flaxby mattress collection and TEMPUR Original Elite Mattress, which are compatible with the Sleepmotion bases.
Sleepmotion Bed Reviews:
The Sleepmotion beds have high customer rating, from hundreds of reviews bed dating back 3 years ago. The most popular model is the Sleepmotion 200i which has a 4.8/5 stars from over 303 customers. In addition to improving their sleep, customers had their back pain significantly relieved and they are able to get up from bed much easier.
Pros:
Many users find this bed incredibly comfortable to sleep and relax in. The Zero Gravity option is loved by many users, and they have noted that it feels like "you're floating on air" and they are waking up feeling energised.
The Sleepmotion beds are also a preferred option for many who suffer from arthritis, as well as people with back problems. They've noted that

they are able to easily control the bed positions and find a position that's comfortable to them.

According to reviews, the bed moves smoothly, it's easy to use and has a quiet operation.
As far as the price and value of the product, many feel that it has a reasonable price, and it's well worth the investment.
Cons:
A few customers who bought the 800i model had problems with the massage function not working. 
There have been a few cases when the motor of the bed died and stopped working after 2 to 3 years of use. In both cases, customers contacted customer support to have their issue resolved. It's also recommended that you purchase the Bedcover Service Plan, which extends the guarantee from 1 year to 8 years. This way Dream's will cover any mechanical failures within this period.
Before you decide if this it the right bed for you, make sure you read all reviews here.
Disclosure – top10mattressinabox.co.uk independently reviews and ranks products, by thoroughly researching them. We may receive a commission when a purchase is made through our links, at no cost to our readers. Prices and ratings mentioned above are accurate as of December 15, 2022.