Sensaform Mattress Reviews & Buyers Guide
The Sensaform Mattress Collection, is exclusive to Bensons for Beds. They have been carefully designed to provide superior body support, while also regulating body temperature. Inside each mattress is a layer of Active Pocket Springs. Each spring is enclosed in its own fabric pocket and provides personalised support and response to the unique body shape of each sleeper. What's unique about the Sensaform mattress collection is that it has a layer of copper infused memory foam. All Sensaform mattresses come with 8 year gurantee and are made in the UK.
How are Sensaform Mattresses made?
The first thing you'll notice is that there is luxurious deep quilted sleep surface on top, which is very comfortable. If you like sleeping on a pillow top mattress, the Sensaform Memory 9000 is a great option. There is also a unique Copper infused memory foam layer, which is very breathable and supportive. Below that there is a layer of Active Pocket springs (and Micro springs), which provide individual body support and pressure relief.
One of the features that make these mattresses superior is that there are copper infused fibers inside the memory foam. Copper is a naturally occurring element which has anti-bacterial properties which help neutralize bacteria and odours.
In addition to this, the copper is also known to assist in in energising and supporting joints and muscles, by relieving pain. This is a great option for those who need joint support or need to recover fast from an active lifestyle.

How to choose the right Sensaform mattress?
We've listed the top 3 Sensaform mattresses sorted by customer rating. This way readers can compare each product by rating, price and features. Each Sensaform mattress comes with pocket springs, however their number is different. It ranges between: 1,050 to 1,850 pocket springs. The higher the number of pocket springs the higher the price tag. As you can see in the above image, the Airstream Memory 6000 and Airstream Memory 9000 have an additional layer of micro-springs (the layer in blue colour). The micro-springs provide better pressure relief and adapt to your body shape better. 
The layer in grey colour is the Copper infused memory foam, which regulates body temperature so you don't overheat or feel too cold while sleeping. In addition, Copper is known to have anti-bacterial properties. It's good to know that the Sensaform Memory 9000 has a plush pillow top, while to other models don't have one. All of the mattress are designed to have very good edge to edge support. They are all made in the UK and come with 8 year warranty. 
How much does a Sensaform Mattress Cost?
The Sensaform mattress collection is fairly priced and ranges between £479 to £1,149.99. The price depends on the size you want to buy. You can choose from single, small double, double, king or super king. The price also depends on the model and if it's currently on sale or not. Overall the Sensaform mattresses offer high quality at a reasonable price. You can also check out the iGel mattress collection, which is also sold exclusively by Bensons for Beds, but has somewhat higher price tag.
Top 3 Sensaform mattresses (sorted by rating)
1. Sensaform Airstream Memory 6000 Mattress
Review: 4.8/5 from 43 customers
There are a total of 1450 Active Pocket springs in two layers: 1050 springs base layer and 400 micro pocket spring layer. They contour to your body, providing very good level of comfort and edge to edge support.
A layer of copper infused memory foam gives breathability and regulates temperature. It also has anti-bacterial properties.
Luxurious deep quilted sleeping surface.
Firmness level: Medium
Price: £699 (for double size)
2. Sensaform Airstream Memory 9000 Mattress
Review: 4.7/5 from 23 customers

This is the top of the line product with 1850 Active Pocket springs in two layers.  They evenly distribute body weight and work independently to adapt to your body shape and movements. This means that there is no motion transfer between sleeping partners..
Layer of copper infused memory foam, providing excellent breathability and temperature regulation. Has anti-bacterial properties.
Luxurious pillow top which is comfortable and provides very good airflow.
Firmness level: Medium or Firm
Price: £799 (for double size)
3. Sensaform Airstream Memory 3000 Mattress
Review: 4.6/5 from 80 customers

This Sensaform mattress is made of 1050 active pocket springs. They contour to your body shape and provide individual support to each sleeping partner. 
A layer copper-infused memory foam, which has anti-bacterial properties. The reinforced springs offer edge-to-edge support, while the memory foam creates a temperature-regulated product.
It is a firm mattress with a deep-quilted sleeping surface.
Firmness level: Firm
Price: £599 (for double size)
Sensaform Mattress Reviews
When making up your choice about which Sensaform product is the right one for you, it's important to take into consideration the customer reviews. The Sensaform Airstream Memory 3000 Mattress has many positive reviews from customers. Most customers feel this mattress is good value for their money. And it is a high-quality product that offers maximum comfort and relief from aches and pains. Customers are also happy with the overall price and delivery time, as well as the friendly, professional delivery team.
As of right now, there are not many negative reviews of the Sensaform Airstream Memory 3000 Mattress. With the need to only rotate the mattress on occasion, the fillings and topper may only be on one side. Therefore, you want to ensure you are placing it on the bed with the comfortable side on top. Keep in mind that the mattress may be heavy when it is time to rotate it, but this is going to depend on the customer.
Delivery Service:
All customers shopping from Bensons for Beds have free delivery for orders above £100. This applies to postcodes in mainland Britain (England, Scotland and Wales). If you live in a remote area, please double check with their delivery terms and conditions if they are able to deliver to your area. Also, double check how long the delivery time is for the mattress model and size you're planning on buying. 
Additional Information:
The company Bensons for Beds was founded nearly 70 years ago. During this time they have become UK's leading mattress and bed retailer. All of the Sensaform mattresses are accredited with the BSI — British Standard Kitemark. They come with a full eight-year guarantee, which means that Bensons for Beds will repair or replace the mattress in case they are deemed defective. 
You can buy them in: single, small double, double, king or super king size. 
Sensaform Divan Beds
If your bedroom or guest room needs a divan bed as well as a mattress, the Sensaform Divan Bed collection is a great choice to consider.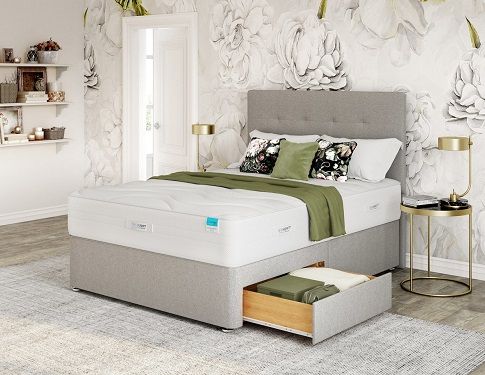 You can buy a divan base in four options: without any drawers, with supersize drawers, with standard drawers or with ottoman base.
Their new supersize storage drawers are 50% bigger than their standard size storage drawers, and are great if you need more space to put away your belongings.
You can choose from 6 stylish fabric colours: grape, parchment, steel, pewter, plateinum, or cobolt. And finally, the headboards come in eight different styles, which are sure to complement any bedroom and home décor. Find out more here.
Disclosure – top10mattressinabox.co.uk independently reviews and ranks products, by thoroughly researching them. We may receive a commission when a purchase is made through our links, at no cost to our readers. Prices and ratings mentioned above are accurate as of February 12, 2021.