Sofa beds are a popular option for many people as they offer both a comfortable place to sit during the day and a convenient place to sleep at night. 
If your place needs a stylish corner sofa bed, then the Jayden Sofa Bed by M&S is likely to meet many of your requirements. 
Jayden Sofa Bed Features:
Available in 3 colours: grey or teal in velvet or grey in plain polyester. 
Seats three and sleeps two people comfortably.
Simple pull-out mechanism, turns this sofa into a double bed.
Hidden storage underneath the chaise.
Available as right or left hand corner sofa.
However, before you make your purchase, it's important to consider a few things.
In this review, we'll look at Jayden's dimensions, product specifications, and what customers have said about the sofa bed after buying it.
Jayden Sofa Bed (Left-hand)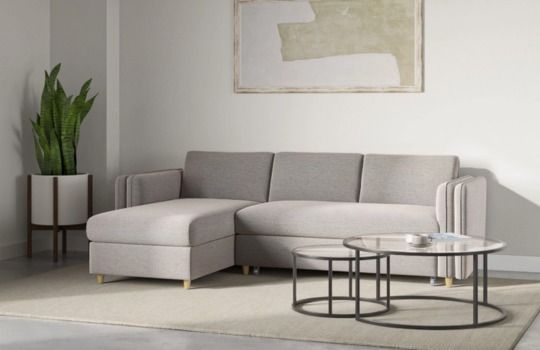 The Jayden Left-Hand Sofa Bed will elegantly fit in any corner of your living room.
The chaise is 148cm long and is great for lounging. Additionally, you can lift up the chaise and open a large storage area.
If you want to use the sofa as bed, it has a simple pull out mechanism, so it turns into a double bed, suitable for two people to sleep there. 
Seat Dimensions: 45cm height x 189cm width x 58cm seat and 119cm chaise depth
Sleeping area dimensions: 189cm long x 146.5cm wide
Price: £1,299
Jayden Sofa Bed (Right-hand)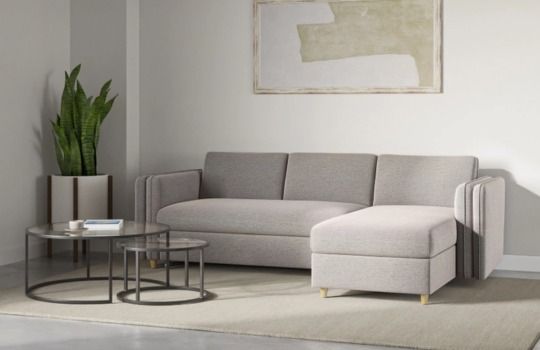 If you're looking for a right hand corner sofa bed, the Jayden is a good consideration. It has a chaise, which is 148cm long.
Additionally, you can lift up the chaise and access a spacious storage area, perfect for different belongings.
Both the right and left hand Jayden Sofa beds have the same dimensions and size. Their overall width including the arms is 223.5cm. The sofa bed has a convenient fold-out mechanism, allowing you to turn it into a double bed.
Seat Dimensions: 45cm height x 189cm width x 58cm seat and 119cm chaise depth
Sleeping area dimensions: 189cm long x 146.5cm wide
Price: £1,299
Storage underneath the chaise
If your living space is short on storage, then having a sofa with hidden storage is a great bonus.
The Jayden Sofa Bed has a chaise (148cm long) that can be lifted to reveal spacious storage area for your belongings. 
Put away your pillows, bedding, books or any other items you want stored away.
Three colours to choose from:
The Jayden Corner Sofa Bed is available in 3 colours. They include: grey or teal in velvet fabric and pearl grey in polyester fabric.
Grey is a versatile colour that can complement a wide range of interior styles and decor themes. It also works well with other colours, making it a great neutral base for a room.
If you're not sure which colour or fabric will match with your room decor, you can order up to 6 fabric swatches for free from M&S.
Shopping Tip: Before you choose the right sofa for your home, consider the Limerick 3 Seater Pull-Out Sofa by Dreams. It has very similar design, size and features. However, it's £100 cheaper, priced at £1,199 plus free delivery.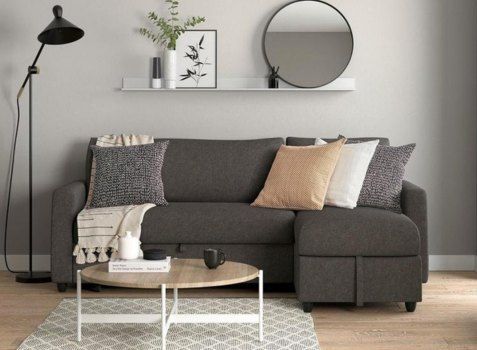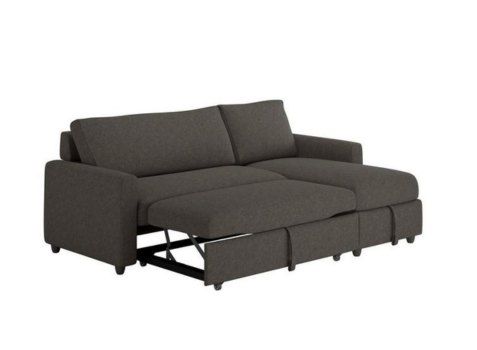 The best part is that you can choose how you want to position the chaise, on the left or right hand side and assemble it according to your needs. It comes in four stylish colours. Additionally, the Limerick sofa bed has pocket sprung seats, which makes it comfortable and durable. 
Additional Information:
M&S has a delivery fee of £15 on all furniture orders. Their delivery team will bring the item to your room of choice, so you don't have to carry it yourself. The Jayden Sofa Bed requires only partial assembly. 
When shopping online at M&S website you also have the option to apply for 0% financing. This way you can speared the payments over a 12 or 24 month period. 
Jayden Sofa Bed Reviews
M&S sells only a handful of corner sofa beds. While there are no reviews left on the M&S' website about the Jayden Sofa Bed, there are several customers who bought a sofa bed from them and left a review on TrustPilot. Most of them have been dissatisfied with the delivery, saying that there has been a delay. 
When you place your order you can see an estimated delivery date, however a few people have said that their item arrived later. This may cause inconvenience, especially if you're expecting overnight guests soon. 
Another person has said that the fabric on their sofa became stained after they had cleaned it. 
Although, the customer didn't specify which fabric their sofa is upholstered in (velvet, polyester, etc.) this is something to keep in mind. Check out more reviews here.
Disclosure – top10mattressinabox.co.uk independently reviews and ranks products, by thoroughly researching them. We may receive a commission when a purchase is made through our links, at no cost to our readers. Prices and ratings mentioned above are accurate as of September 27, 2023.