Slumberland Amari Ortho Comfort Mattress Reviews
The Slumberland Amari Ortho Comfort mattress is available exclusively from Bensons for Beds and is a premium-quality mattress. This is an Orthopaedic mattress (26cm deep), offering added support to the joints and back. It has been designed to help relieve pressure while you sleep. 
Slumberland has long been responsible for some of the finest sleep surfaces on the market. Their long-standing tradition as a provider of high-quality and reliable mattresses makes the Amari Ortho Comfort an excellent addition to their range. 
This mattress is made in Britain and is BSI (British Standard Kitemark) accredited, which is always a sign of great quality when it comes to mattresses.
Slumberland Amari Ortho Comfort Mattress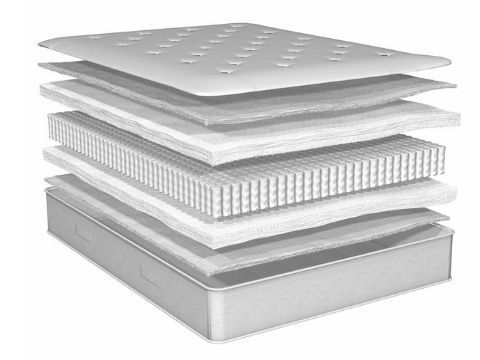 The Slumberland Amari Ortho Comfort mattress is 26cm deep. It is given a "medium" firmness rating, so in spite of the orthopaedic level of support provided, it doesn't feel too firm and provides an extremely comfortable night's sleep.
In large part, the exceptional Slumberland comfort is thanks to the Belgian damask fabric and the deep luxury fillings that are signature features of Slumberland's products.
At the same time, the ortho support is provided by 1000 pocket springs that are expertly positioned to ensure support is given right across the sleep surface. The springs are individually encased, which protects you and your partner from the dreaded 'roll together' that can ruin a perfectly good night's sleep!
When considered together, the premium quality comfort features and the support provided by the individually encased springs make the Slumberland Amari a preferred choice by many.
Sizes: single, small double, double, king, super king
Rating: 4.8/5 from 209 customer reviews
Price: from £749.99
Slumberland Amari Ortho Comfort Divan Bed Set
If you need to buy a divan bed in addition to a new mattress for your home, then the Slumberland Amari Ortho Comfort Divan Bed Set is a very good option to consider.
It comes with the Slumberland Amari Ortho Comfort Mattress and a divan base, which is stylish, functional and durable. 
The total height of the bed is 64cm (including the mattress and divan).
Plus you can buy it with storage (2 drawers, 4 drawers, full front ottoman) or without any drawers. What's more it's available as a zip & link bed. Keep in mind that the headboard needs to be purchased separately.
Sizes: single, small double, double, king, super king
Price: from £999.99
Additional Info:
The Slumberland Amari Ortho Comfort Mattress comes with £39 delivery fee service, provided by Bensons for Beds. The delivery team will carry it to your room of choice, which makes the delivery an easy and hassle free experience. It comes with 5 year guarantee. 
Keep in mind that this is a double sided mattress, which means that you can sleep on both surfaces (top and bottom). You will also need to turn and rotate your mattress regularly in order to expand its life. There are handles on each side to help you rotate and turn it.
And because it's available in 5 sizes: single, small double, double, king, or super king, it's a good option for every room in your house, be it your master bedroom, guest room, or even a kid's bedroom.
Shopping Tip: If you have a lower budget, a good alternative would be the Slumberland Natural Solutions Mattress collection, which has eco-friendly materials inside (cotton, flax, bamboo) as well as pocket springs, for superior body support. What's more the Slumberland Natural Solutions mattresses are available in "medium", "firm" or "extra firm" comfort rating. They are priced around £599.99 for a double size. 
Another good alternative to the Slumberland Amari mattress is the Slumberland Airstream Clima mattress collection. It has pressure relieving memory foam and advanced temperature regulating properties. It has been voted Product Of The Year in 2022!
Slumberland Amari Ortho Comfort Mattress Reviews
But what do verified customers make of the Slumberland Amari Ortho Comfort mattress? Well, the good news is that from over 209 reviews, the mattress scores an impressive 4.8 out of 5.0. This makes it one of the highest rated mattresses sold by Bensons for Beds. The Slumberland Amari Ortho Mattress (with "firm" comfort) also has a high rating of 4.8/5 stars from 78 customers.
Pros:
Customers seem extremely impressed by the comfort and support provided by the Amari mattress, with many commenting that it's the most comfortable mattress they've ever used. These comments are telling, as ortho mattresses sometimes receive criticism for being a little too firm. But because the Amari is classed as medium on the firmness scale, it seems that it strikes the perfect balance between comfort and support.
Overwhelmingly, customers have also been complimentary about the high quality of the mattress finish, suggesting that the luxurious touches make it seem as if the Amari should have been a lot more expensive than it actually was.
Many are also happy with the shopping and delivery experience from Bensons from Beds.
Cons:
It's not possible to provide an overview of the negative reviews of the Amari mattress, as there aren't any yet! Currently, there are only 5 and 4 star reviews left from customers. While this may change in the near future, it's a positive sign that nobody has felt the need to leave negative feedback on the product as of yet.
So, considering the Slumberland Amari's exceptional comfort, additional ortho support, and luxurious feel, and as backed up by some superb customer reviews; it would be more than fair to say that it would be a great choice if you're currently in the market for a new mattress. Make sure you read all customer reviews here. 
Disclosure – top10mattressinabox.co.uk independently reviews and ranks products, by thoroughly researching them. We may receive a commission when a purchase is made through our links, at no cost to our readers. Prices and ratings mentioned above are accurate as of April 11, 2023.