Maitland Pocket Sprung Mattress Reviews
The Maitland Pocket Sprung Mattress is a popular firm mattress manufactured and sold by Dreams. The company makes the Maitland mattress in the UK at the "Dreams Workshop" factory in Oldbury, West Midlands. This mattress is also a part of the company's Team GB and ParalympicsGB mattress range. 
The Maitland is as an upgrade to Dream's best-selling mattress, the Beaumont, which has been enhanced by adding useful handles and a British sourced cover to improve the overall comfort of the mattress. 

What's Inside the Maitland Pocket Sprung Mattress?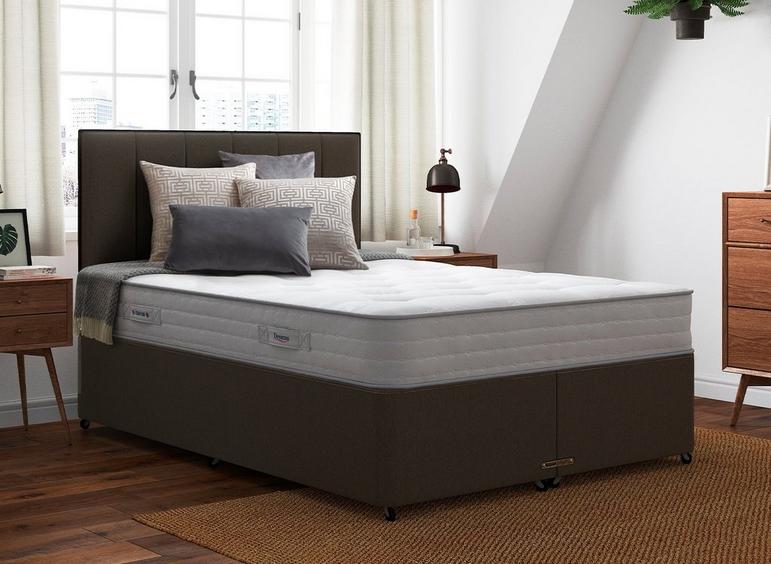 The Maitland Pocket Sprung Mattress is 23cm deep and has a firm comfort grade rating. It is comprised of the following layers inside:
Traditional damask cover, which is soft to the touch, durable and comfortable.
A deep layer of luxurious fillings (including polyester), which add additional comfort and support to this firm mattress.
In the middle there are up to 1,225 individually wrapped pocket springs (depending on the size of your mattress). The Maitland mattress distributes weight evenly across the surface of the mattress, at the same time ensuring you're not disturbed by your partner's motion throughout the night. The presence of the springs also eliminates the dreaded roll-together experience and ensures you will enjoy a relaxing night's sleep with or without your partner next to you.
Here is the exact number of pockets springs for each size: single: 561, small double: 759, double: 858, king: 1015, and super king: 1225 pocket springs.
As the Maitland mattress is double-sided, you will need to rotate and turn it often to ensure your weight is distributed evenly throughout the mattress.
Rating: 4.7/5 from 3,795 reviews
Price: from £599 depending on size
Additional Information:
The Dream Team Maitland Pocket Sprung Mattress comes with free delivery and should be delivered within 7 days (depending on your postcode and product availability at time of purchase).
This mattress is covered by a 1 year guarantee and Dream's 40 night comfort guarantee policy. If you wish to try out a mattress that comes with a 100 or 200 night trial, then check out this list.
If you like sleeping on a firm mattress, another popular product sold by Dreams is the Holman Pocket Spring Mattress which has a layer of recycled cotton inside. The Jacobs Pocket Spring Mattress is also a good option. Inside it has a layer of memory foam and pocket springs, and is topped off by a soft quilted cover.
The Dream Team Maitland mattress is double sided, that means that it is made up of the same materials on the top and bottom. You can sleep on either side, however you'll need to rotate and turn it regularly. Ideally, you should do it weekly for the first month, and then every once a month after that.
There are handles on the sides which will help with turning and rotating it. Just to give you an idea, the king size weights 36kg, so you might need a helping hand to make things easier.
Below are a few photos from customers, who have purchased the mattress and have set it up in their bedroom.
Maitland Pocket Sprung Mattress Reviews:
The Maitland Pocket Sprung Mattress has received more than 3,790 reviews and scores an impressive average score of 4.7 out of 5.0 stars. Reading the positive reviews, the majority of customers are delighted with their sleep since they've started using the Maitland. It seems that it certainly does provide exceptional comfort, with many reviewers commenting that the topping is the perfect complement to the support provided by the other layers. 
Pros:
Lots of positive reviewers have also mentioned that the Maitland feels quite firm and provides excellent support throughout the night. 
Many customers have said that they are having a good night sleep and don't have any pains or aches since switching to their new mattress.
Some people also mentioned that they are very happy with the ordering and delivery service from Dreams. Their mattress was delivered straight to their room of choice.
Cons: 
Several customers feel that the mattress is actually too hard, with one describing it as a brick, and another comparing a night on the Maitland to sleeping on the floor. It must be said that firm mattresses can surprise some people when they switch from a softer sleeping surface, so maybe those that thought it was too firm are comparing it to a softer mattress they've had previously. Also, keep in mind that this mattress is covered by Dream's 40 Night Comfort Guarantee. This allows you to exchange it for a different one that has a more suitable firmness level during the 40 day period. 
A few customers have said that the mattress has begun to sag or dip in certain places. This is an issue that should be addressed with Dream's customer support right away. 
As the negative reviews are significantly outnumbered by positive ones, it would be unfair to dwell on the comments of people who haven't been overly impressed by the Maitland. Overall, it seems that the mattress is a firm yet comfortable sleep surface that provides additional support throughout the night to those that require it. Make sure you read all customer reviews here. 
Disclosure – top10mattressinabox.co.uk independently reviews and ranks products, by thoroughly researching them. We may receive a commission when a purchase is made through our links, at no cost to our readers. Prices and ratings mentioned above are accurate as of January 6, 2023.