Turner Traditional Spring Mattress Reviews
The Turner Traditional Spring Mattress is offered as an affordable firm mattress, that's handcrafted in the UK. It is manufactured by the "Dreams Workshop", at the company's state of the art factory in Oldbury, West Midlands, where over 150 experts manufacture high quality mattress by hand.
The Turner Traditional Spring Mattress is an upgrade option to one of Dreams' best-selling mattresses, the Halliday. It is described as a firm mattress and the support throughout is offered by 228 hourglass, Bonnell shaped springs, that perfectly mould around your body and ensure your weight is evenly distributed across the sleep surface.
What's Inside the Turner Traditional Spring Mattress?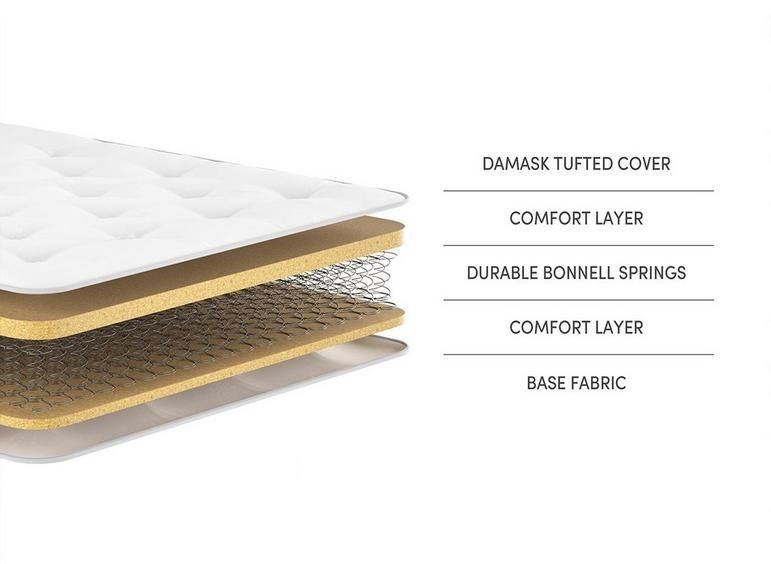 The Turner Traditional Spring Mattress is 21cm deep and is rated as a firm mattress. It's made of the following layers:
On top there is a soft-touch damask cover, which is tufted for additional support.

The Comfort layer, contours to the unique shape of your body and supports in all the key parts. The Comfort layer in combination with the Bonnel springs provide pressure relief. 

Layer of Durable Bonnel Springs (288 in the double size), which provide a firm support. They ensure that your weight is distributed evenly on the entire sleep surface. 
The second Comfort Layer gives the mattress an extra-added support. 
The Base Fabric is durable and holds the mattress in place, as you use it throughout the years. 
This mattress is a traditional spring, not pocket spring, which means that all springs are connected together. Traditional springs also offer very good body support, at a lower price. However, if you weight over 20 stone, sleeping on a pocket spring mattress is a better option for you. Check out the

Dreams Maitland Pocket Sprung mattress

as a great alternative. 
Keep in mind, that the Turner Traditional Spring Mattress has different number of springs inside, depending on the size you purchase. For example, the single size has 192, the small double size has 264, the double size has 288, and the king size has 365 traditional springs inside. 
Sizes: small single, single, small double, double, king, super king
Rating: 4.7/5 stars from 1,418 reviews
Price: from £359 depending on size
Additional Information:
Available as a small single through to a king, the Turner is ideal for your master, guest, or kids' bedroom, and the affordable price point means you don't have to break the bank to treat yourself to a mattress upgrade. If you're looking for a mattress for your kid's bunk bed or high sleeper bed, keep in mind that the Turner is 21cm deep and is not suitable. Alternatively, check out our review of the Simba Bunk Bed Mattress. 
As it's single sided, you will need to rotate your mattress weekly for the first three months, and then every month thereafter, to ensure your weight is evenly distributed.
The Turner traditional mattress is handcrafted in the UK, and it comes with a one-year guarantee as standard, just in case you're not happy with it once you receive it. When ordered online, customers receive their mattress courtesy of free delivery, and can even benefit from the mattress disposal service offered by Dreams, where they take away your old mattress when they deliver your new one.
While the Turner undoubtedly seems like a quality mattress, let's take a look at what those that have purchased it have to say about the product.
Turner Traditional Spring Mattress Reviews
Scoring an impressive 4.7 out of 5.0 from more than 1,400 reviews, the Turner is clearly a popular mattress. Reading through the reviews, it's clear to see that customers are generally very happy with the comfort of the Turner, which is reassuring to hear considering it's a firm mattress.
Pros:
Numerous reviewers have gone as far to say that the Turner has significantly reduced their back pain, and they attribute this to the core springs that provide exceptional support at night. Many reviewers have also commented on the fact that the Turner feels like it should be a much more expensive mattress than it was, suggesting that it represents excellent value for money.
Cons:
Twenty customers were dissatisfied enough to leave a one-star review, and they generally seem to think that the Turner is much too hard, and as such didn't provide a comfortable night's sleep. However, given the negative reviews are so few and far between, it's clear that, if you decide to purchase the Turner mattress at this extremely competitive price, you will most likely be extremely pleased with your purchase. In case you find the mattress to be too firm, you'll be happy to know that it's covered by Dream's 40 night comfort guarantee. This means that you can exchange if for a different mattress that has a more suitable comfort level. Just make sure you contact the company's customer support within the first 30-40 nights of purchasing it and they'll assist you with exchanging it.
Make sure you read all customer reviews here, in order to determine if this is the right mattress for you or not. 
Disclosure – top10mattressinabox.co.uk independently reviews and ranks products, by thoroughly researching them. We may receive a commission when a purchase is made through our links, at no cost to our readers. Prices and ratings mentioned above are accurate as of January 26, 2023.