Silentnight Portchester 1000 Pocket Eco Pillow Top Mattress Reviews
Silentnight is one of the leading UK mattress brands, and their Portchester 1000 Pocket Eco Pillow Top Mattress is a popular and affordable product.
The fact that the mattress is made from eco-friendly materials is a boost, and the 1,000 individually wrapped springs complement the memory foam pillow top, which ensures both comfort and support. 
The Silentnight Portchester 1000 Pocket Mattress is made in the UK and comes with 5 year guarantee.  In this review we'll see if it's worth buying or not?
What's inside the Silentnight Portchester 1000 Pocket Eco Mattress?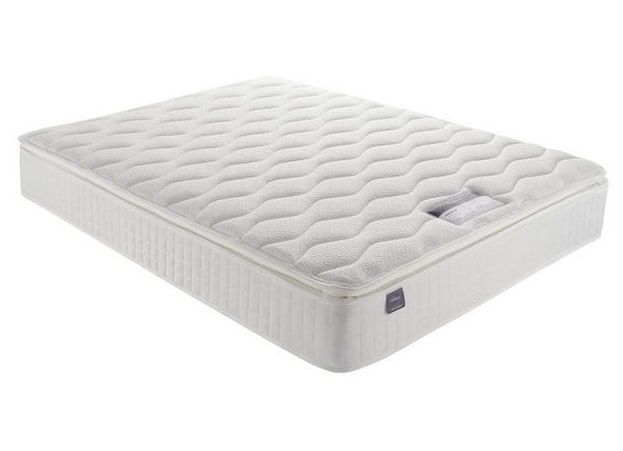 The Silentnight Portchester 1000 Pocket Eco Pillow Top Mattress is 26.6cm (11 inches) deep and has a "medium" comfort grade. Inside there is:
Memory Foam Pillow Top Sleep Surface, which offers smooth and soft quilt sleep surface. It forms around the natural contours of your body when you sleep.
Layer of Eco Comfort Fibres™ offers advanced breathability, comfort and support. In the manufacturing process, plastic bottles are recycled

 to make new polyester micro fibers. They are 

naturally flame retardant, ensuring safety and performance. 

A layer of 1,000 Mirapocket springs (in the king size). Each individual spring within the mattress is housed in its own pocket, which guarantees even weight distribution throughout the bed. The springs have advanced zoned support system, which is how it is able to offer balanced support throughout the sleep surface.
Pocket spring count: The exact number of pocket springs varies, depending on the size you buy. The single has 578, small double has 748, double has 850, king has 1,000, and the super king size has 1,224 pocket springs.
Rating: 4.8/5 stars from 215 reviews
Price: from £439 (reg. £549)
Additional Information:
Dreams offers free delivery for all their new mattresses and bed frames. The Silentnight mattresses come with 5-year product guarantee for peace of mind. 
When you buy the Silentnight Porchester 1000 from Dreams, you benefit from the company's 100-night comfort guarantee. This means that if you don't find your new mattress comfortable, you can exchange it for a different one within the first 100 days. 
Shopping Tip: If you prefer sleeping on a "firm" mattress, Silentnight Newbury 1000 Pocket Eco Pillow Top is a great alternative. It has very similar features and price tag, however it's rated as "firm", not "medium".
What sizes are available? You can buy the Silentnight Portchester 1000 Mattress in 5 sizes: single (3'0 x 6'3), small double (4'0 x 6'3), double (4'6 x 6'3), king (5'0 x 6'7), and super king (5'11 x 6'7). This makes it a good fit for a child, teen, singles or couples bedroom.
Silentnight Portchester 1000 Pocket Eco Mattress Reviews
The Silentnight Portchester 1000 Pocket Eco Mattress popularity is clear when you read through the verified reviews published on the Dreams website, and it scores 4.8/5 stars from more than 210 reviews.
Most reviewers agree that the mattress is comfortable, good value for money, and supportive, everything this Silentnight mattress promises to be. Here are some of the pros and cons raised in the verified reviews of this mattress to bear in mind:
Pros
Perhaps the biggest advantage of this mattress is that most people agree that the sleep surface is supportive and comfortable and that the medium comfort rating is representative of the product.
Several reviewers have also commented that the memory foam topping is a nice touch and offers premium comfort throughout the night.
Many people also mention that the Dreams delivery process was impressive and that they were kept informed throughout the process. This adds to your peace of mind when buying a mattress online.
Cons
Though negative reviews are few and far between, a couple of reviewers had poor experiences with the delivery of their mattress, one waiting a long time and the other receiving a damaged mattress on arrival. This can happen from time to time, and it's reassuring that most reviewers haven't found fault with the mattress itself.
You can read all reviews here.
Disclosure – top10mattressinabox.co.uk independently reviews and ranks products, by thoroughly researching them. We may receive a commission when a purchase is made through our links, at no cost to our readers. Prices and ratings mentioned above are accurate as of August 28, 2023.