Silentnight Ferndale 800 Pocket Eco Mattress Reviews
The Silentnight Ferndale 800 Pocket Eco Mattress has a "medium" comfort grade and is made in the UK. It is designed to provide comfort and support at a reasonable price.
Silentnight is one of UK's most reputable sleep brands, with over 70 years of experience in creating British beds and mattresses. The company puts each of its items through quality and safety testing. In addition to this, they have won many prizes for sustainability in recent years.
The Silentnight Ferndale Mattress is covered by a 5 year guarantee, with the option to extend it to 8 years if you purchase an additional Bed Cover Plan from Dreams.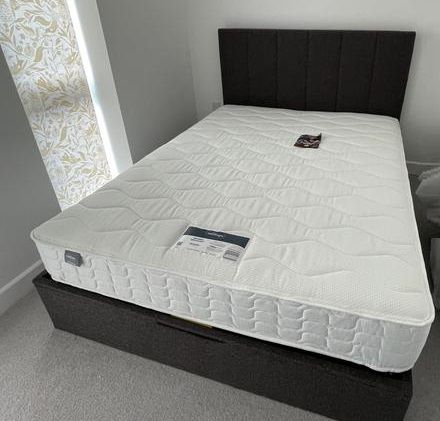 Silentnight Ferndale 800 Pocket Eco Mattress Overview:
Inside the mattress there are 800 individually responsive Mirapocket springs, offering zoned support to your body, and helping to improve spinal alignment and posture.
The mattress is finished with a soft quilted cover for additional comfort during the night. It includes layers of Eco Comfort Fibres for enhanced support and to allow for natural airflow. This mattress is easy to maintain and is made in the UK. It doesn't require turning (only rotating head to toe) and will endure for many years.
Soft quilted cover – which provieds smoother sleep surface when you lay down.
Eco Comfort layer – is made from sustainable materials. It is breathable and won't let you overheat at night.
800 Mirapocket springs – offer even weight distribution and help improve spinal alignment. They prevent the "roll together" effect and minimise motion transfer between sleep partners.
Protective layer – is durable base, which helps your mattress last longer.
This mattress is available in five sizes, and the number of pocket springs inside will vary. For example, the single size has 465, small double has 589, double size has 682, king size has 816 and super king size has 960 pocket springs.
Rating: 4.8/5 stars from 506 reviews
Price: from £299 (reg. £449)
Additional Information:
Dreams offers free standard delivery (Monday to Friday) on all orders. The company has flexible delivery options, and for only £9.95 they can arrange the delivery to be on Saturday. 
The company also offers 100 night comfort guarantee, which allows you to sleep on your new mattress for up to 100 nights and if you don't find it suitable you can exchange it for a different one.
The Silentnight Ferndale 800 Pocket Eco Mattress will arrive flat packet (this is not a vacuumed or rolled mattress). It is single sided, and will should be rotated head to toe regularly. 
The Eco Comfort Fibres are made from recycled plastic bottles to produce a layer that is cozy and comfortable to sleep on. Because Eco Comfort Fibres are permeable, the mattress will feel fresher overall because air can move inside the mattress more easily. If you prefer sleeping on memory foam, check out the Silentnight Hadleigh 800 Pocket Memory Mattress. 
Below you can see photos from customers who bought the Silentnight Ferndale mattress and have set it up in their homes.
Silentnight Ferndale 800 Pocket Eco Mattress Reviews
The Silentnight Ferndale 800 Pocket Eco Mattress has near perfect rating, scoring 4.8 out of 5 stars from 506 customer reviews. Many agree that this is a comfortable mattress, offers the right support, and is reasonably priced. 97% have said that they recommend this product.
Pros:
Many people feel that the mattress is neither too soft or too hard, and offers the ideal level of firmness.
Wide majority agree that it's comfortable and that they are sleeping much better now. Also, they like the fact that there is no memory foam inside.
Some have said that they purchased the mattress for their daughter's or son's room, and that their child is getting a good night sleep and loving their new bed since getting it.
Lots of customers were happy with the delivery, saying that the delivery team was on time and very helpful.
Finally, many like the fact that it's well made and has a reasonable price.
Cons:
Out of 500 reviews, two people have said that their mattress has started to sag and lose its shape, after sleeping on it for one year.
A handful of people have found it to be harder than expected. However, Dreams has a 100 night comfort guarantee, which allows you to exchange your mattress for a different one within the first 100 days.
Another minor complaint has been that there are no handles, which makes turning the mattress (head to toe) more difficult.
Make sure you read all reviews here. 
Disclosure – top10mattressinabox.co.uk independently reviews and ranks products, by thoroughly researching them. We may receive a commission when a purchase is made through our links, at no cost to our readers. Prices and ratings mentioned above are accurate as of June 2, 2023.