The Nectar Sleep company has been manufacturing and selling mattresses in the UK since 2017. 
Their most popular mattress is the Nectar Memory Foam Mattress. It is 25cm deep and keeps your body supported and your spine aligned properly. It's the only mattress to come with 365 night trial and forever warranty. 
Recently the company introduced four bed frames. Their price starts from £359 for a double size and they come with one or two year warranty, plus free shipping.
In this review we'll look at the four bed options and if they are worth buying?
1. Nectar Platform Bed Frame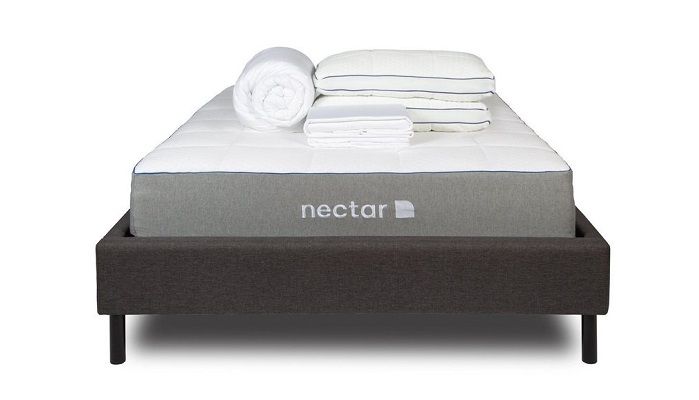 The Nectar Platform Bed Frame is upholstered in soft touch polyester and has black rubberwood legs. 
There is an underbed clearance of 16cm, which is a good amount of space to store some items underneath, as well as some storage boxes and bins.
The bed has a simple clip and lock feature means that you won't have to spend hours putting your new bed together. Instead, you can put together your new bed frame in a matter of minutes, and you will find that the slats are perfectly positioned when fully assembled to ensure you are ideally supported throughout the duration of the night. 
Sizes: single, double, king, super king
Rating: 4.2/5 stars from 59 reviews
Price: from £167 (reg. £334) 
2. Nectar Luxury Headboard Bed Frame
The Nectar headboard bed frame is elegant and affordable, making it the ideal addition to any contemporary home. The bed frame is upholstered in grey hopsack fabric and is supported by 4 wooden legs and 2 central support legs. The headboard has button details and is 104cm high. 
The Nectar headboard bed frame has an underbed clearance of 14cm, which offers ample space for storing some items under the bed. 
There are also strong sprung slats, which provide more comfort and support, when compared to a solid slat system, so you can enjoy a great night sleep every time. 
Sizes: double, king
Rating: 4.7/5 stars from 22 reviews
Price: from £329 (reg. £439) 
3. Nectar Ottoman Storage Bed
This classy ottoman storage frame from Nectar is the perfect option for anyone looking for easy access to additional storage space in their bedroom or guest room. 
The storage depth is 17cm, providing plenty of space for large and small items, such as: pillows, duvets, clothes, shoes and other types of items. You can assemble the side lift mechanism to open from either the right or left side of the bed, depending on your preference.
The padded and upholstered finish rounds the bed off beautifully, giving you all the features you would expect from a quality Nectar product. Here the headboard is 111cm high, while the underbed clearance is 15cm. 
Sizes: double, king
Rating: 4.4/5 stars from 14 reviews
Price: from £539 (reg. £719)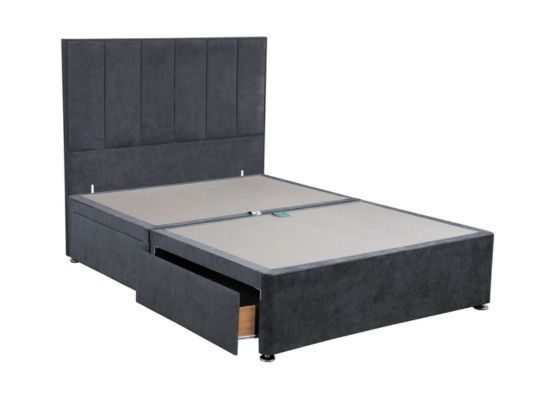 The Nectar Divan Bed lets you customise a bed according to your needs. You can choose between 5 sizes, 4 different storage options, different colors and headboard designs.
The base is constructed from FAC Certified sustainable timber. The base is 39cm high, while the headboard is 63cm high.
Different storage options: divan base with no storage, 2 drawers, 4 drawers, or ottoman storage. If you choose to add drawers, they have metal runners and have a weight capacity of 12kg.
The divan bed is very easy to assembly. It has simple clip on method so you can fix the bases together, while the drawers are already fitted into the base.
Sizes: single, small double, double, king, super king
Price: from £269 (reg. £359)
Additional Information:
All Nectar beds come with free delivery, which is usually done within 2-10 business days. This means that you can expect your order at your door step in just a few days.
The Nectar bed frames are covered by a two year warranty against any manufacturing defects. While, the divan bed is covered by one year warranty.
Shopping Tip: The Nectar beds don't come with a trial period. Alternatively, you can check the Emma bed or Simba bed frames which come with 200 night trial, so you can test and try out the beds at the comfort of your own home.
Nectar Bundle Deals:
If you need to purchase a new bed as well as a new mattress, Nectar offers 40-55% discounts when you purchase several of their products together. There are a total of 4 Nectar bundle offers that might interest you: Starter, Platform, Luxury, and Ottoman. 
This way you can buy a mattress, bedding, and/or bed and save up to £833 off your purchase. This is an great option to consider if you're looking to upgrade your master or spare bedroom.
Nectar Bed Frame Reviews:
When analysing the customer reviews, there are thousands who have rated Nectar' sleep products with an Excellent rating giving an average of 4.2/5 stars. However, keep in mind that the majority of reviews refer to the Nectar mattress. 
There are customers who bought a Nectar bed and left a review of it. This is how each bed is rated amongst customers:
Platform bed has 4.2/5 stars from 59 reviews.
Luxury headboard bed has 4.7/5 stars from 22 reviews.
Ottoman bed has 4.4/5 stars from 14 reviews.
Many have said that they're getting a great night sleep, and some have even said that their body aches and pains have disappeared. 
Since the bed frames are a relatively new product on the company's website, there are still a few customer reviews. Below is a customer who has said that the "Nectar Bed frame and mattress is lovely and comfortable". They were also happy with the customer service and delivery of the products.
On the contrary, another reviewer who purchased the Nectar Divan Bed has said that it was delivered damaged. They had contacted customer support to get a replacement, but they have been slow and not that helpful. The person is yet to receive the replacement divan.
Disclosure – top10mattressinabox.co.uk independently reviews and ranks products, by thoroughly researching them. We may receive a commission when a purchase is made through our links, at no cost to our readers. Prices and ratings mentioned above are accurate as of July 3, 2023.