Jacobs Pocket Sprung Mattress Reviews
The Jacobs Pocket Sprung Mattress is a top-of-the-range mattress and one of Dreams' most popular products. It is rated as a "firm" mattress and offers the right amount of support and comfort needed for a restful night sleep.
Dreams has an industry-wide reputation for delivering exceptional mattresses, and their sponsorship of the Team GB Olympics team is indicative of the quality of their products.
What's Inside the Jacobs Pocket Sprung Mattress?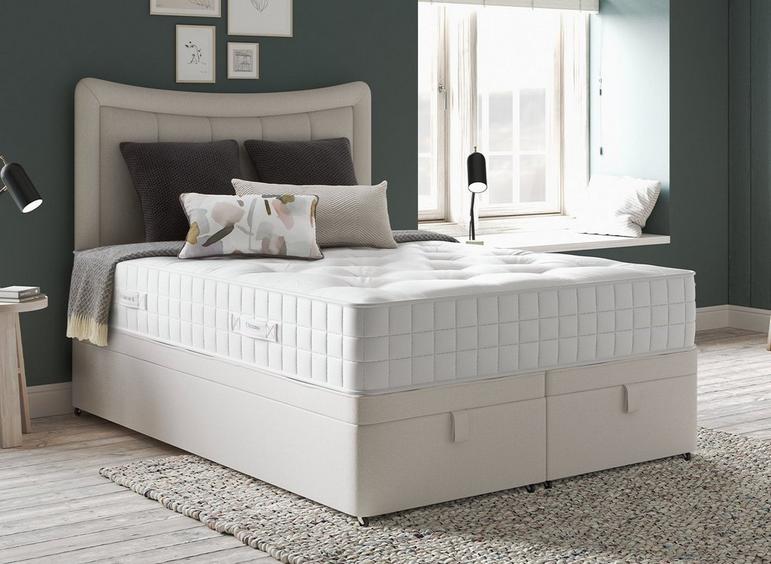 The Jacobs Pocket Sprung Mattress is 25cm deep and has a "firm" sleep surface. This is a double sided mattress and has several layers inside:
On top there is a soft-touch cover, which is very soft and durable. The mattress is tufted, which ensures that all the layers and fillings are held strongly together. This also helps the mattress last longer throughout the years. 
Below the cover there is a layer of recycled cotton and a "Comfort Layer" made from polyester fibres. Together they make the mattress comfortable and supportive, and ensure that you won't feel the springs underneath you while you're sleeping. 
In the middle of the mattress there is a layer of 1628 individually wrapped pocket springs (in the king size). Each of which ensures your weight is evenly distributed across the surface of the mattress. Individually wrapped springs also reduce the disturbance caused by your partner during the night, as they simultaneously absorb partner motion and reduce the 'roll together' feeling that can be so frustrating on other mattresses. If you're a light sleeper, you would certainly benefit from this desirable advantage of the Jacobs Pocket Sprung mattress.
This is a double sided mattress, with the same layers on the top and bottom. This allows you to sleep on both sides, prolonging the life of the mattress.
The number of pocket springs inside the Dream Team Jacobs Pocket Sprung mattress is different for each size. They are the following: single: 910, small double: 1225, double: 1400, king: 1628, and super king has 1961 pocket springs.
Rating: 4.8/5 from 1,190 reviews
Price: from £1,199 depending on size 
Additional Information:
Dreams offers free delivery on all mattresses and beds offered on their website. The delivery period can range from 10 days to 4 weeks, depending on the size you want to purchase and it's availability.
The Dream Team Jacobs Pocket Sprung mattress comes with a 1 year guarantee. You have the option to extend it 8 years by purchasing an additional Bedcover Service at Dreams. In addition to this, Dreams has a 40 night sleep guarantee, which allows you to exchange the mattress for a different one, if you feel that the firmness rating and comfort is not suitable for you.
The Jacobs Pocket Sprung mattress is a double sided mattress, so you can sleep on both the top and bottom side of it. Just make sure you turn and rotate it regularly, so that it maintains even wear and provides proper support. There are handles on both sides of the mattress, which will help you to move it. You might want to get a helping hand, since the double size weights 34 kg and might be too heavy for one person to handle.
Shopping tip: If you like sleeping on a firm mattress, but would like to spend less, then check out the Hudson Pocket Sprung mattress and the Maitland Pocket sprung mattress also available from Dreams. Both are 22cm deep and are priced at £649 for a double size. If you like sleeping on an extra firm mattress, check out this list.
Jacobs Pocket Sprung Mattress Reviews
It's vitally important that you consider customer reviews before purchasing a mattress, as they give you an accurate idea of what to expect once delivered. The Jacobs Pocket Sprung mattress from Dreams scores an impressive 4.8 out of 5.0 from 1,190 reviews, meaning it's extremely popular with those that have purchased it.
Pros:
Many reviewers agree that the Jacobs mattress strikes the ideal balance between comfort and support, and they are getting a good night sleep.
Others have said they are no longer woken up or disturbed by their partner, as they get in and out of bed. This means that their sleep is not broken and can get a restful and longer night sleep.
Several people have noted that there is strong edge support, so you don't roll off (or sink) when sleeping or sitting on the edge of the mattress.
Lots of reviewers have also been impressed by the delivery process and mattress recycling service offered by Dreams, noting that it was above and beyond what they expected.
Cons:
As for the negative reviews, there isn't a great deal to choose from. However, it appears that a handful of reviewers believe the Jacobs to be too firm for their liking. On the other hand, some have said that it's softer than expected. So clearly the "firmness" level can't be mailed 100% of the time for everyone.
Some have been disappointed because the mattress has begun to sag in the middle, after sleeping on it for some time.

Keep in mind that you can exchange the Jacobs mattress with a different one in case you find it too firm or not firm enough or if you're not satisfied with it for some reason, under Dream's 40 night sleep guarantee policy.
Considering the customer reviews, the Jacobs pocket sprung mattress from Dreams seems to be a worthwhile choice if you're looking for a top-of-the-range firm mattress. Make sure you read all reviews here.
Disclosure – top10mattressinabox.co.uk independently reviews and ranks products, by thoroughly researching them. We may receive a commission when a purchase is made through our links, at no cost to our readers. Prices and ratings mentioned above are accurate as of January 11, 2023.