Hudson Pocket Sprung Mattress Reviews
Made in the UK and the trusted sleep partner of the Team GB Olympic squad, the Dream Team Hudson Pocket Sprung Mattress is a "firm" mattress that strikes a good balance between comfort and support.
Incorporating up to 1,225 individually wrapped pocket springs, the Hudson also benefits from deep layers of fillings, meaning the mattress's overall complexion feels sturdy yet comfortable.
The benefit of the springs being individually wrapped ensures that it distributes the support offered evenly across the surface of the mattress, providing independent support for all areas of your body.
In this review, we'll take a close look at the Hudson Pocket Sprung Mattress to see if it's comfortable and if it's worth buying.
What's Inside the Hudson Pocket Sprung Mattress?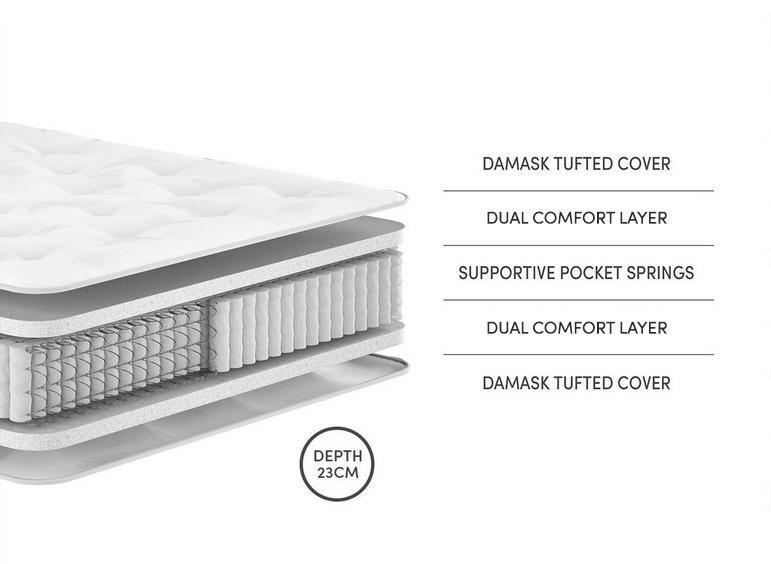 The Hudson Pocket Sprung mattress is 23cm deep and is double sided, which means that both sides can be used for sleeping.
The mattress is topped with a Traditional Damask Cover, further adding to the levels of comfort and giving the surface a soft and luxurious feel.
Dual Comfort Layer (made of polyester) moulds to your unique body shape and supports your body while you sleep. 
Up to 1,225 pocket springs (in the super king size), which distribute your weight evenly. They also ensure that you won't feel you sleep partner's motion during the night, eliminating the dreaded 'roll together' feeling that is a drawback of many mattresses on the market. 

Dual Comfort Layer – (same as above)

Damask Tufted Cover – (same as above)
Keep in mind that the exact number of pocket springs will depend on the size of the mattress. For example the super king size has 1,225 pocket springs, while the king size has 1,015, the double size has 858, and the single size has 561.
Rating: 4.7/5 stars from 5,220 reviews
Price: from £239 (reg. £599)
Additional Information:
Ordering from the Dreams website is a straightforward process too, and all mattress purchases come with free delivery. This product also comes with 1 year guarantee, which you can extend to 8 years by purchasing an additional Bed Cover plan from Dreams. 

There two more things to mention about the Hudson mattress. First, if you own an adjustable motion bed, then this mattress is not recommended. You should instead opt for an all memory foam mattress, check out some good options in our top 10 mattress list. 
Secondly, the Hudson mattress has convenient handles attached to either side of the mattress, making it easy to transport and rotate, ensuring you can get the most out of the mattress on a regular basis. Since this is a double sided mattress, it's recommended that you regularly rotate and turn head to toe in the first months of using it. 
Shopping Tip: the Hudson mattress comes in a "firm" rating. If you are looking for something with "medium" comfort rating, check out the Annison Combination mattress. On the other hand, if you want an "extra firm" mattress the Silentnight Heaton Pocket Sprung Mattress is a good option. 
It's good to know that Dreams has a "100 Night Sleep Guarantee", so you can exchange your mattress for a different one if you find that the comfort rating is not suitable for you.
Below you can see three photos of the Dream Team Hudson Pocket Sprung Mattress, once it has been set up on a bed frame at home.
Hudson Pocket Sprung Mattress Reviews:
The Hudson Pocket Sprung Mattress has several thousand reviews and is one of the most popular firm mattresses from Dreams. It scores an impressive strong 4.7/5 stars overall from over 5,220 reviews. Also, 96.14% of reviewers have indicated that they recommend this product.
Pros:
People consistently comment on the mattress's overall comfort, and they seem to be very impressed with the overall quality of the product once it has been delivered.
As you might expect with a firm mattress, several reviewers have commented that it has provided some much-needed additional support throughout the night when compared to their previous mattresses, with others suggesting that it's even helped to alleviate some existing back problems.
Many customers have mentioned that they have bought the mattress for their children, and they've found it very comfortable to sleep on.
Cons:
Regarding the negative reviews, several customers have been disappointed with the mattress, and it clearly hasn't met their expectations. Although it is advertised as a firm mattress, there are several complaints from reviewers who believe it is too firm to have a comfortable night's sleep. Some people have even said that the mattress has caused them backache as opposed to healing it. However, don't forget that Dreams has a 100 Night Sleep Guarantee, allowing you to exchange it for a different one if the firmness is not right.
There are also a few people who have had a bad experience with shopping from Dreams, particularly regarding returns and customer service. Nonetheless, with all negative reviews, we need to read and compare them to the customers who had a positive experience to get a balanced view.
Overall, customers seem to be very satisfied with the Dreams Hudson mattress. It appears to be a good option if you are looking for additional support during the night without compromising on comfort. You can read all reviews here. 
Disclosure – top10mattressinabox.co.uk independently reviews and ranks products, by thoroughly researching them. We may receive a commission when a purchase is made through our links, at no cost to our readers. Prices and ratings mentioned above are accurate as of May 9, 2023.