Dorma Mattress Topper Reviews & Buyers Guide
Mattress toppers are a great way to add more comfort to your old mattress, without having to invest in a new mattress just yet. You can find a good quality one for just £90 – £190 depending on its size and materials inside.
Mattress toppers are usually 2-6cm deep, and are made of different materials, including: memory foam, polyester and even feather and down.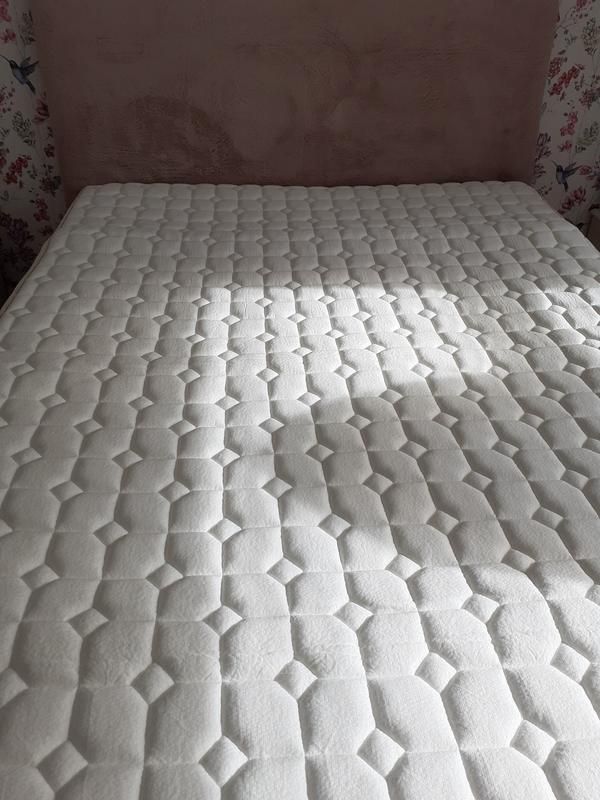 If you're looking for a new mattress topper, then the Dorma brand is popular option to consider. Dorma is a UK bedding brand that was established in 1921. They use only the finest quality materials including Egyptian cotton with anti-allergy properties, in their range of bedspreads, pillow casings, and mattress covers.
There are a total of 4 Dorma Mattress Toppers, with prices ranging from £55-£225 depending on the model and size. In this guide we'll review each one so you can decide if they are worth buying.
Tip: You may also want to check out the Fogarty mattress topper, which is also sold exclusively by Dunelm.
In this post, we introduce you to four of Dorma's mattress toppers, each of which will provide additional comfort throughout the night, and will ensure you can sleep soundly on whatever mattress you currently have.
1. Dorma Tencel Blend Memory Foam Mattress Topper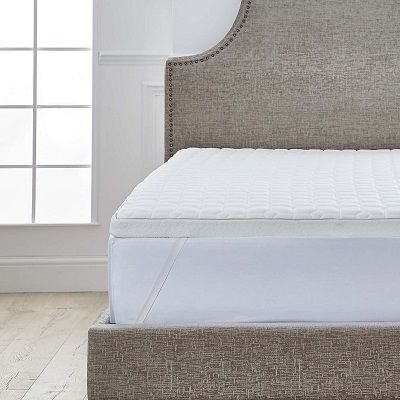 This is the most popular Dorma mattress topper, with over 1,900 customer reviews. It is 6.5cm deep and is comprised of the luxurious Tencel blend, this topper guarantees incredible softness and moisture management, the latter of which regulates your body temperature and reduces the risk of overheating throughout the night. The memory foam within this topper will form around the contours of your body and provides a sense of weightlessness that is much sought after. Be mindful that the firmness rating will depend upon the mattress underneath the topper.
Rating: 4.7/5 stars from 2,451 reviews
Price: £150 – £225
2. Dorma Full Forever Anti Allergy Mattress Topper
The Dorma Full Forever Anti-Allergy Mattress Topper is 3cm deep and is ideal for anyone who hopes to preserve the longevity of their mattress. With many of the same features as the Full Forever Topper as listed above, but it has been fitted with Aegis Microbe Shield Technology, which prevents the growth of bacteria. It's also machine washable, offering you the chance to remove it at your leisure and run it through a wash, to keep it as fresh and clean as possible.
Rating: 4.7/5 stars from 624 reviews
Price: £70 – £105
3. Dorma Full Forever Mattress Topper
The Dorma Full Mattress Topper is 3cm deep and is comprised of GRS standard recycled fibre. It is an environmentally friendly choice, with a crisp, 100% cotton cover. It's an ideal cover for mattresses that are up to 30cm deep, and the 230-thread cotton count ensures exceptional quality and means it won't thin and damage with age. The topper is filled with recycled spiral fibres, which give a full and plush feel, while ensuring an even filling within. While it's an ideal addition to firm mattresses, the elasticated top can be easily attached to all mattress surfaces.
Rating: 4.6/5 stars from 964 reviews
Price: £60 – £90
4. Dorma Sumptuous Soft Mattress Topper
One of Dorma's most indulgent products, the Sumptuous Soft Mattress Topper provides an additional soft layer to your sleep surface. Consisting of GRS approved recycled fibre and finished with a crisp, 100% cotton layer, the sumptuous soft topper has been perfectly crafted to boost the comfort of your mattress and to help you sleep a lot more soundly throughout the night. The fact that it's super soft makes it the ideal addition to your bed if you're disturbed by your partner's movement at night.
Rating: 4.6/5 stars from 494 reviews
Price: £80 – £115 
Who Makes Dorma Mattress Toppers?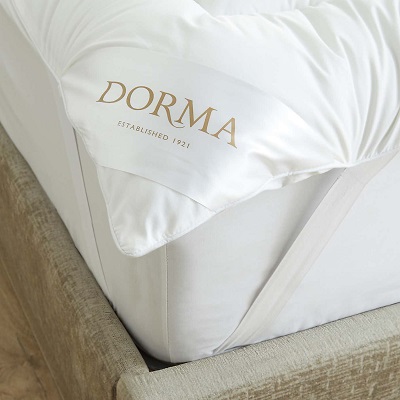 As one of the world's leading brands in high quality bedlinen and soft furnishings, Dorma was bought out by Dunelm in a £5 million acquisition back in 2008.
Since then, Dunelm has owned the Dorma brand, and supplied their top-quality products via their UK-based department stores. 
Dorma's range of stock at Dunelm is varied and focused on improving both the aesthetics and comfort level of the buyer's bedroom.
Additional Info:
Dunelm offers standard free delivery on all orders above £49. If you need to get your mattress topper in hurry, you can pay an extra fee for express delivery or may want to consider collecting the item from one of their stores. Dunelm also has an easy returns policy, however the item should be in its original packaging and should not have been used. 
Sizes: The Dorma mattress toppers are sold in a wide range of sizes, including: single, small double, king, and super king. There are straps on each side so you can securely attach the topper to your mattress.
How to care for your Dorma mattress topper? Keep in mind that only the Dorma Full Forever Mattress Topper and Dorma Full Forever Anti Allergy Mattress Topper can be machine washed and tumble dried on low head. The rest should be spot cleaned with damp cloth. 
You may want to add a deep mattress protector, that will cover both the topper and your mattress. Try to find a waterproof one, which will protect your topper and mattress against any spills and accidental stains. It will also prolong their life and protect against allergens.
Price Comparison
As far as the price of Dorma compared to other competing products, the Emma mattress topper is sold for £179-£319 (single-super king size), while the Simba mattress topper goes for £249-£499 (single-super king size). Both are made of memory foam and are 5cm or 7cm deep. On the other hand the Dorma Tencel Blend Memory Foam Mattress Topper is sold for £150-£225, making it a much more affordable option. 
Below you can see photos of the Dorma mattress topper, once it's been set up and used on a bed or sofa bed. 
Dorma Mattress Topper Reviews
All Dorma mattress toppers have a very high rating of 4.7 out of 5 stars from hundreds of reviews. The most popular is the Dorma Tencel Blend Memory Foam Mattress Topper with 4.7/5 stars from over 2,450 customer reviews. Overall many are satisfied with the comfort and good night sleep they are getting.
Pros:
Many customers have said that the mattress topper is comfortable, and that they are seeing an improvement in their sleep. Some have even said that it helps ease back pain, and that they are waking up much more refreshed from an undisturbed night sleep.
Although that the price of the Dorma memory foam mattress topper is higher than the rest, many agree that it's great value for the money and that it's a high quality product.
Many are seeing a big improvement in the feel and comfort of their old bed once they've placed the mattress topper on top. There are some who are using it on top of a sofa bed and have said that it has made their sofa bed much more comfortable.
Cons:
Besides the wide majority of positive reviews, there are some customers who have not been satisfied with their new Dorma mattress topper.

Some have said that they find it too firm, while others have noted that their back and joint pain has gotten worse.
A few have mentioned that it sleeps hot.
Make sure you read all customer reviews here, so you can decide if this product is right for you.
Disclosure – top10mattressinabox.co.uk independently reviews and ranks products, by thoroughly researching them. We may receive a commission when a purchase is made through our links, at no cost to our readers. Prices and ratings mentioned above are accurate as of August 30, 2023.