The mattress you choose can make or break your sleep experience. A mattress that is uncomfortable or worn down can result in losing sleep. If you want a night of restful sleep, it is important to look into a brand that offers high-quality mattresses, such as CoolMax.
The CoolMax mattress collection is made exclusively by Memory Foam Warehouse, who is a leading UK mattress retailer and manufacturer. They are a British mattress makers, selling their products at factory direct prices. All of them are made in the UK and come with 5 warranty.
What is CoolMax?
All CoolMax mattresses are made using cooling memory foam inside, which regulates body temperature very well. There are breathable fibers inside, that keep you cool and dry throughout the night. It is a great option for those who usually wake up feeling hot or sweaty.
The mattress is also made of hypoallergenic and antibacterial materials to create a healthy sleep surface, and the CoolMax cover can be removed and washed as needed. Finally, the viscoelastic foam moulds to your body to provide maximum comfort and support.
Below you can see the top five mattress and the features you should look at:
The first thing you should look at is what is the firmness level. It can be: "medium-soft", "medium", or "medium-firm".
Another thing to look at is how deep is the memory foam layer. There are four options: 3cm, 5cm, and 7cm. The deeper the layer, the more support and pressure relief you'll get for your whole body while you sleep.
Finally, check the sizes that are available and the price. 
1. CoolMax Classic Memory Foam Mattress
The CoolMax Classic Memory Foam Mattress is 15cm deep and has medium-firm support. It is the least expensive, since it only measures 15cm in depth. 
Inside

you'll find Coolmax cover, 3cm memory foam, and 12cm reflex foam.

The duo layer mattress is designed to relieve pressure and help you wake up without any aches and pains.

It is made with high-quality memory foam to create a comfortable place to sleep. 
Size: small single, single, small double, double, king
Price: from £119.99 (reg. £239.99) 
2. CoolMax Deluxe Memory Foam Mattress

The CoolMax Deluxe Mattress features 20cm is deep and has medium-firm support. It is 5cm deeper than the Classic model, offering advanced support for your entire body.
Inside there is a Coolmax cover, 5cm memory foam and 15cm Reflex foam.

With a deep layer of temperature-sensitive memory foam and breathable CoolMax cover, feeling hot or sweaty is not an option with this mattress.
Size: single, small double, double, king 
Price: from £189.99 (reg. £379.99)
3. CoolMax Superior Luxury Quilted Memory Foam Mattress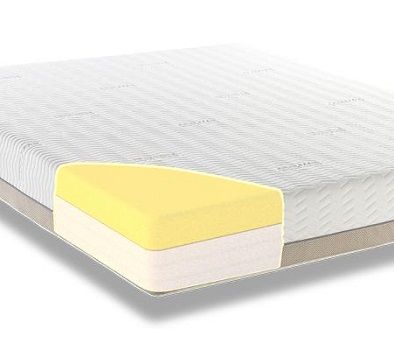 The CoolMax Superior Luxury Quilted Memory Foam Mattress has the deepest layer of memory foam in the entire collection (7cm). It is 20cm deep and has medium support feel. 
It's made up of Coolmax luxury quilted cover, 7cm memory foam, and 13cm reflex foam. 

The luxury quilted cover helps to maintain your optimum body temperature.

This mattress controls temperature very well, by storing and releasing excess body heat, so you won't feel too hot in the summer or too cold in the winter. The CoolMax memory foam relieves pressure points and eases joint pain.
Size: single, small double, double, euro, king, super king
Price: from £209.99 (reg. £419.99)
4. CoolMax Deluxe 1000 Pocket Sprung Mattress 
The CoolMax Deluxe 1000 Pocket Sprung mattress is perfect for those who like sleeping on a spring mattress. It is 20cm deep with medium-soft support level.
Inside there is Coolmax cover, 5cm memory foam, 2.5cm reflex foam, 10cm pocket springs, and 2.5cm reflex foam.

There are 1000 individually nested pocket springs, which support the sleeper and mould to their individual body shape. They also isolate movement between sleeping partners very well.

The cover will keep you cool and will remove excess moisture and heat.
Size: single, small double, double, king 
Price: from £219.99 (reg. £439.99)
5. Coolmax Hybrid Mattress
The Which? Best Buy Coolmax Hybrid Mattress is the most innovative in the Coolmax collection. It measures 25cm in depth, while offering medium support feel.
It has a Coolmax cover, 4cm of Graphite Infused Foam, 1000 micro pocket springs 7cm high, and 14cm of HD Foam. 

The graphite infused foam keeps you cool at night, by wicking away excess heat from your body. While the micro pocket spring layer provides personalised support and distributes weight evenly. The third layer is extra deep reflex foam base, which is supportive and makes the mattress durable and long-lasting.
Size: single, double, king, super king
Price: from £269.99 (reg. £539.99)
If you're not ready to buy a new mattress yet, you can upgrade your bed by getting the Coolmax Mattress Topper. It is 5cm deep and offers "medium" support.
It has a Coolmax cover, which will keep you fresh and cool, and 5cm memory foam.

The high density memory foam (50kg/m3) is durable and supportive for all body types. It also relieves body pressure while you sleep, so you feel energised and rested the next day.
Size: single, small double, double, king, super king
Price: from £89.99 (reg. £179.99)
How much does a CoolMax mattress cost?
Before we discuss the price, it's important to note that the company Memory Foam Warehouse manufactures their own mattresses and sells them at factory direct prices. There are several CoolMax mattresses and each one has a different price, depending on the quality and features of it. 
Generally the prices will range between £169.99 and £279.99 for a double size.
One factor that effects the price is how deep the mattress is and what's the depth of the memory foam layer (usually between 3cm – 7cm).

Another factor consider if it is the Classic, Deluxe or Superior model. The Classic has 3cm of memory foam, The Deluxe has 5cm of memory foam, and the Superior has 7cm.

If you like sleeping on a pocket spring mattress, there is CoolMax Deluxe 1000 Pocket Sprung or Coolmax Hybrid mattress. They are a great choice for couples, since they isolate motion between sleeping partners, so you won't feel your partner tossing and turning at night.

Finally, you should consider what size mattress you're looking for, which also has a significant impact on the price tag.
Shopping Tip: The Coolmax Mattress collection is much cheaper than the iGel Mattress collection from Bensons for Beds, which is priced at £1,099 – £1,850 (for double size) and has Gel temperature regulating layer.
Additional Details:
Memory Foam Warehouse offers free delivery on orders over £99.99 (if you order something under £99.99 there is a £4.95 fee). They deliver some mattresses marked as "Express Delivery" within 3-5 working days.
However, their standard delivery period is 14 days. If you live in a remote post code, double check on their website if there is an additional charge.
Each Coolmax mattress comes with 5 warranty. Make sure you rotate your mattress head-to-toe once every month, in order to maintain even wear and usage. However, do not turn your mattress (don't flip it over), since it's designed to sleep on only once side of it.
200 Night Trial
One advantage of shopping from Memory Foam Warehouse is that they offer 200 night trial period. During this time you can test and sleep on the mattress at home, so you can determine if it's comfortable for you and meets all your criteria.
Adjusting to a new mattress can take some time, that's why it's best to test it for a couple weeks. This way you can determine if it provides the right air circulation, pressure relief, etc. If you're not happy with your mattress you can request to exchange it for a different one. 
If you wish to do this, simply contact the company's customer support 7 days before the end of the 200 night trial period and they'll discuss with you the different options. You can also check out our list of mattresses with free trial.
CoolMax Mattress Reviews
Memory Foam Warehouse has been manufacturing and selling their CoolMax mattresses for years. The company has a "Great" 4.2/5 stars on TrustPilot from over 1,900 customer reviews. The wide majority of customers happy with the product they bought. After researching all positive and negative CoolMax mattress customer reviews, here is a summary of what people thought:
Pros:
Many customers have mentioned is that their CoolMax mattress does not sleep hot at all. They find it cool and comfy and are sleeping well during the summer season.
After sleeping on their new CoolMax mattress many find they are getting the support they need, and consider it good value for money.
Others agree that the delivery is very fast and the customer service was very helpful.

Cons:
Several people have said that they found their mattress to be softer than expected, so they contacted customer support to have it exchanged as part of the 200 night trial.
There were others who said that they have owned a Coolmax mattress for a few years and it started to sag in the middle, which was causing them discomfort. 
Before you make up your decision if a CoolMax mattress is right for you or not, make sure you read all customer reviews here.
Disclosure – top10mattressinabox.co.uk independently reviews and ranks products, by thoroughly researching them. We may receive a commission when a purchase is made through our links, at no cost to our readers. Prices and ratings mentioned above are accurate as of May 22, 2023.